The new FiiO Q1 MkII portable headphone amplifier brings DSD playback to an iPhone – and sounds superb with all else, finds Noel Keywood.
DSD from an iPhone? Yes, that's a major claim FiiO (China) make for their recently released QI MkII headphone amplifier I'm reviewing here. DSD offers better quality than standard digital (PCM). So this claim caught my eye.

An iPhone can only accept and play 24/48 hi-resolution (PCM) digital files. They give better sound than CD when listening on headphones – but not by much. DSD is an attractive alternative, but Apple don't readily accept strange file formats or – especially – proprietary ones into their walled garden. DSD is a Sony- fied version of one-bit PDM digital – entirely different from PCM and almost as alien as Windows to any Apple based system. I thought my iPhone might block or blow up.
Happily it did neither. DSD slid through and into my Oppo PM I planar magnetic headphones, or Philips Fidelio XIs from an iPhone 6S without too much fret or fuss. And what greeted me was a great sound – it was worryingly good.
The new QI MkII headphone amplifier is purposed to suit iPhones and has been certified by Apple. It connects in digitally through the small Lightning socket on the base and routes the iPhone's digital output through modern, high-quality audio circuits to deliver better sound quality via its own headphone output socket(s).
The case is small, 107mm long including the volume control but not connecting leads, 59mm wide and 12.5mm thick, designed to be strapped to the iPhone with rubber bands (supplied) if need be, forming a unit that's just about pocketable. A user can play high-resolution audio files of the highest specifications from an iPhone whilst commuting or on the move – a nice idea.
It might be tiny – and light at 102gms on our scales – but this little unit packs in a lot of modern technology. Inside it uses a recent (2015) AKM (japan) AK4452 digital- to-analogue convertor specified at 115dB dynamic range, a figure our measurements verified. Importantly, it is fed by an XMOS digital processor that deals with the problem of sending DSD over a digital connection (USB) not purposed for such things. XMOS specialise in this malarkey and do a great job with high-quality audio.
Why bother? DSD offers a lovely sound that is open and spacious – free of the hard, mechanical quality typical of PCM. At the same time, for all those not bothered about playing DSD, the QI MkII will also handle standard digital (PCM) up to 32/384 resolution, above the usual 24/192 considered to be the upper quality limit. Our measurements showed it does a great job at this too, well conveying the benefits of hi-res digital by being free of noise and distortion.
The little QI MkII has two headphone outputs, one a normal unbalanced 3.5mm jack, the other a tiny 2.5mm balanced headphone jack. The latter offers better sound but is difficult to use: you need headphones wired to accept balanced input (separate leads to each earpiece) and a 2.5mm four pole plug is both miniature and fragile. I've broken a few in use and find them impractical.
Additionally, the FiiO has a Line output, but it gives the same voltage as headphone and is not fixed level like most, output being determined by volume so I don't understand its purpose.
A small but firm-action volume control with in-built on-off switch feels good to the touch. Power comes from internal rechargeable 1800mAh batteries, charged through its micro-USB connector; it charges from a computer or 5V power supply though not from a phone to preserve its battery life. Supplied leads enable connection to an iPhone or a computer. Small slide switches on the base set headphone output (GAIN) to High or Low and provide bass boost to pep up the weak bass from lightweight over-ear headphones.
As it stands the QI MkII provides higher quality than an iPhone's own headphone socket. The latter provides 500mV maximum output (volume) and 103dB dynamic range; the QI MkII provides 1.5V maximum volume and I 14dB dynamic range – quite a step up.
In absolute terms this puts the little FiiO right up with good quality mains powered DACs, if not in contention with the best that manage 124dB dynamic range. It is still very good, if not comparable to the larger Chord Electronics Mojo. But this is when playing the best an iPhone can deliver, 24/48 PCM digital.
What about DSD? I started out saying the FiiO can play DSD from an iPhone, as they claim. Well it can, but it can't. To do so you have to load a DSD player into the 'phone first, like Onkyo's HF Player I used – and this costs £9.99 for the hi-res version (the standard player is free).Then hi-res PCM and DSD files can be loaded to the phone and played via the FiiO. It's a bit of a fiddle, mostly because of the iTunes interface, but Onkyo's player is better than the iPhone's own iTunes player in ease of use and sound quality, so once the struggle to get it up and running is over, music play from the phone is both easier and more capable. It also offers a range of esoteric DSD options that were flagged up as in Beta test form (at Nov. 2017) but I experienced no problems.
SOUND QUALITY
In a nutshell the Q I MkII comes over as full-bodied yet very smooth. FiiO have traditionally offered a gentler approach than Astell&Kern, whose players are dramatically snappy.
This little headphone amplifier has the smoother presentation of big mains-powered DACs like Audiolab's M-DAC+ (ESS Sabre32 DAC), reflecting the way recent top AKM DAC chips have been heading – and in contrast to Chord Electronics DACs like Hugo 2 and Mojo I have reviewed in earlier issues. Think big, powerful yet silky smooth, verging on warm in basic presentation.
From Fleetwood Mac's 'Dreams' (24/96) to The Doors 'Love Her Madly' (AAC) the QI had a generous, full-bodied sound underpinned by solid pace: 'Love Her Madly' drove through my headphones with the aura of a Mack truck in the fast lane. Interesting that this compressed track had the same basic nature as hi-res, even if the crudeness of AAC was obvious.
So what you get is a barrel-chested sound from any music played, hi-res offering a greater range of contrast, subdeties and expression. With all EQs off bass was almost peculiarly strong
(24/96) pounded at my ears with its heavy synth bass line, thrown at me from the QI. The little FiiO is massive in its low end delivery, if not as tight as mains powered DACs. I had a sense of it being slightly overblown here – and all EQs were most definitely off.
The QI MkII showed its mettle with high-resolution digital – but it was DSD that proved the clincher. Sent from the iPhone packed as DoP, rather than converted into PCM, cymbals rang as clanky metal items
I could hear the brasswork as it were – and there were long decay tails with 'House of the Rising Sun' (Cyndee Peters, DSD 5.6MHz). This performance was riveting in sound quality: there was a tremendous feeling of space around the performers, it was relaxed yet natural, instruments were precision imaged and there
was so much timbral information
those cymbals – that it dripped with reality. This carried through with a wide range of DSD tracks (.dsf and
.dff) some, like those from the Doors re-mastered from the analogue tapes sounding wholly different to earlier presentations: I was taken aback.
Connecting Oppo PM I s to the balanced output gave a slightly tidier sound with sharper outline, as if a little fuzz had been removed.
CONCLUSION
The little QI MkII was frighteningly good at times. Those times were playing DSD from my iPhone. But even with standard digital (PCM) of normal or high-resolution it gave great sound quality: big bodied, smooth and easy, yet subtly fluid and detailed. Beguiling in fact. To get the most from it you need to buy additional software, but this little unit has a low price that is out of all proportion to its high quality.
The bottom face carries a microUSB input socket and small slide switches for adjustment of Gain and Bass.
MEASURED PERFORMANCE
The tiny Q1 MkII headphone amplifier delivered 1.5V when set to H (High) and 0.76V when set to Low, from the standard 3.5mm headphone jack. Good figures in themselves if not a massive step up on the output of an iPad, for example, that offers 1V – or mobile 'phones. With a 24/192 digital input frequency response reached 40kHz (-1dB) before rolling off to the
FREQUENCY RESPONSE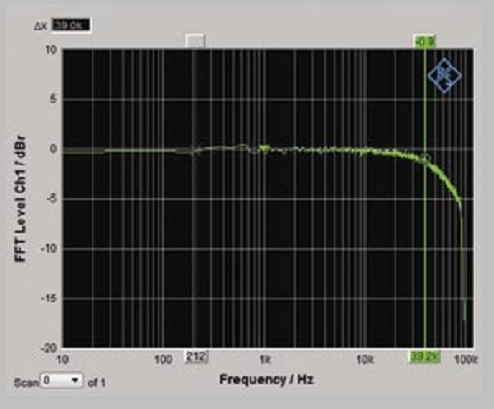 DISTORTION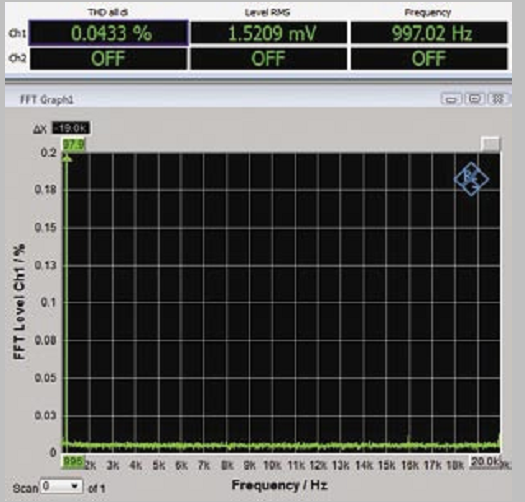 upper theoretical limit of 96kHz, as our analysis shows. This is a good result, ensuring even and open sound with hires digital.
Distortion from the AKM4452 DAC was low at 0.04% (-60dB, 24bit) – excellent for such a small and inexpensive unit. Our analysis shows an absence of distortion harmonics.
Due to low distortion and noise, EIAJ dynamic range measured a healthy 114dB – again fine for such a small and inexpensive headphone DAC/amplifier. It is well above CD at 102dB, allowing the benefit of hi-res digital to be conveyed.
The balanced output surprisingly offers double the output (3V) of unbalanced (1.5V), a tad less distortion (0.03%) but the same 114dB dynamic range – very good figures. Line output was much like the 3.5mm headphone output, with 1.6V maximum from a volume controlled (not fixed) 3.5mm jack and 115dB dynamic range.
The FiiO Q1 MkII offers very high performance figures, especially for a small battery portable device. NK
Frequency response 4Hz- 40kHz Distortion (24bit, -60dB) 0.04%
Separation 89dB
Dynamic range 114dB
Noise -112dB
Output (H/L) 1.5V/0.76V
Output (balanced) 3V
FIIO Q1 II (2ND GEN) DAC AND HEADPHONE AMPLIFIER
OUTSTANDING – amongst the best
VALUE – keenly priced
VERDICT
Superb sounding iPhone headphone amplifier that uses latest technologies to impressive effect.
FOR
sound quality
plays DSD
balanced output
AGAINST
hi-res DSD player an extra
FIIO Q1 II (2ND GEN) DAC AND HEADPHONE AMPLIFIER
OUTSTANDING - amongst the best VALUE - keenly priced VERDICT Superb sounding iPhone headphone amplifier that uses latest technologies to impressive effect.
PROS
sound quality
plays DSD
balanced output
CONS
hi-res DSD player an extra
Add your review