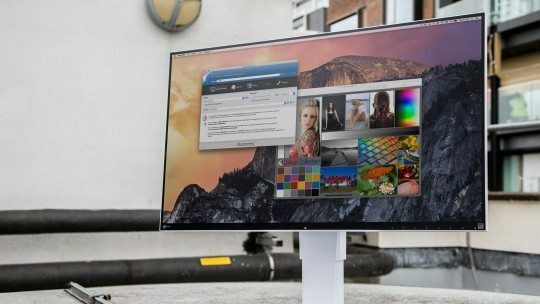 Eizo FlexScan EV2750 Review
WHAT, NO 4K? EIZO SETS ITS SIGHTS ON BUILDING A PRACTICAL MONITOR FOR THE OFFICE – WITH PREDICTABLY GREAT RESULTS. Read our Eizo FlexScan EV2750 Review.
Every time a new monitor arrives on my desk, I'm asked the same questions. Is it 4K? Is it OLED? Does it do 3D? In the case of the 27in FlexScan EV2750, the answer to all of these questions is no. In terms of cutting-edge technology, Eizo's latest monitor has little to show for itself. But then this is a display that's designed for the office, and, as business monitors go, the FlexScan EV2750 is pretty special.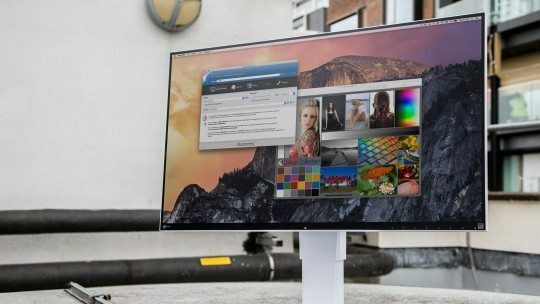 The first surprise is how compact it is for a 27in monitor. Sat next to my everyday display, a Dell UltraSharp U2713H, the Eizo is far less imposing. A super-slim 7mm bezel runs around the panel, and the matte anti-glare screen coating even stretches over the bezel, which is surrounded by only a millimetre-thick ring of plastic.
The monitor's angular, contoured design is impressively slender, and the adjustable stand packs in all of the essentials without swallowing precious desk space. It provides 155mm of height adjustment, in addition to a generous amount of tilt and swivel, and the whole screen can rotate into portrait mode.
Eizo has something of an image-quality reputation to uphold, and the FlexScan EV2750 does it proud. The 2,560 x 1,440 IPS panel is almost perfect, and the matte anti-glare finish provides extremely wide viewing angles with no distracting reflections.
Brightness stretches from an unusually low minimum of lcd/m2 right up to 341cd/m2 – and is
The FlexScan is available in a fetching white option, as well as black
flicker-free due to the lack of pulse-width modulation (PMW) – while contrast reaches 935:1. Color accuracy is superb, too. In testing, I found the factory-calibrated sRGB mode covered 98.8% of the sRGB gamut, with a low average Delta E of 1.6.
The consistency of the monitor's LED backlighting is also impressive, with only a 8.5% drop in brightness in the top-right corner, and an average variance across the screen of 3%. Color temperature is stable, with no obvious shifts in tone. Colors look even and clean across the entire width of the display.
Audio Affair will give you £20 off all orders over £250 when you use the code 7RW20.
Along with two configurable modes, there are also pre-calibrated sRGB and DICOM (the standard for medical displays) modes and a "Paper" mode that reduces the white level and contrast for easier reading. The supplied ScreenManager Pro software provides support for circadian dimming, which adjusts the screen's color temperature setting to suit the time of day.
If you're wondering what makes this specifically a business monitor, then the FlexScan EV2750 has a few answers. Perhaps the most useful feature is Eizo's Auto EcoView, which adjusts the display's backlight to best suit on-screen content, as well as ambient lighting conditions.
A sensor on the lower bezel deals with the brightness, and the shifts are subtle, smooth and unintrusive. Maximum and minimum brightness settings can be tweaked to better suit the lighting conditions, too.
Eizo's EcoView Optimizer goes one step further by reacting to the content displayed on-screen and reducing the backlight brightness accordingly. For darker content, it reduces the brightness of the backlight and boosts the gain applied to the incoming image signal, ensuring that everything remains visible. This gives images a slightly washed-out effect, but it reduces running costs. It's also possible to save the FlexScan EV2750's image and EcoView settings to an XML file and – as long as each computer has Eizo's EvoView NET software installed – deploy them over an office network.
The FlexScan EV2750 is an excellent monitor. It's expensive compared to consumer displays, but take into account the variety of useful power-saving features, and the five-year warranty, and the Eizo goes a long way towards justifying its high price.
Sasha Muller
Eizo FlexScan EV2750 Review: Specifications
27in 2,560 x 1,440 IPS • DisplayPort • HDMI • DVI • 2 x USB 3 • 3.5mm audio out • 5yr RTB warranty • 612 x 245 x 390-545mm (WDH)
Was this article helpful?