Edifier has produced a product that looks as good as it sounds.
Edifier E235 Review – Being mostly known for their budget offerings, Edifier is slowly but surely pushing towards a more upmarket vibe both in terms of its audio prowess as well as its style. This has culminated in the CES Award winning E235 Luna Eclipse. Essentially an E25 Luna Eclipse with a wirelessly connected Subwoofer, Edifier promises to take our music to the next level. Does this pricey set of speakers deliver?
Edifier E235 Review: AWARD WINNING LOOKER
The Luna Eclipse is an incredibly stylish set of speakers, even more so on the stunning red our test unit came in. The tweeters' crescent shape and open diaphragm design is certain to turn eyes, with all the ports tucked neatly behind its ovoid shape.
Though it may look flimsy, the tweeters actually carry quite a bit of heft to them, with nary a shadow of flex throughout the body. The left tweeter also houses some touch buttons, allowing quick volume adjustment and a power toggle switch.
The subwoofer on the other hand, is positively massive – finished in the same, slick glossy red as the tweeters. Aside from a cleverly hidden power socket underneath, it is practically devoid of any kind of port whatsoever, giving it a clean and fuss-free look. There is a faint LED indicator on the top of the device to indicate when it is powered on. Setting it up was also super simple as it connected seamlessly to the tweeters.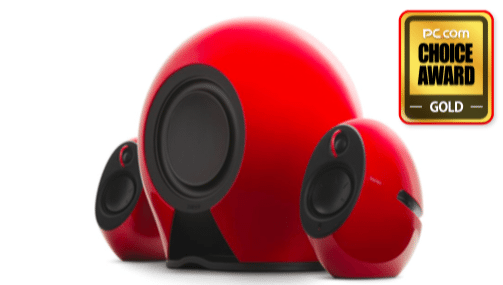 Edifier E235 Review: AUDIO PLEASURE
As pretty as it looks, a set of speakers is designed to please the ears. Thankfully, the E235 delivers for the most part; the highs are crisp with impressively solid mids. Listening to some orchestral music really showed how the Luna Eclipse is able to highlight strings impressively well. Vocal heavy music is also excellent, with a fullness rarely found outside of expensive speaker systems.
As for the bass, it's certainly thumping thanks to the huge subwoofer, but the bass signature is a little bit messy and lacks a degree of bite we expected it to have. Still, it's a mightily impressive performance, with a very wide trajectory.
Edifier notes that the tweeters are able to carry the bass themselves, but the difference is so stark you shouldn't even bother; listening to bass heavy tracks from Levianth and Denis
Edifier E235 Review: TO BUY OR NOT TO BUY
Edifier has produced a product that looks as good as it sounds. Its Bluetooth connection was also rock-solid, with no drops in connection over our test period. The included remote control is also handy when the speakers are attached to the living room TV, allowing adjustment of both volume and bass levels.
The speaker also provides 3 different sound profiles which you can quickly switch to depending on your needs, namely: Music, THX and 3D. However, unless you're an audiophile, the average consumer will barely hear the difference. What they will hear, is an incredible soundstage that will stick with them long after the credits have rolled.
Edifier E235 Review: Specifications
Specifications
SPECS SIZE (SATELLITES): 112 x 212 x 222 mm SIZE (SUBWOOFER): 384 x 379 x 232 mm TOTAL POWER OUTPUT RMS: 16W x 2 (tweeter), 22W x 2 (mid-range), 100W (subwoofer) DISTORTION: < 5% SNR: ≥85dBA CONNECTIVITY: Aux-In, Optical, Bluetooth