It has lots of ports and comes with a dedicated subwoofer, but the HW-K450's sound quality may not suit all music tastes
AS ONE Of Samsung's lower-end sound bar and subwoofer combos for 2016, the HW-K450 keeps things simple. Its plain wire mesh exterior doesn't have any fancy embellishments or distinguishing features, but at least its small, compact design means it won't distract from your TV.
Measuring 908mm long, this soundbar is best suited to TVs that are at least 42in in size – any smaller and the soundbar will begin to dwarf the length of your set. Still, when it stands only 53mm high, it's pretty low profile, so it should fit quite happily underneath most TVs, and it certainly shouldn't obscure the IR receiver if you end up placing the soundbar in front of it.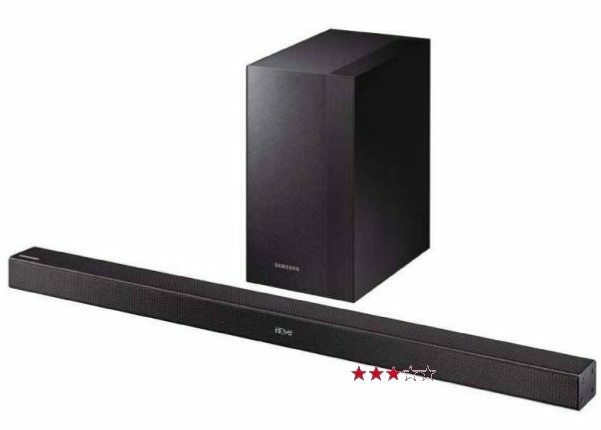 Despite the size, it packs in a surprising number of connections for an entry-level soundbar. As well as Bluetooth support, you'll find an auxiliary input, optical S/PDIF, a Micro USB port and a pair of HDMI ports in two sculpted cut-outs on the underside of the soundbar, so you can wall-mount it without worrying about wires sticking out the back.
The HW-K450 isn't the most versatile soundbar, so it may not be particularly suitable if you have a specific kind of musical taste.
One of the HDMI ports is a standard input, but the other is an ARC (audio return channel) output This means you can have another device connected to the HW-K450, such as a Blu-ray player or games console, using the input slot, and still have only one wire going into the back of your TV.
SPECIAL SOURCE
This is extremely handy for cutting down the number of cables in your home cinema setup, and Samsung TV owners can go even further with the HW-K450's SoundConnect support. Most Samsung TVs dating back to 2012 should have this feature, and it's extremely easy to set up: simply set the soundbaris source to TV, and your TV will detect the soundbar automatically. The HW-K450 automatically pairs with its accompanying subwoofer as soon as you turn it on, too.
However, with just a 21 channel system at its disposal, the HW-K450 isn't exactly an audio powerhouse, despite its total RMS output of 300W. It's definitely a step up from your TV's built-in speakers, with the subwoofer providing some much needed bass and warmth to the overall soundscape, but we found that dialogue could be quite muffled during films, particularly if there was an accompanying soundtrack playing at the same time.
Quieter scenes were perfectly audible, but action sequences often lost a lot of their impact due to the muddy dialogue. It didn't really improve when we switched the sound mode from Standard to Movie, either, and low, rumbling sound effects could also be rather underwhelming.
LACKING TRACK
Our other soundtrack tests also sounded a little flat at times, although setting the soundbar to Music mode certainly helped to improve its overall clarity. However, it still struggled to separate all the instruments in the How to Train Your Dragon 2 soundtrack, for example, and classical tracks such as Lizsf s Liebestraum No. 3 were also rather lacking in nuance. Vocal tracks, such as Sondheim's Company soundtrack, could be particularly shrill and grating, too.
Rock and pop songs, on the other hand, sounded perfectly fine, producing deep, punchy audio that really gets your foot tapping. Still, it's clear that the HW-K450 isn't the most versatile soundbar, so it may not be particularly suitable if you have a specific kind of musical taste.
One useful feature it does have is Night mode, which cuts down on the amount of bass produced by the subwoofer so you don't disturb your neighbours quite as much when you're watching films late at night.
The effect was fairly subtle, but we found it worked better when the volume level was set to below 20. There's also a virtual surround-sound setting that artificially widens the soundbar's listening area, but it didn't make a huge difference to our overall listening experience.
TREBLE MAKER
The HW-K450 lets you adjust the bass, treble and subwoofer settings using the Sound Control button on the small, bundled remote. Again, you'll be hard-pushed to notice the difference between its 12 respective steps of treble and bass options, but the subwoofer controls should be handy, if only to dampen it further when you've enabled Night mode.
The HW-K450 isn't the most impressive soundbar we've ever heard, but it does provide a fairly inexpensive way to boost the quality of your basic TV speakers. At this kind of price, though, it faces stiff competition from the Steljes Audio Calliope, which has better sound quality despite its lack of a dedicated soundbar. Both have subtle displays that don't distract from your TV, but the Steljes also offers an extra HDMI input.
Length & Power Output: 35-Inch 300 Watt (2.1 Channels)
Subwoofer: Wireless
Connectivity: Bluetooth
Wall Mountable: Yes
Inputs: 1 Optical, 0 Coaxial, 1 HDMI
Usually ships in 1-2 business days
Last update was on: 2019-09-16 3:17 am
Length & Power Output: 35-Inch 300 Watt (2.1 Channels)
Subwoofer: Wireless
Connectivity: Bluetooth
Wall Mountable: Yes
Inputs: 1 Optical, 0 Coaxial, 1 HDMI
Admittedly, the HW-K450 does give you the option of expanding your audio setup to a 4.1 channel system at a later date by pairing it with Samsung's various multiroom speakers. However, when even its basic R1 speakers cost around £170, you'd be better off buying a superior, more capable soundbar, such as Samsung's £330 HW-K650, rather than shell out for additional satellite speakers. The HW-K450 might have plenty of flexibility for a budget soundbar, but its overall quality isn't quite up to scratch.
Katharine Byrne
Last update was on: 2019-09-16 3:17 am
Specifications
SPEAKERS2 • RMS POWER OUTPUT 300W • DIMENSIONS 53x908x71mm (soundbar). 361 x179x300mm (subwoofer) • WEIGHT 2kg (sound bar), 4.6kg (subwoofer) • DOCK CONNECTOR None • NETWORKING Bluetooth • WARRANTY One year RTB
Samsung HW-K450
It has lots of ports and comes with a dedicated subwoofer, but the HW-K450's sound quality may not suit all music tastes