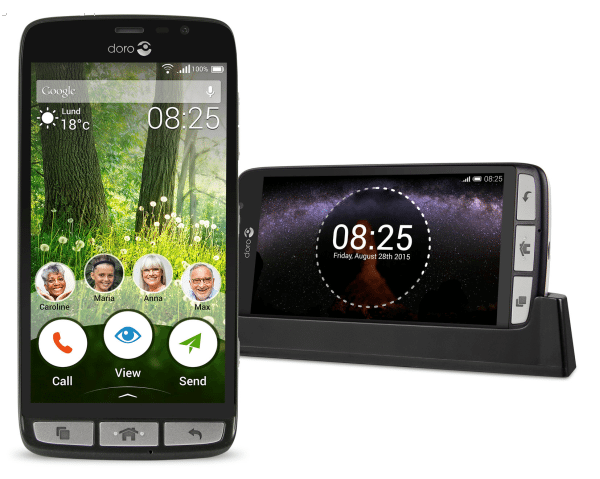 Doro is back with another unique device that goes against traditional smartphone values. Will it stand out in this competitive market?
Now let's get something straight, Doro isn't your typical manufacturer. It is not your Samsung or Apple trying to reinvent the wheel, more so helping those get used to that first wheel made of rock. Doro dedicates itself to creating devices that are at the pinnacle of usability. Devices that are extremely easy to use and that you would fail to not get to grasp. The Doro Liberto 825 is a clever device with a simple interface and functions that will come in handy for those less abled.
DESIGN
The 825 isn't going to win any beauty pageants. It has a very utilitarian design, which is reminiscent of the Motorola X Force. The Force also favored usability over aesthetics and it did so masterfully. The 825 can be uttered in the same breath, sporting a similar size to the Force. It is easy to grasp and very comfortable to roll around your hands. Premium materials aren't seen here, no metal body or crystal displays. Instead the 825 has a chunky body with a rubber back to increase stability for those who struggle holding a large device. You sense that it is one for durability. With the rounded plastic shell, scratches and drops won't affect the 825 the way it would an iPhone – a plus as we wouldn't want Doro users getting heart attacks. With a 5-inch screen it is not too massive. It is arguably the perfect size for a smartphone.
The power button is located on the right side where you naturally rest your thumb. A practice not a lot of premium manufacturers carry out, despite how much it makes sense to put it there. Above the power button are the volume keys with plus and minus etched next to their respective key. To further highlight the keys, there are Braille-like dots, making it easier to differentiate them. On the opposite side is the camera button, which handily launches the camera with a paused hold of the button. The front buttons are clearly labelled with their purposes. The task manager, home and back buttons are tactile and always preferred from the standard on-screen buttons. Down the left side are three metal connectors for a charging dock you can purchase separately.
CAMERA
There isn't much we can say about the camera seeing as it isn't the priority feature when constructed. It's a 8-megapixel snapper and at its current price point, there are far better alternatives for those that desire a smartphone with a decent camera. Not saying that the 825 isn't decent, it's just not up to a certain standard that the general populous are used to. But we don't expect Doro to be including Sony's latest lens in its phones.
It was actually pretty confusing to figure out how to launch the camera, especially if you are used to launching the camera from the screen. It isn't in the app tray and the only way to launch it from the screen is to swipe up at the home screen and you'll find it there. It's better off using the dedicated camera button. Taking pictures can be frustrating. It takes a while to adjust exposure and the auto-focus is no better. There isn't really a clear indicator of when the picture has been taken. But when you do play by the 825's rules it surprisingly takes some decent pictures.
Night shots suffer from noise but we managed to pull off some arty looking shots of the Thames. Good lighting is the only time the camera should really be used, picture quality may not be as good as we're used to, but its good enough for special family occasions.
SCREEN
With a 5-inch display it is functional enough to be used with one hand and large enough to be used as a media player. Everything on the display seems rather big and this is done on purpose – to make it a lot easier to use it. Icons and the keyboard are massive and take up a lot of the screen. It makes it easier to navigate through the UI. The display is a crisp 720p resolution, enough for you to do everything needed on a smartphone. Viewing angles are excellent at all angles and it is still readable in direct sunlight.
PERFORMANCE
Using Qualcomm Snapdragon 210 the 825 has a buttery-smooth interface. Flicking between pages and launching built-in apps is just as good as any high-end device. Snapdragon 210 is obviously for low end devices, and what it does for low end devices is bring the power of 4G. This is massive for the 825 as we were able to download apps in mere seconds using 4G. Installing them, however, is a bit of a process. It takes a while, quite a while to for the app icon to appear on screen. We had trouble at times and needed on one occasion to restart the device for installing apps, but this could really just be down to teething problems with a new device.
When pushing 825 in a gaming session, surprisingly we had no hiccups. Asphalt 8 ran smoothly on medium settings.
We did experience slow down when the screen got a bit too busy with carnage, but it wasn't game destroying. It performed better than the mid-range Huawei Mate S, which sports a Kirin 935 processor, yet we experienced dropped frame rates.
SOFTWARE
Here is where the Doro Liberto 825 really sells itself. Using a custom version of Lollipop 5.1.1 the UI is as said smooth and icons are screen invading (in a good way). It's almost unrecognisable but once you start using it you can tell by the intuitiveness and speed that it's Android. Android still takes up a lot of storage space, with about 4.5GB left from the 8GB of internal memory. So a SD card is really recommended.
There is an assist button on the back of the 825, which is designed to be used in emergencies. If you're in a state that needs help, a push of the assist button will automatically contact a pre-list of contacts, to let them know you need help. It's advisable that you set this to be pressed three times for emergency, especially for those that like to fiddle.
My Doro Manager is the crowning jewel in the 825. It allows a chosen contact to remotely access the Liberto 825.
You can transfer photos, contacts and more importantly send instructions. For those that find it hard to get to grasp with an already simple UI, My Doro Manager solves that easily by getting those more knowledgeable to lend a helping hand. There were rarely any hiccups in using My Doro Manager. It's intuitive and really simple to set up.
BATTERY
With a 2,000mAh battery the 825 can last you an age. How you may ask? Well with a combination of low specs and a 720p screen, there isn't a lot to guzzle the battery. With daily use our 825 lasted a few days without needing a charge. Half an hour of intensive gaming only drained the device of 13%. As a daily driver device you wouldn't have to worry about being caught out without a phone.
CONCLUSION
A smartphone definitely not for millennials and tech heads. One more for your grandparents who don't really need to play Asphalt 8 on the highest setting or take high quality photos for likes on Instagram. Doro has designed a smartphone that really caters to those less intuitive in today's tech-heavy world. Unique features like My Doro Manager and a really easy interface makes it a device worth considering for your nan.
VERDICT
If you know someone who doesn't really need the latest in specs and only wants something that works, and works well, the Doro Liberto 825 is the perfect device. From the ground up the 825 is designed for usability. It will be hard for anyone to fail using the 825. Unique features like the assist button and My Doro Manager helps it stand out and it's not only there to look pretty. It works damn well.
SPEC
OS Android 5.1.1 Lollipop
Processor Qualcomm Snapdragon 210Screen 5-inches
Resolution 1280 x 720
Memory 1GB
Storage 8GB
MicroSD compatible Yes, up to 32GB
Rear camera 8MP
Front camera 2MP
Video 720p
Connectivity 3G, 4G, LTE
Dimensions 145.8 x 72.5 x 10.1 mm
Weight 156g
Battery 2,000mAh