Doro 8030 – A phone that aims for simplicity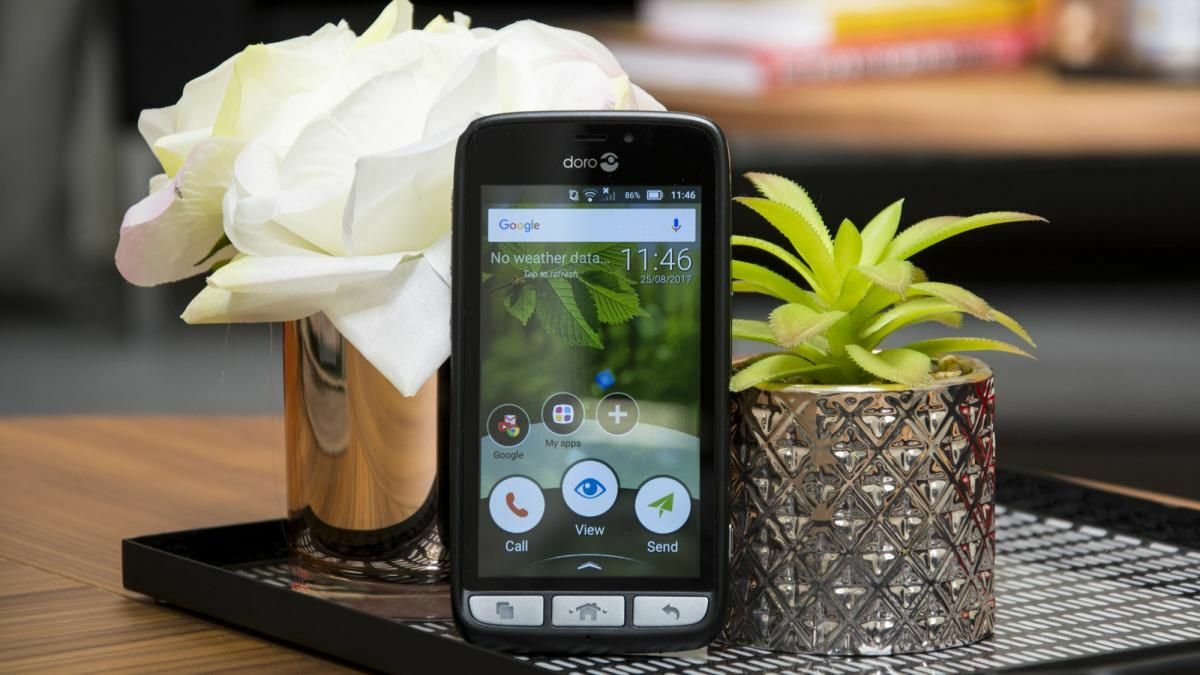 As recently as 2012, only half of us in the UK owned a smartphone. Today, according to a survey by Deloitte, it's 85 per cent. Among 55-75s, the number has shot up from 29 to 71 per cent (see page 8). Just because you're older, that's no reason to get left behind.
That said, today's smartphones can often pose a few problems. Although the touchscreens seem easy to some, the lack of labelled buttons can leave others wondering what to do. Tapping graphics under glass isn't easy if your eyesight's not 20/20 and your fingers aren't as nimble as they used to be.
The Doro 8030 is more helpful. Its chunky case feels sturdy, though it isn't waterproof. Three physical buttons take you to your recent apps, your home screen, or 'back' – always a reassuring option. On the rear is another button that can call an emergency number.
If you can handle this, you can probably handle an iPhone
A plug-in cable comes as standard, but there's also an optional charging cradle (for ) that you can simply drop the phone into. It sits sideways-on, handy if you want to watch a film on your phone while it is charging. The battery lasted just under 10 hours in our video-playback test, and would go a lot longer with just occasional use.
Inside, a basic processor runs a special version of Android 5.1, which is nearly three years old now. Doro has customized it to look very different from other phones. Icons and menus present options based on what you want to do: tap View, for example, and you get the choice of seeing your text messages, emails or photos. It's clearly been carefully thought out. But we're not quite convinced. The screens remain cluttered, with lots of small text, and it can still take several steps to perform simple tasks. If you can get the hang of this, you could probably use any Android or Apple phone with practice. For some it'll be too fiddly.
Sound is clear through the speaker or supplied earphones, and compatible with hearing aids. The screen is coarse, dull and smaller than average. This is a relatively cheap phone, but feels like a cheaper one, like theAlcatel Pixi 4. The rear camera is poor; and the front camera – important if you want to video chat – is worse.
We like the idea of the Doro 8030, and customers report the company is friendly to deal with. But it may not be the answer for users who have real difficulty using a standard smartphone.
VERDICT:
It's not a radical rethink of the smartphone, but physical buttons and simplified options make this affordable phone less daunting
ALTERNATIVE:
Motorola Moto E4
Buy this superior Android 7 phone and install a launcher such as Necta or Wiser, from the Google Play Store, to simplify things
SPECIFICATIONS
4.5in 854×480-pixel screen • 5-megapixel rear camera • 0.3-megapixel front camera • 8GB flash storage • MicroSD card slot • 802.11n Wi-Fi • Bluetooth 4.1 • 3G/4G • 137x71x10.1mm (HxWxD) • 142g • One-year warranty