Specification
• Manufacturer Microlab
• Requirements: Compatible sound card, audio outputs
We've reviewed a number of Microlab products in the past; the B58, FC50 and T1 and all have impressed us with a decent build and audio quality.
The FC360 are made up of five 14W RMS satellite speakers and a 30W RMS subwoofer offering a total of 100W RMS. There's also a 5.1 amplifier included here, which everything connects to and which provides the power on/ off and manual volume controls. Finally, there's a handy remote that we're happy to say comes with batteries.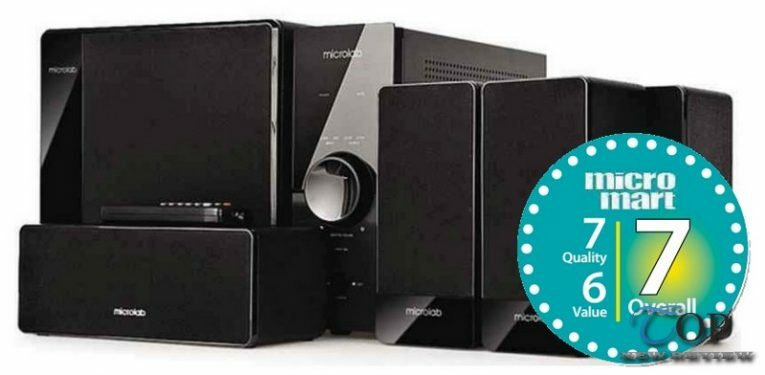 This Microlab set Isn't the best-looking we've ever seen. The satellites are all of the tall, vertical type that cheaper speaker systems tend to opt for, with the center speaker horizontally placed.
Flowever, although they may look a little dated, they certainly make up for that in terms of build quality. The satellites are more than capable of being moved around without fear of them falling apart, and in particular, the sub is certainly tough enough to deal with the occasional kick while positioned under a desk. The amp is the exception here, and we imagine Microlab has put slightly more effort in the design of this than the speakers, as it's more than likely going to be the thing that's on show.
The amp is a rather splendid polished-black affair with a minimalist slim design, perched on four large rubber feet. All the necessary 3.5mm speaker connections are around the back in a well-spaced cluster, with further red and white 3.5mm inputs, as well as a six-channel color coded batch.
Sound quality was impressive in our tests. The bass, mid and higher range frequencies were clear and crisp and kept that level of clarity as the volume increased. The FID audio movies and games we tested this set with were mostly handled without any discernible drop in audio quality. Flowever, we did find that voices tended to feel a little distant at times and lacked any real depth.
It's worth noting that when we moved the set closer, emulating a desktop setting as opposed to a home theatre setting, the voice depth did appear to improve. This we assumed was due to a lack of power from the front speakers, when placed further apart.
The remote, admittedly, isn't brilliant. It only really seemed to work when we were a few feet away from the amp, which is certainly annoying especially considering that these are somewhat more expensive than the examples we've tested so far.
The front and sub cables were roughly one and a half meters in length, which is a little too short for our liking. But the rear cables were at least six meters plus in length, which was more than enough for larger living spaces.
The shorter front cables may be an indication that Microlab is aware of the lack of voice in the front speakers and has, therefore, shortened the cables to bring the sound closer to the user. Either way, the performance and quality is good enough for games, movies or music, but this set is also expensive.