DALI Opticon 8 review – The flagship Opticon is a big deal in every sense and claims to offer the ultimate in power and precision
If not quite the loftiest tower in this group (just pipped by the Revel), the Opticon 8 is certainly the most strapping with comfortably the largest footprint. It's an awful lot of speaker for the money, undeniably a little brutal in appearance, and clearly intended for larger room duties.
As with other models in the Opticon lineup and, indeed, something it shares with DALI's more expensive Rubicon and Epicon ranges, it has not one but two tweeters. The so-called Hybrid Tweeter Module consists of a fairly conventional 28mm fabric dome unit, which hands over to a rather more exotic ribbon to handle the very highest frequencies up to and beyond the limit of human hearing.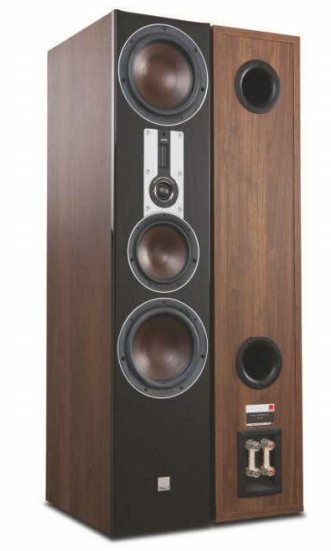 Given the sheer amount of front baffle real estate on offer, it perhaps isn't surprising that DALI has decided to fill much of it with drivers, though the configuration is unusual. Rather than have the tweeters at the top of the box with multiple mid and bass drivers below (as with the Revel and Quadral), it has opted for a D'Appolito arrangement with the tweeter module positioned below one of the speaker's two 203mm bass drivers and above the 165mm midrange unit and the second 203mm woofer. Not exactly pretty, but a well-trodden path towards more seamless driver integration.
The main drivers are unusual, too, combining wood fibre cones (with that distinctive reddish-brown hue) and the company's proprietary SMC magnet motor system, a partnership that often delivers an identifiable sonic signature. DALI also makes its own cabinets and, with the help of two large, rear-firing reflex ports, the Opticon 8's is large enough to furnish a claimed bass response that reaches all the way down to 38Hz, which is gening on for subwoofer territory.
Sound quality
Big speaker, big sound? You're not kidding. Immediately impressive is the bass, which is powerful, solid and extended but also has a beguilingly effortless quality that is especially appreciated with Marcus Miller's fascinating fusion of electric bass and gimbri – an acoustic bass-like instrument used in Moroccan Gnawa music – on B's River from Afrodeezia.
It also sumptuously underpins Van Morrison's gorgeous ballad, Memory Lane, and showcases the DALI's scale and unforced presence, but while the presentation is full-bodied, there's a mildly dulled and amorphous quality to the song's massed strings that sits a little oddly with the slightly spotlit and forward midrange. This same trait lends good leading edge treble definition to the classic, Ttevor Horn produced, Yes cut, Owner Of A Lonely Heart, and adds to the impression of clarity. However, I can't help feeling the large enclosure is also making a contribution, masking the finest detail and robbing the sound of the ambient cues that create a sense of air and acoustic space •
TAKE ME HIGHER
The DALI Opticon 8 isn't the first loudspeaker to partner a ribbon tweeter with a dome tweeter. It has been done before, but it is still highly unusual – and even more so at this price. Both drive units are bespoke and designed to handle different parts of the high-frequency spectrum. The 28mm soft dome works from 2.3kHz to 14kHz and the ribbon gently rolls in from 14kHz to a dog-worrying 32kHz. The dome is more comfortable with the upper midband than the ribbon, but the ribbon is better with high treble where its delicate foil transducer captures every nuance of very high treble frequencies better than a dome can. Both drivers have rear chambers fitted with rigid bracing to shield them from the disruptive influence of the midrange and bass drivers. It's an expensive way of doing things in an already complex loudspeaker, but is effective here.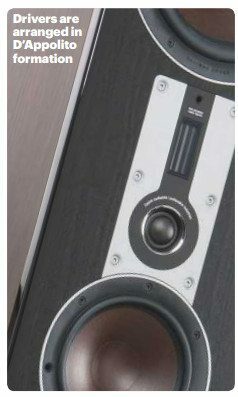 Verdict
WE SAY: A big floorstander for big rooms that's fine value
Specifications
[table id=8 /]
FEATURES
• 45mm ribbon and 28mm textile dome tweeter
• 165mm wood fibre mid/bass driver
• 2x 203mm wood fibre bass drivers
• Quoted sensitivity: 88dB/lW/1m(4ohm)