These over-the-earphones with a closed back design nearly make them noise-cancelling. Read our Denon AH-D7200 Review.
BY SCOTT SCHUMER
Denon was founded in 1910, originally manufacturing single-sided disc records and gramophones. The company first began producing hi-fi audio components in 1971 and introduced its first headphone line in 1990. Fast- forward through a number of mergers, and the Denon+Marantz Group has now been acquired by Sound United, LLC-which also owns Polk and Definitive Technology. This just happened in February, so we will have to wait and see what this merger means for the direction of the company.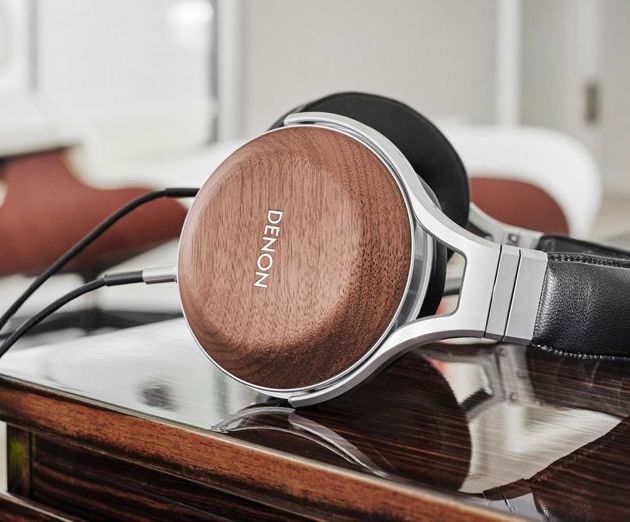 Today I'm auditioning the AH-D7200 over-the-ear headphones, comparing them with my reference Sennheiser HD 800 S model and a few other headphones I had on hand that occupy similar price points and seek to fulfil a similar use case–i.e., audiophile-level listening enjoyment.
My setup from source to ear starts with 24/192 hi-res FLAC files played back via the VLC player on my 2015 MacBook Pro, coming out of the headphone output into one of my two preamps. One is solid-state, and the other is tube-based. Each preamp then feeds signals that maintain 15 to 25,000 Hz (solid state) or 5 to 60,000 Hz (tube) straight to the headphones.
The AH-D7200 is a closed-back, over-the-ear design with 100 percent natural walnut earcups. The aluminium headband is covered in sheepskin on the top and leather on the bottom, where contact with the top of your head happens. Leather ear pads cover memory foam, which conforms to your ears and the sides of your head. These cans weigh in at 385 grams, which felt solid but never overwhelming. The adjustable headband utilizes ball bearings for smooth operation, and numbered markings allow you to check, note, and reset to your favourite position. Such attention to detail is great.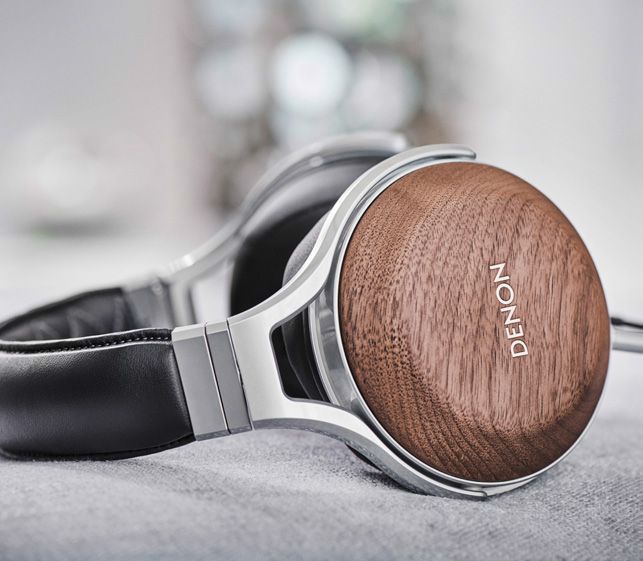 Denon uses a double-sided, high-quality, cloth- wrapped copper headphone cable with a fixed quarter-inch input connector. If you want to plug these directly into a device that has an eighth- inch mini socket you will need to provide your own adapter. There are no controls or microphone for making/taking calls. Frequency response is listed as 5 to 55,000 Hz with 105-dB sensitivity (dB/mW).The AH-D7200 employs unique Denon- designed 50mm dynamic FreeEdge nanofiber drivers. Impedance is only 25 ohms, which means that they will get plenty loud-so go slow when first trying these!
I listened to a variety of tracks from genres including classical, electronic trance, jazz, R&B, rock, and rockabilly. Here are my observations on a select few: On "Walk of Life" from Dire Straits' Money for Nothing album, you can hear the chiff of the Hammond organ percussion in the intro, which demonstrates the AH-D7200's transient response-very nice? This track is interesting in that there is plenty of space before the drums come in, but then we are in full-tilt-bozo wall-of-sound mode, which can challenge any headphone's ability to resolve all the dense midrange frequencies. Lesser headphones can't handle such mixes too well. These Denon headphones were up to the task-they provided plenty of punch on the bottom and were silky smooth on top.
Next up was 'I Say a Little Prayer' from Aretha Franklin's Aretha's Gold. The lead vocals are front and centre, with the backing vocals and all the instruments placed just "so." Here the D7200's imaging was impressive. As with many very good to great headphones, you don't just sense right and left, but you hear an immersive experience of being right there in front of the performance.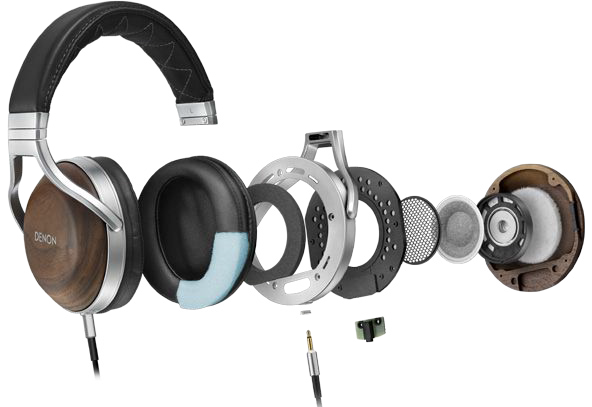 Mixing things up a bit, I put on the Hans Zimmer's Inception soundtrack- particularly, the track entitled 'Mombasa.' The massive bottom-end of this track produced some distortion in the D7200. I quickly switched to my reference Sennheiser HD 800 S headphones, and they were able to handle it Now, the HD 800 S is an open-back design at 300 ohms, while the AH-D7200 is closed-back and only 25 ohms; so, I thought that maybe adjusting my gain structure might make a difference. I was able to lower the distortion somewhat but at the expense of some dynamic range and impact. I should also point out that the HD 800 S is 60 percent more expensive. My conclusion? Not many tracks have this level of low frequencies fit's a great track for subwoofer demos), and the open-back design and higher impedance of the Sennheisers make quite a difference.
How about some jazz to cool down those drivers? I went with 'Continuum' from Jaco Pastorius's The Essential Jaco Pastorius- which has, as one would expect, plenty of bass. Here the AH-D7200 performed well … astonishingly well, in fact. If you don't have this FLAC file, I highly recommend it. The whole album is wonderful, and I listened to all of it through the Denons. It sounded amazing.
COMPARISON AND COMPETITION
I was able to get the Beyerdynamic T5p 2nd Edition, the Ultrasone Signature DJ, and the OPPO PM-1 for comparison with the Denon AH-D7200. The Beyerdynamic and Ultrasone models are closed-back like the Denon, and the use case and price point of the open-back, planar-magnetic PM-1 are so similar that I consider it a fair comparison. I listened to the same tracks (and more) as listed above, and here are the differences and similarities: The Beyerdynamic headphones are very natural, and I very much like the overall sonic signature they present. Performance is very close to that of the Denon headphones, so I would have to say this comes down to user preference. I might suggest leaning toward the Beyer if you like more thump and the Denon if you are more into the space in between. The Ultrasone and OPPO headphones were each a bit more detailed and were able to reproduce extremely low bass frequencies a bit better than the Denon, but I would have to say they were all tied when it came to imaging-so this decision may come down to comfort, look, and feel. Fortunately, you really can't make a bad choice among these four.
CONCLUSION
The overall sound quality, look, and feel of the Denon AH-D7200 are very good.
As stated earlier, I think it comes down to your preferences and how comfortable these are on your head. I certainly understand and support having a closed-back set of headphones; and, if this is what's driving your decision, I would recommend the AH-D7200.