HP Spectre Folio
Has HP minced its latest convertible, or is everyone going to lap up this leatherbound laptop?
Without leather it would be impossible to tell a really important book from the latest Mills and Boon, we wouldn't have anywhere to store our money, we couldn't hold up our trousers, we wouldn't have chapps and if HP had its way, we wouldn't have laptops either. So integral is the leather folio to the professional convertible that HP have chosen to literally glue beef-skin to its latest 2-in-1. And while this may mean HP's latest device has to endure being called names like the MeatBook, gluing your folio case to the laptop isn't always as bad as it seems.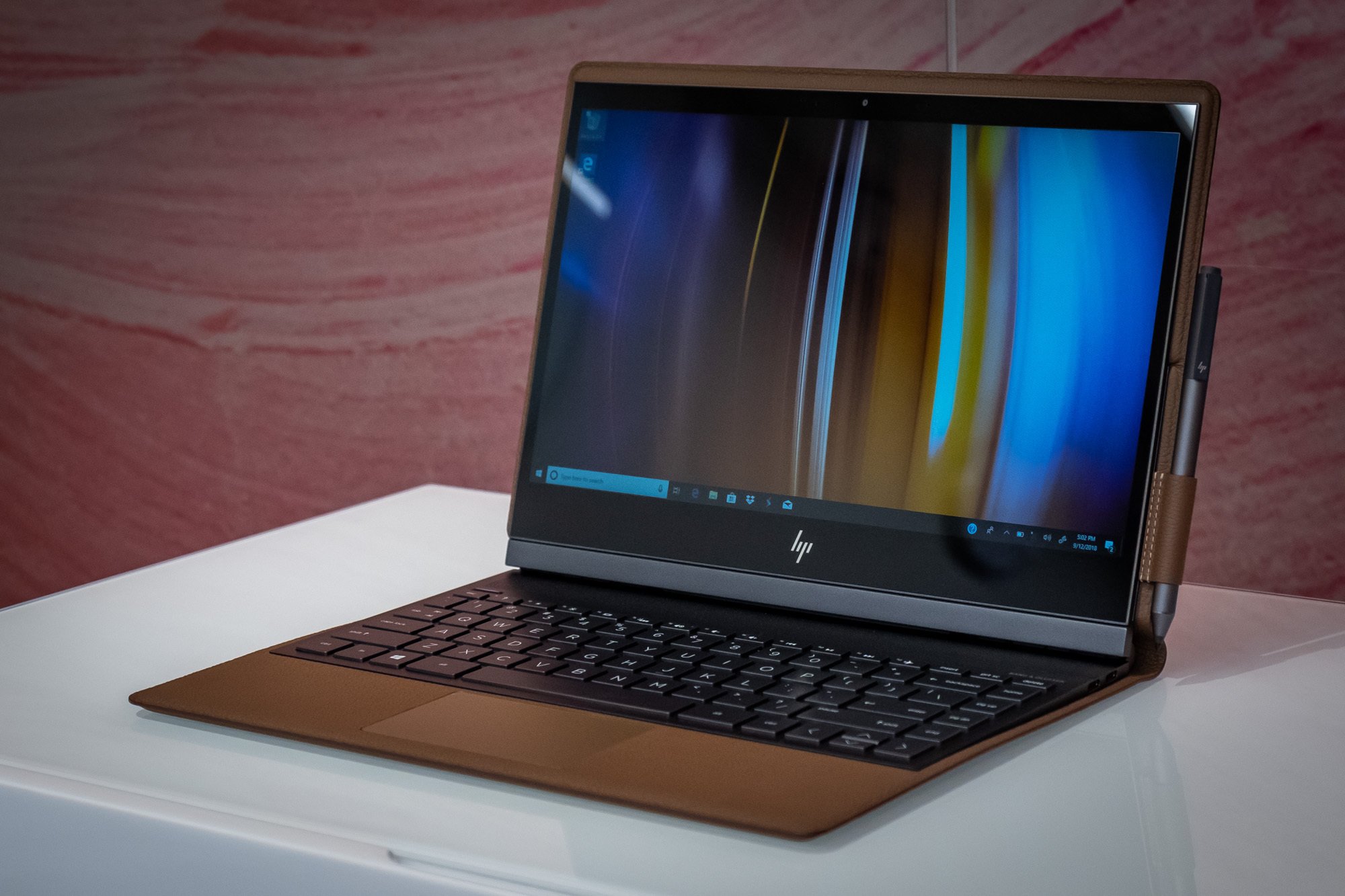 The Spectre Folio's 13.3-inch touchscreen display has a magnetically mounted pivot point in the middle of its back that allows you to use it as a traditional laptop with a hinge, or flip it into a tablet. For most use cases this is a great convertible solution and there's a lockable display plus trackpad position that we could see getting a lot of use.
The Spectre Folio is the first device we've tested with an eighth gen Y-series CPU, which were announced back in August of 2018. The hyper-efficient dual-core Core i7-8500Y CPU in the Spectre Folio is the fastest Amber Lake CPU available, but it's also passively cooled — a feature we imagine to be essential for a PC that is wrapped in tanned thermal blankets. The vast majority of today's premium 2-in-1s use U processors which have transitioned to 4 cores over the last year, so pretty much any other 2018 convertible will offer roughly double the raw compute power of the Spectre Folio. This device does punch above its weight in general home and work tasks by boosting to a speedy 4.1GHz over short periods, but it scores 45% less than a Lenovo Yoga 920 with a quad core i7-8550U CPU in Geekbench multi-core CPU tests. So it's a little underpowered.
This chip also takes a hit in the graphics department with the Intel UHD Graphics 615 scoring between 45 and 60% lower on 3DMark's Time Spy when compared against similar 2-in-1s with Intel HD 620 GPUs. Then again, anyone after a leatherbound laptop probably won't be too disappointed that it's not capable of even the lightest video gaming.
The HP Spectre Folio is definitely priced as a premium device, starting for a Core i5-8200Y CPU, 8GB of RAM and a 256GB PCIe SSD. The model tested here has a Core i7-8500Y, 16GB of RAM and a 512GB SSD, but you can go all the way up to a 1TB SSD if you have to splash about.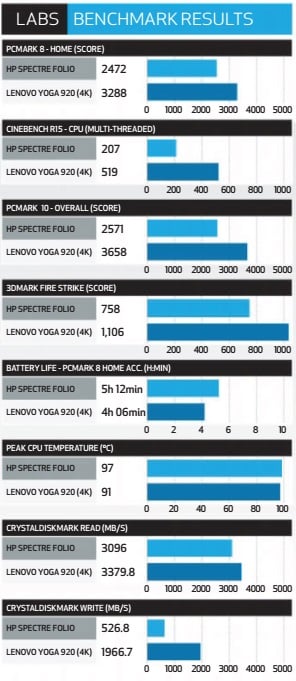 The screen is a dull when sitting next to an ultrabook competitor like the Huawei MateBook X Pro — we expect this has something to do with the screen's thermal constraints when wearing leather — but it's also only FullHD, which is unusual for any convertible that costs this much. The ultra efficient CPU and dull screen combine to give a particularly long battery life when watching movies (HP claims up to 19 hours with a conservative screen brightness), but put it under any load (say PCMark 8's Home accelerated battery benchmark) and battery life drops back to 5 hours and 12 minutes. Joel Burgess
Verdict
Best HP Spectre Folio prices ?
MORE DEALS

See also THE COMPLETE GUIDE TO…OLED laptops