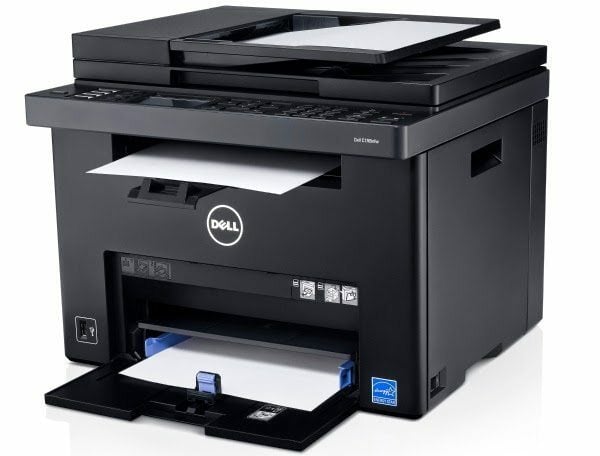 When is a laser printer not a laser printer? Answer: when it's a Dell C1765nf. Dell has often provided its customers with cutting-edge technology, in its range of laptops, desktops, servers and networking hardware and especially with its range of mutli-function printers. The C1765nf is no exception to that rule, as this is actually an LED printer.
LED printers aren't a new technology; several printer manufacturers have been using them for a while now, but since this is the first one we've had the pleasure of testing, it makes the concept quite exciting.
An LED printer differs slightly from a more traditional laser printer, in that instead of using a laser to target a spot of toner (very layman's terms here), the LED uses an array of LEDs across the entire page print area. The process doesn't make an LED printer faster or have a better quality output, but it makes them cheaper to manufacture and in some respects a little more reliable, since there are fewer moving parts.
Moving back to the Dell, this is an all-in-one office masterpiece that scans, copies, faxes, prints and has support for USB, Ethernet, wi-fi, mobile printing, cloud printing and goodness knows what else. The only thing it apparently doesn't do is make the tea.As standard, it has a 150-page tray, a 295MHz processor, 128MB of memory and supports a number of operating systems. Controlling and administering the printer is easy enough via the LCD panel and numerous buttons; the same goes for setting it up on the network as well.
Print speeds were okay, with the page of text coming through at a rate of about 12 pages per minute and the colour taking a little longer at ten pages per minute. However, we did find that the printer took nearly four minutes to start printing, during which time there were some horrible grinding noises coming from somewhere in the bowels of the chassis.The print quality wasn't brilliant. The text came out about the same quality as the HP CP1025 which, while okay, wasn't as sharp as we would have liked. The colour too was muted and quite dark. Whether this is something inherent with an LED printer, we're not sure.
The genuine Dell toner multipack costs around £184, with a yield of 2,000 pages for the black and 1,400 for the three colours. This works out at about 3p per page, but if you shop around for the premium cartridge version, you can pick up a multi-pack for around £55 for the same page yield. This means that with the premium cartridge version you'll be getting something like 0.9p per page, which isn't too bad at all.
Overall, the Dell C1765nfw is a very capable printer. The fact that it does so much is certainly a selling point, although how many of us fax these days? The print quality isn't all that great, though; the text is average, and we'd say the colour output is slightly below average. But it can be cheap to run and maintain, and that certainly counts for something.