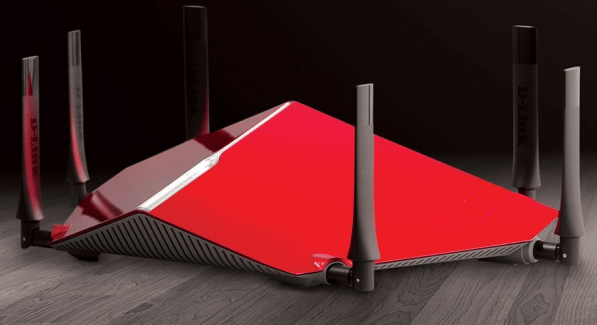 Now, this is a rarity. Premium modem routers don't come around too often, with the majority of high-end wireless routers still requiring a separate modem to provide internet connectivity.
The D-Link Taipan touts itself as the first consumer tri-band modem router, and a quick scan of the current marketplace justifies its claims. The other modem routers available to this point have been dual-band, with tri-band functionality only coming from premium wireless routers, sans modem capabilities.
It certainly has very striking looks, looking like an alien spaceship or an insect that's landed on its back. With its six high-gain antennae sprouting from its edges and its wide footprint, you'll definitely need to ensure there's plenty of desk or shelf space to accommodate it. Sadly, it isn't capable of standing on its side, but I suspect buyers of this product will want to show it of , rather than hide it away in the corner. The Taipan is visually almost identical to D-Link's DIR-890L, except that device is red and is only a wireless router, with no modem functionality.
On the back of the router are the usual suspects. There's a DSL port for your phone line, a USB 3.0 port, a USB 2.0 port, four Gigabit Ethernet ports (which can be used for WAN/NBN purposes) and a power button. There's also a reset button, WPS button and the power socket.
Setup of the router was a pretty simple process. Plug in all of your required cabling and fire it up. You can either configure the Taipan using a PC connected via Ethernet, or using a mobile device via wireless. All you'll need are your login credentials from your ISP, and the whole process takes all of five minutes. The Taipan auto-detects your internet connectivity settings, and you're up and running in no time.
During setup, you are given the option of specifying separate SSIDs and passwords for the 802.11n band and the two 802.11ac bands. However, I recommend that you give them all the same SSID and password, so you can take advantage of the SmartConnect functionality of the device. SmartConnect will automatically allocate any newly connected wireless devices to the best available band, to ensure the fastest possible connection speed.
Tested this functionality with four 802.11ac-compatible devices, it evenly distributed them across the two available 5GHz channels, and was able to send all connected 802.11n devices to the 2.4GHz channel without further intervention.
As for the rest of the web config page, navigating through it was a breeze, with basic settings initially shown, and allowing for advanced configuration should you wish to do so. The home page provides an at-a-glance look at the state of your network, showing internet connectivity, connected devices, and any USB devices also connected, be it hard drives or printers. You are also able to set up a mydlink account, which – when used in conjunction with an installed smartphone app (iOS and Android versions available) – can be used to remotely manage your home network, granting and revoking access to devices as required.
The Taipan claims to be a video streaming powerhouse, so I decided to test its claims. I wirelessly connected a 2015 MacBook, a Dell XPS 13, an iPad Air 2, an iPhone 6, an HTC One M8 and my LG 55in LED TV and started streaming a combination of Netflix and YouTube HD videos across all of the devices. Each device was quick to start their respective videos, and after a short wait on each, were all playing at the maximum available resolutions with no stuttering or lag. Quite impressive.
I then picked up the mobile devices and moved to the other end of the house, and there was no discernable drop in video or audio quality, even with the router having a handful of walls in the way. I suspect this has something to do with the AC SmartBeam technology, which uses built-in algorithms to direct its 5GHz transmissions to connected devices directly, rather than flooding the airwaves with signals in all directions.
It's definitely got the goods performance-wise, it's a very expensive proposition. If you've got an ancient ADSL modem that's on its way out and high-speed media streaming is a must-have, then you might be able to justify buying the Taipan. However, if your modem works fine, you're probably better of picking up the DIR-890L wireless router and saving yourself almost in the process.
Despite its router + modem appeal, the D-Link Taipan AC3200 Ultra is just too expensive at this point to wholeheartedly recommend. Anthony Agius
SPECS
Dual-core 1GHz processor • Tri-band (600n + 1300ac + 1300ac)• 4 x Gigabit Ethernet, USB 3.0, USB2.0

Ultimate Wi-Fi performance with AC3200 Tri Band speeds (1 x 600 Mbps in 2.4GHz + 2 x 1300 Mbps in 5GHz) to support more connected Wi-Fi devices to your high speed home network
Enjoy 4K/HD video and online gaming simultaneously with 3 x 3 data streams and 6 high performance antennas
& Free shipping
Last update was on: 2022-02-10 11:25 pm
Ultimate Wi-Fi performance with AC3200 Tri Band speeds (1 x 600 Mbps in 2.4GHz + 2 x 1300 Mbps in 5GHz) to support more connected Wi-Fi devices to your high speed home network
Enjoy 4K/HD video and online gaming simultaneously with 3 x 3 data streams and 6 high performance antennas
The 1GHz dual core processor gives you powerful wired and wireless speeds
Advanced smart connect allocates the best possible band for maximal Wi-Fi performance; Wi-Fi coverage large home, Compatibility: Works with existing and future Wi-Fi devices
Advanced AC Smart Beam tracks your connected devices for enhanced Wi-Fi speed and range throughout your home
Intelligent QoS traffic optimization delivers seamless performance for your applications
Intuitive user interface for easy Installation and network management from your mobile devices or desktop
Advanced security features WPA/WPA2 encryption for a safe home network.Box shows the part as DIR 890L and the color designation of red is the /R