More Than Just A Signal – Spread the net, far and wide, to many devices and stream  HD content seamlessly
If you ever find that your WiFi range is insufficient, it's time to get a new router.
Sometimes the stock router that comes together with your ISP just doesn't cut it when it comes to WiFi range or strength, especially if your network experiences heavy traffic from multiple devices. A weak router just isn't built to handle that much stress and can be bogged down by the heavy traffic.
So why not save yourself the frustration and get yourself a router like the D-Link DIR-859, sporting dual-band capabilities of 2.4GHz and 5GHz. Connect your mobile devices which you use for regular streaming or just web surfing to the 2.4GHz band, whilst you connect your devices with heavy traffic to the 5GHz band for the best performance. The router also sports 3 high powered antennas that was capable of encompassing our office area without breaking a sweat.
Testing the wireless strength around the office, we were able to get fast speeds regardless of location in the office. The DIR-859 enabled us to stream HD content over wireless smoothly, allowing us to keep our HD content in a different PC and sharing it to the entire office to stream from. A feature we always enjoy is the Guest Wi-Fi Network, which allows us to create a public SSID for guests to use for better security from outside threats.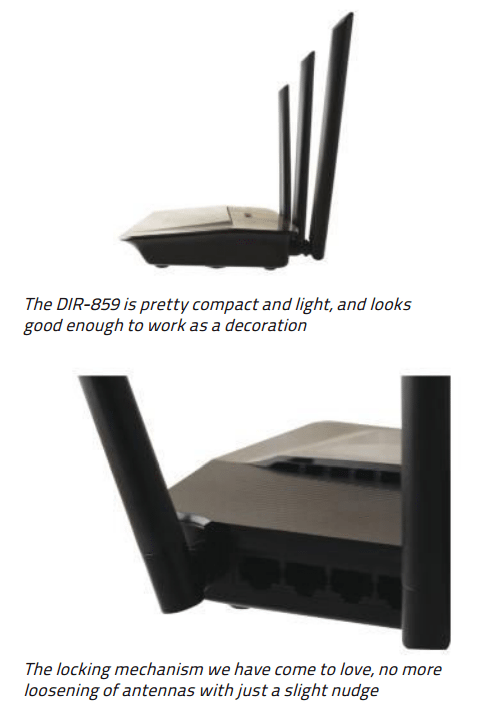 Another thing we like about the DIR-859 is its antenna locking mechanisms, we have seen plenty of routers where just a slight nudge of the antenna would cause it to come loose. With this router we can adjust the antennas freely without it coming loose. The setup for the router is pretty simple, just plug everything into its respective ports, turn on the router and login to the Web UI. If you're using Unifi be sure to switch your PPPOE settings to the provided Unifi-PPPOE setting, a simple thing to do but if forgotten could cause some headaches for a while, especially if you're not used to working with routers.
D-Link DIR-859 Verdict
If you need a simple replacement router for  your office or home network, for its price the  D-Link DIR-859 is a great choice when you  factor in all its capabilities.
Best D-Link DIR-859 prices ?
MORE DEALS

D-Link DIR-859 Review: Specification
Ports: 4x LAN, 1x WAN
Connectivity: 802.11 a/g/n/ac
Network Standard: IEEE 802.11ac, IEEE 802.11a, IEEE 802.11n, IEEE 802.3, IEEE 802.11g, IEEE 802.3u
Encryption: WPA, WPA2, WPS
Dimensions: 156 x 113 x 53mm
Weight: 408g