A highly configurable router with an open-source firmware
DETAILS
• Manufacturer. Buffalo
• Requirements: ADSL2+ broadband, 2.4GHz wireless devices
Buffalo is more recognized for its NAS and external hard drive solutions than its routers, but the company has an interesting selection available, including the Buffalo Airstation WBMR-300 HPD modem router.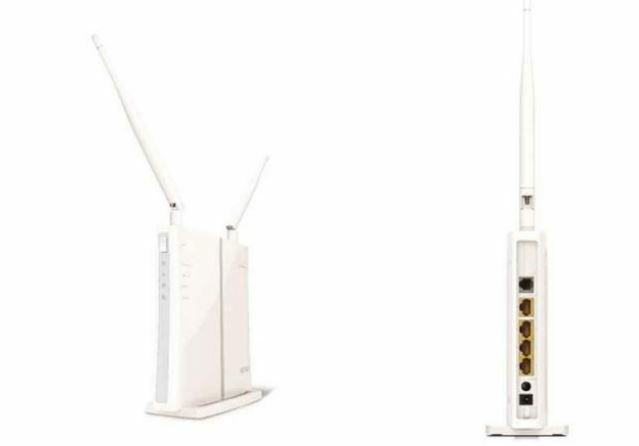 It has a number of worthy features to its name. For one, it's an ADSL2+ modem, router, access point and extender, with Wireless-N standards for connection up to 300Mbps and a pair of high-gain 5dBi antennas, all packed into a relatively slim 165 x 158 x 35mm glossy white case.
For a start, it comes with the open-source DD-WRT NXT firmware pre-installed – a Linux-based firmware that offers support for Open VPN, Kai Network, WDS, RADIUS and root level SSH device management. You'll also find DNS caching, QoS, VLAN and 128-bit WEP security.
The design of the WBMR-300 HPD is fairly standard, with a large WPS button on the front, accompanied by a row of four LEDs indicating power, WLAN, internet access and whether the device is in router mode or not. It also has two screw mounts for the antennas to fit to, and the rear of the router houses four LAN ports, with one for WAN, a DSL port, power button and power port.
There are slots in one of the sides for wall mounting, and the router comes with a easy clip-on stand for vertical position. The side with all the mount slots also has four rubber feet if you prefer to have the router horizontal.
The router is certainly easy to set up via the web browser interface. From there you can configure the settings or set the router up as a true modem router, access point or extender. Thankfully, Buffalo made this interface easy on the eye, without the need to dig too deeply into various sections and sub-sections before you find what it is you're after.
What you get here is good enough for most users, but we do feel that there's a lot missing from the WBMR-300 HPD that comes as standard on most routers, even ones supplied by ISs.
One of the glaring design omissions is the lack of gigabit Ethernet across the available LAN and WAN ports; in this case, you'll only get 100Mbps. While only having access to a 100Mbps backbone isn't going to affect a lot of users, it will impact on the future growth of your home network. It also lacks a USB port on the router, leaving you to rely on either a USB to network adapter or some other form of sharing. Considering the router is designed by a company that also produces NAS devices with USB ports, this seems like an odd thing to leave out.
Another aspect that's left out is dual-band connectivity. While the 2.4GHz band is adequate, it's a rapidly consumed band that's easily swamped and negatively by other factors. Either way. it's yet another element that's missing from an otherwise good router.
The Buffalo Airstation WBMR-300 HPD isn't too bad a router, but there are just too many features that even the most basic units offer that are missing here. Its highly configurable nature is to be applauded, but we feel there's not enough to tempt a user beyond their ISP-supplied router, mm David Hayward
Although with good elements, there's too much missing