CyberLink PhotoDirector 9 Deluxe – CyberLink specialises in low-cost, feature-packed creative software sold with flashy marketing, so we didn't have high hopes of its ability to deliver an effective photo-management program. Which goes to show you never can tell, because PhotoDirector is actually very good, despite its low price.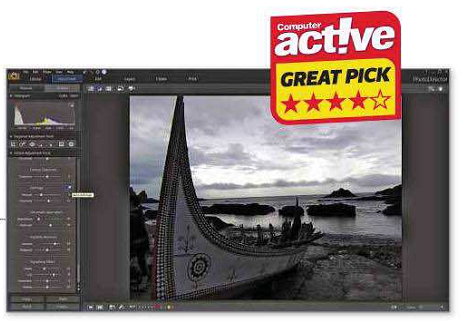 Library management is comprehensive and responsive, and face recognition adds to the methods of sorting and finding your shots. There are extra features like capturing selected frames from video footage to edit as images.
We were mostly happy with PhotoDirector's raw processing. Colour-
SYSTEM REQUIREMENTS
Windows 7, 8 or 10 • 2GB memory • 1GB hard-drive space • Internet connection for installation
correction tools mimic Adobe's, which is a plus point. Noise reduction, which can rescue underexposed shots if you don't have expensive fast lenses or a camera that supports ultra-high ISO, worked much better than in AfterShot Pro (see below). Lens-correction profiles were good for Canon and Nikon DSLRs, but struggled a bit with the sometimes more complex distortion of mirrorless and compact cameras.
As usual with this kind of program, all your edits are non-destructive, meaning the changes are stored separately and can be edited or reversed later. There are exceptions in the Ultra version – but, like AfterShot Pro, regularly discounted – which adds layer-based editing, creative effects, and more frivolous functions like face-swapping.
Anyone who's serious about their photography should consider Adobe Lightroom CC, which is excellent value, for professional software. But if you want to spend less, PhotoDirector 9 Deluxe is a great alternative.
VERDICT:
Don't expect a like-for-like Photoshop alternative, but for raw adjustment and library management it's 40 quid very well spent
Editor choice
CyberLink PhotoDirector 9 Deluxe Review
Don't expect a like-for-like Photoshop alternative, but for raw adjustment and library management it's 40 quid very well spent
Add your review