CyberGhost 5.5 – David Hayward improves his online anonymity
Features At A Glance
Easy to use, one-click connection to global servers.
Safe and ad-free browsing.
Malware and anti-virus protection at the server level.
AES 256-bit encryption, anti-fingerprinting, unlimited bandwidth
Our online privacy has never been as more important as it is now.
With various laws probably coming into enforcement over the coming months and years, with even more restrictions and government agency level 'observing' just around the corner, the situation is undoubtedly getting worse.
We've traded our privacy for pseudo-safety, a mock scare tactic created to pen us into an Orwellian society and state. Where does it end, and what can we do about it?
Pessimistically speaking, there's probably not much we can do. If the powers-that-be state that they're watching you, then they'll go about it regardless. That means we'll just have to live with it, but we can put a dampener on these restrictions and surveillance.
Become A Ghostie
CyberGhost is a VPN that we've used and supported for years. It's quite simply one of the best forms of online protection a user can possibly ask for, and it's just got a little bit better.
CyberGhost 5.5 has recently been released, and with it comes a number of additional benefits that can be added to your subscription package. Whereas simply hiding your IP address and encrypting your connection are the norm for a VPN, the team at CyberGhost feel that there's more that needs to be done.
The new features added to the client interface include an ad-blocker, malware and virus protection, data compression, prevention of online tracking, the ability to force HTTPS, and access to even faster servers.
Advertising usually contains elements of location tracking and viewing where a user has been previously. Malware and virus protection is an absolute must these days, and while most users will already have some form of protection installed on their computers, having that protective layer at the online server side is a fantastic addition.
The data compression feature greatly improves mobile browsing speeds and data tariffs, and the prevention of online tracking will actively remove any content that could be seen as monitoring your browser usage. Finally, forcing HTTPS is a useful feature that many VPNs omit. By forcing a secure connection, you're increasing the security of your browsing and lessening the chances of your online banking, for example, being hijacked by some hacking method.
Beyond the new options, version 5.5 has a faster, slicker interface. Connection to the servers beyond the UK is quicker, and the overall download speeds are dramatically improved. There's also a handy graph included, to show you how many instances of blocking, tracking and forcing of HTTPS have occurred during your use of CyberGhost.
The Best Anonymity
CyberGhost keeps getting better, and it's the one VPN we can recommend without any hesitation.
If you're serious about your privacy and you want to surf anonymously without being logged or watched, then CyberGhost has a subscription package for you.
For more information, including pricing for the various subscription packages, visit goo.gl/M5vwSJ.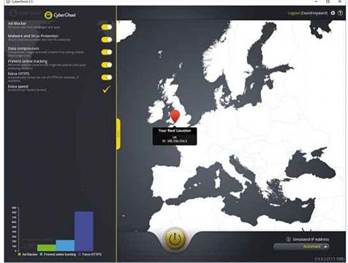 The extra features can be added to your subscription individually or as a group
CyberGhost keeps you safely anoymous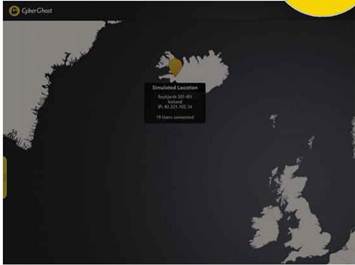 Connection to global servers is improved, with faster downloads