Sound BlasterX Kratos S5 Review – Computer. Monitor. Keyboard. Mouse. Is that a complete setup, or is there something missing? The final component you may or may not find on the average desktop PC is a set of speakers. Headphones are the obvious alternative, favoured by gamers for immersive sound effects while keeping the peace with the neighbours and by audiophiles for quality music reproduction. But wearing headphones for long periods can get uncomfortable, and if your PC gets pressed into service for home entertainment you'll want everyone else to hear it too. That's where a 2.1 speaker system like this comes in.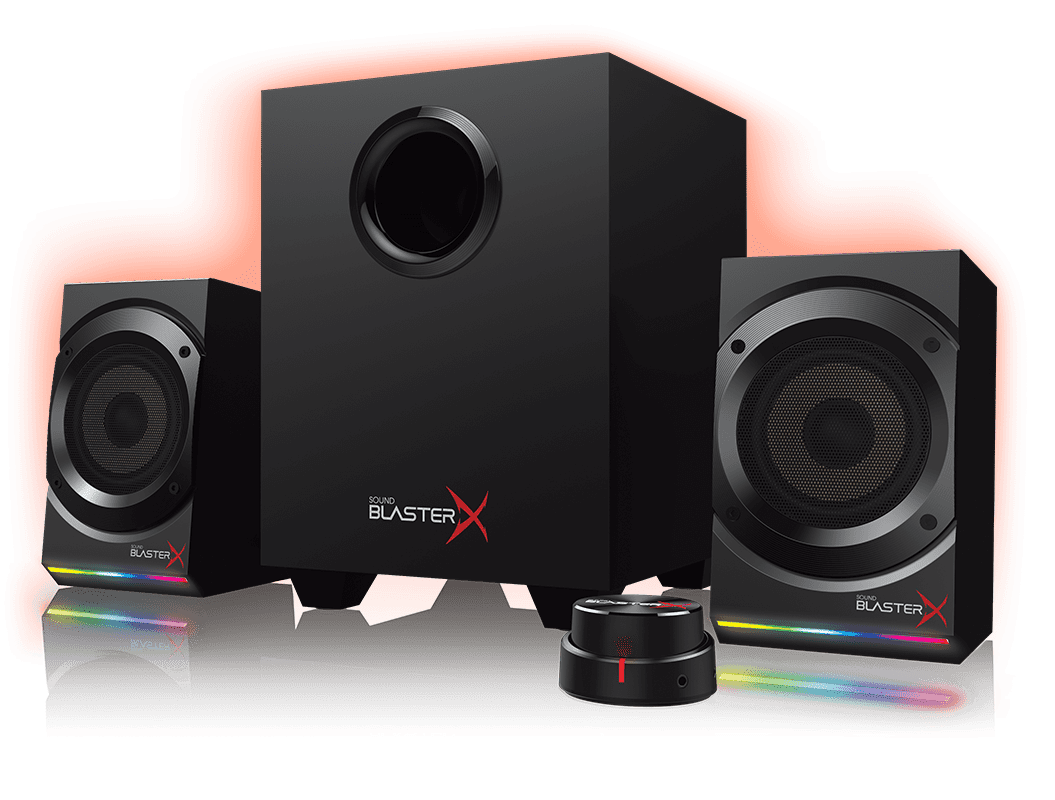 See also:
A subtle design with nice lighting touches, and a bass you can actually feel
The Kratos S5 is aimed at the alien-zapping gamer fraternity, but the styling of the two satellite units is quite restrained (except for the Sound BlasterX logo), and the subwoofer, designed to be tucked away somewhere, is positively minimal. In fact, the black finish is so plain that you might not immediately realise these are authentic wooden boxes. You will, however, hear the benefit when they pump out solid, controlled sound, with bass you can really feel from the downward-directed subwoofer.
We weren't particularly convinced by the virtual surround-sound option, but you certainly get a wide sense of stereo, and if the default equalisation doesn't
Sound BlasterX Kratos S5 Review: SPECIFICATIONS
2x 12W RMS 4in drivers
36W RMS 6.5in subwoofer
Satellite speakers 199x118x120mm, subwoofer 306x220x260mm (HxWxD)
USB audio input
Two-year warranty
suit your needs (we found the mid-range sounded a bit flat, muffling some dialogue in films), you have full control over it in the Sound Blaster Connect software.
The preferred audio connection is USB, which gives a noticeably richer sound than the 3.5mm jack input. There's also a pair of phono inputs, all on the back of the subwoofer, along with a bass level knob. You also get a volume-control pod, a standalone dial that sits on your desk for quick adjustments – when you want to switch to headphones they can plug straight into this.
The Kratos S5's final selling point is Aurora Reactive RGB LED lights, which are built into the bottom edges of the left and right speakers and light up your desk with subtle colour patterns. Despite the name, they don't respond to music, but you can choose from a variety of patterns, and the effect is rather pleasing without being too distracting. Given the reasonable price, it's a nice bonus.
Sound BlasterX Kratos S5 Review: VERDICT
Although not hi-fi quality, this is still a very good speaker and provides enough impact for dramatic games and films
Sound BlasterX Kratos S5 Review: ALTERNATIVE
Razer Nommo Chroma
This discreetly attractive pair of speakers has its own RGB lighting, but can't match the Kratos S5's power