JBL Arena 5.1 – I'm sure most of you will know that JBL is one very famous company. Its speakers can be found in commercial cinemas across the globe and domestically it makes the mind-boggling Synthesis line that can be heaped up until you're spending cost-no-object type money and have world-class audio to go with it.
And as well as histories (JBL dates back to the 1940s) speaker companies also have personalities. British hi-fi brands tend to espouse a smooth, almost polite output. German hi-fi leans toward a cold antiseptic sting with crisp high frequencies. American audio can seem brash. And JBL is the latter – on the automotive side, the company is unassailable for making potent drivers for car nerds at ridiculously low prices. It makes high-end in-car gear, too, of course.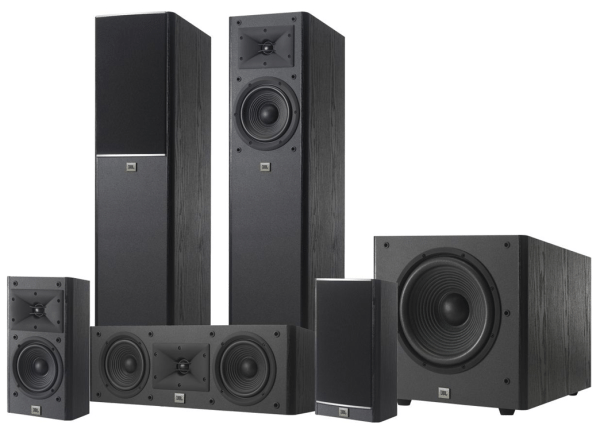 The same holds for JBL's home cinema products. It offers all sorts, from TV booster speakers and soundbases/soundbars, to home-theater-in-a-box systems and subwoofers. Move up to traditional loudspeakers and it has many lines, too. The Control series is a semi-pro application, made with injection-moulded enclosures. Studio, the slightly higher entry-level product, uses three-way speakers. Arena, tested here, is JBL's all-out value offering, made in simple veneered board with black or white finishes.
The range is aimed at movie fans who are greedy enough to wish for detail and dynamics, scale and weight, and awesome placement. It seems a ridiculous ask all at once – almost childish – yet the JBL product has the back-end tech to do it.
It's a perfect size for a regular UK movie room – the cubic that the second, smaller space THX Ultra2 rating was designed for – not that this is remotely THX-rated.
That said, THX is a set of performance rules and for speakers it's about power and potency of output and above all, the accuracy of sound imagery. That accuracy was always something that JBL did tremendously well, with proprietary parts made to steer a speaker's output the better. The acoustic lens is a JBL heritage idea.
As is the somewhat daftly-named 'High Definition Imaging' tech (HDI) on these Arenas.
This is a shallow horn. It has a soft dome tweeter at its apex and the shape is squared-off to provide the optimum side-to-side dispersal of the highs, as well as the best up-and-down 'throw'. Output response off-axis, as well as on-axis, is so crucial to how well loudspeakers perform. There is a classic measurement plot called a Polar Response diagram that can show sound by frequency, loudness (in decibels) and directivity. This acoustic science can get intensely techy, fast, but makes for interesting reading.
And JBL has been doing empirical, suck-it-and-see R&D for longer than almost anyone. Thus these horns are subtle. They are also painted in a tremendously tactile coating that enables the steering of high frequencies without setting up a ringing chime in the metal part itself, or sounding harsh, like reflections in a tiled room. Coupled with a 7in cone in the Arena 170 towers, well-made of simple asymmetric cubic construction with a big port in the rear, they rock. The petite sealed, Arena 120 is equipped with a smaller 5.5in cone and the same HDI dome/horn, while the 125C has the tweeter and two of those smaller cones with two ports to the rear. The cabinets are finished off with handsome short-form grilles to the towers, and smart badging in silver. It's nice to see the use of Allen-headed bolts to fix the drivers, too.
The SUB 100P could not be simpler. It features a single 10in driver (there's no additional passive radiator here), a 100W amplifier, two rear ports and a single LFE input. It'll stand on rubber feet or the supplied spikes. Separately available for £260, it's undoubtedly the most basic part of this system.
When I auditioned the array I'd just bought the delightful Inside Out by Pixar but still had Elysium residing in the deck [you must love that film – Ed], so tried both movies, as well as pushing some music TV through them while they were in situ. And, as you may have gathered already, I was suitably impressed.
Dynamic delivery
Elysium, with its apartheid-in-space sci-fi narrative, has two distinct palettes and soundscapes. One gritty, hard and tough with shouting kids and overblown car sound systems; the other all sweetness and crisp suburban light. During the opening Earthbound sequences the first thing that assailed me was how dynamic this system is considering it has so few drivers. The ribs on every low-frequency transducer and their soft compliant suspension means they push air like pistons without breakup. So it's loud enough to be exciting and then – boom – it's suddenly much louder. That's a trait I like.
And the detail of the favela/shanty/slums' soundtrack was intense, with the performance of the tweeters apparent all around the five-channel sound field. Those tiny rears act larger than they are, and can jolt you off the sofa if you position them where the horns can get you. Overall, there is a punch and tautness of tone to the array that beguiles, although at the same time there's certainly a lack of the subtlety and nuance that marks out higher quality loudspeakers.
Without spoilers, the nice guy from District 9 is a future villain of massive vileness, with a crew who gun a transport-chopper-sized trans-atmospheric vehicle.
Through the JBLs, the impact of its engines was epic. Not mega-theater sized, but remarkable considering the dimensions of the enclosures.
There's a scene featuring people trying to get up to the eponymous space habitat – like modern migrants leaving a hellhole – via shuttlecraft. Again, the mayhemic detail of the people milling around, underpinned by huge engine noises, was articulated well, and when one of the craft gets shot down, seen from further away, the sound is anti-climatically quiet and minor, travelling with a soft signature all the way from left to right.
I was ever-so-impressed by the bass. The modestly-specced subwoofer had an in-room response significant down to at least 30Hz, with traces of wobble below even that. The box is well ported, the driver shifts gouts of air and once I had Inside Out spinning, I was able to experience the sheer scale of the Train Of Thought that rumbles through Riley's sub-conscious. Again, though, subtlety of delivery isn't a strong point.
There's a lot of POV inner-monologue from the Pixar movie's protagonists and this is pinned very dead-center. The twin midbass drivers in JBL's center speaker help add some heft to these vocalizations. Some are really chaotic; Riley meets a boy and we venture inside his mind where all of his emotions are in overdrive, with alarms sounding 'Girl! Girl! Girl!' This sequence fully tested the array and found me needing to turn the subwoofer level down a bit as it unloaded. Have it set too high and you'll enter overdrive territory, so be careful.
A final observation. Inside Out is all about memories and they can fade, shatter and clang about with messed emotions. These manifest as orbs, which, when dropped, are glassy in their chime as they hit the floor and roll around. It's a distinct, tricky audio effect, yes these inexpensive speakers, maybe even because of their needs-must simplicity, do an amazing job of recreating it.
JBL Arena 5.1: A budget bargain
If you are looking for a speaker package that is tremendous value for money yet allows you to play loud with headroom left over – and can show off the smarts of movie sound designers – then this Arena system is going to be awfully hard to beat. If I was limited to a sub-£1,000 budget, I would probably spend my own money on these. They are very much a muscular home cinema product – as opposed to hi-fi – and the design is unadventurous, but still heartily recommended..