With HyperX's fantastic Cloud headset still doing the rounds for around £, launching a new headset in a similar price league will certainly be a challenge, but Cooler Master is in with a good chance, with numerous good examples of headsets to its name. The latest model is the MasterPulse Over-Ear; as its name suggests, it uses circumaural earcups. So it has plenty of competition, including the aforementioned HyperX Cloud, but it makes a good impression out of the box.
It feels solid, with a tough aluminium frame stretching around the rim with an expandable headband. The aluminium frame splits just before it reaches the earcups, doing a good job of limiting vibrations from accidental knocks.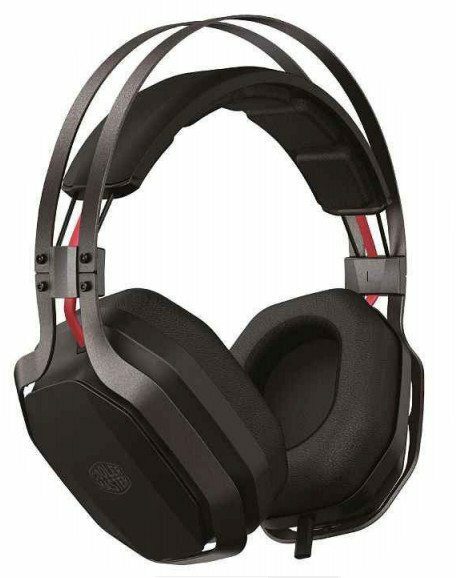 The earcups can adjust vertically but not horizontally, although this design decision doesn't impact on comfort. The earcups lack the ability to rotate for easy transportation and storage though. Also, while the earcups sport large padded cushions, they don't offerquite offer enough cushioning to raise your ears away from the hard plastic coating inside. Thankfully, the plastic is barely noticeable and doesn't significantly affect comfort, even after a few hours of use.
The headband is well-padded too and there was only a hint of head strain after a few hours of use. The MasterPulse Over-Ear will have trouble fitting around larger heads, though, with only minimal adjustment in the headband.
In terms of audio setup, there's no USB sound card integrated into the MasterPulse – just 3.5mm mini-jacks. There's a 1.3m cable attached to the headset with a four-pole minijack, and a second cable adding another30cm or so, splitting into headphone and microphone mini -jacks for PC use. Strangely for a gaming headset, there's no external microphone, but you still get one courtesy of a small hole in the left ear cup, along with a mute button on the inline volume control.
The MasterPulse Over-Ear's main audio feature is called Bass FX – the earcups are closed out of the box, but magnetic removable caps enable you to alter the bass by opening up the ear cups. This feature is meant to enrich the bass tones, and there's definitely a discernible effect when you enable it, with the bass becoming slightly punchier and deeper as if it had been boosted in an equalizer. Opening the ear cups in this way does also allow a little more sound to escape though.
Magnetic removable caps enable you to alterthebass.
Sound quality is good, if a little bass-heavy, especially when you remove the ear cup caps, which also makes the sound a little muddy in the mid-range. However, the MasterPulse coped well in a range of situations, including a variety of music styles and games, with plenty of detail even at the high end. Despite the microphone lacking the physical presence of other headsets, it did a fairly good job at recording voice too – good news if you like the idea of ditching the microphone boom.
Conclusion
The MasterPulse's Bass FX feature is a little gimmicky, but it does make a difference if you like your audio bassy. Meanwhile, comfort is good and sound quality is well-rounded, although this headset isn't recommended if you have a larger than average head. The main problem for the MasterPulse, of course, is that its up against the similarly priced HyperX Cloud, which still has the edge in terms of sound quality and design. However, the MasterPulse Over-Ear still offers decent sound quality, and remains worth considering if you find boom microphones distracting and like plenty of bass.
VERDICT
A well-rounded headset with a built-in microphone, good bass reproduction and a reasonable price, although if s up against stiff competition.
SPECIFICATIONS Cup type Circumaural Connection 3.5mmjacks Drivers 44mm Frequency response 20HZ-20KHZ Impedance 50 Ohms