i-Sensys MF633Cdw Review – IF YOU'RE RUNNING a small business you almost certainly need a printer, and Canon's i-Sensys MF633Cdw probably seems like a good bet. It's a color laser MFP that can scan, copy and print, and send and receive faxes – fully 20 years after most people discovered email. You can hook it up to a wired or wireless network, automatically make duplex (double-sided) prints, and control everything with a 12.7cm touchscreen that even the technologically dunderheaded can work out. What's not to like?
In fact, depending on your business, there may be a few things. While there's an onsite warranty, it's only a year long, which isn't ideal. The printer's standard paper input tray holds only 150 sheets and there's no after-sales upgrade: you could spend quite a bit of time restocking it. It ships with color cartridges (cyan, magenta and yellow) each rated for a meagre 690 pages, and even their high-yield replacements will last only around 2,200 pages, so you could also spend quite a bit of time replacing its consumables.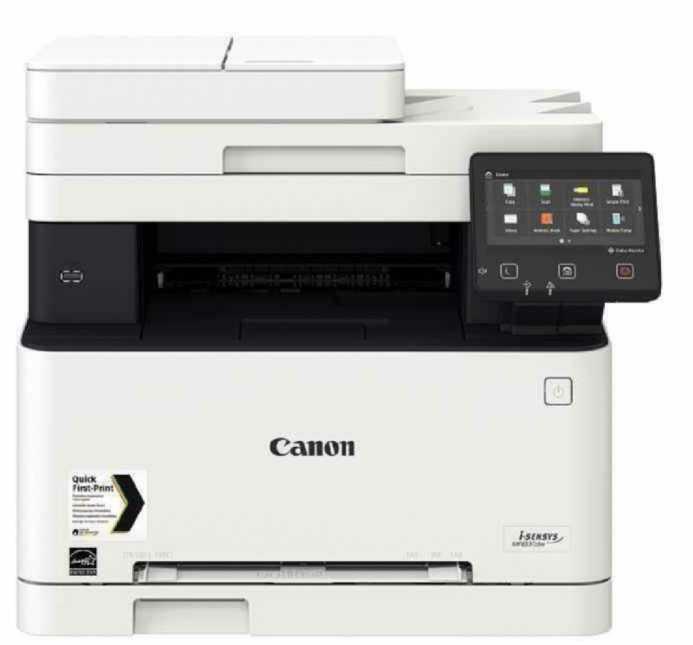 Specifications aside, this is a smart and comparatively compact MFP that's easy to set up. During the first boot it asks if you want to calibrate its colour output, furnishing you with a reference page that you scan on the platen.
We left the printer switched off for a few days, after which it had leased a new IP address; neither the print nor scan drivers missed a beat.
i-Sensys MF633Cdw Review: QUICK MARCH
Canon says the MF633Cdw takes no time to warm up, and our tests confirmed this. Whether printing immediately after another job or after an hour sitting idle, the first page of text emerged in just 14 seconds, and our 25-page test completed at 16.3 pages per minute (ppm). Although you can select a (well-hidden) 1,200dpi mode, the printer's true resolution is 600dpi, and it printed six 6x4in photos on three A4 pages in 28 seconds.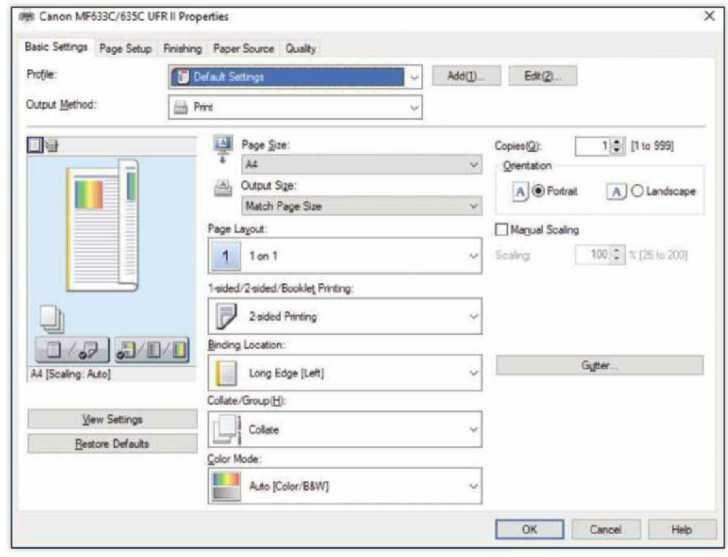 Scans were quick up to the maximum resolution – again an adequate 600dpi – with a 300dpi A4 scan needing 15 seconds. The MF633Cdw's automatic document feeder was sprightly, eagerly pulling through our 10-page photocopy test while the printer itself fought to keep up: the job took 43 seconds in black, and 57 seconds in colour. While the screen helpfully shows the scanned page count, it doesn't tell you how far along the printer is.
i-Sensys MF633Cdw Review: RESULTS SERVICE
We were broadly happy with the quality of our test results. Scans were excellent, and prints were crisp, with great shading control. Unfortunately, photos and colour graphics had a slightly dull colour bias, which even the Vivid Photo setting couldn't fix entirely. Colour photocopies had a similar problem, despite the calibration step during setup.
The MF633Cdw has some strengths, but its small paper cassette and lightweight supplies mean it's not ideal for a busy office. More fundamentally, its running costs work out at a huge 16.3p per A4 page. While consumables for new printers often fall in price, that's a very high starting point; we'd expect a laser in this category to come in at under 12p, and an equivalent inkjet to be nearer 6p. As such, it's hard to recommend the i-Sensys MF633Cdw.
Simon Handby
i-Sensys MF633Cdw Specifications
TECHNOLOGY Colour laser • MAXIMUM PRINT RESOLUTION 600x600dpi • MAXIMUM OPTICAL SCAN RESOLUTION (OUTPUT BIT DEPTH) 600x600dpi (24-bit) • DIMENSIONS 400x451x460mm • WEIGHT 22kg • MAXIMUM PAPERSIZE A4/legal
i-Sensys MF633Cdw VERDICT
CANON i-Sensys MF633Cdw Review
Canon's MF633Cdw is a half-decent MFP, torpedoed by high running costs.
PROS
Scan to USB and email
Multiple-page per sheet copies
Fax functions
CONS
No duplex
150-sheet paper tray
Banded photo prints
Add your review
|
Read reviews and comments
Best CANON i-Sensys MF633Cdw prices ?

$

175.99
1 new from $175.99
in stock


$

205.99
1 new from $205.99
in stock

MORE DEALS