Campfire Audio Comet universal-fit earphones
by Chris Martens
In Hi-Fi+ issue 158, I favourably reviewed the Campfire Audio Polaris and Andromeda earphones, the former representing a performance-minded mid-priced entry and the latter standing as one of the firm's flagship offerings. Both earphones featured what I described as the firm's "somewhat angular" signature machined metal earpieces, with the Polaris offering combination black Cerakote and blue anodised housings and the Andromeda sporting cheerful Kelly green anodised earpieces. Frankly, many enthusiasts considered Campfire's beautifully made earpieces as one the firm's most attractive selling points, but company founder Ken Ball—ever the perfectionist—was not content to leave well enough alone. Even though Campfire's past earphone designs appeared stylish and sturdy to most observers, Ball felt it was possible to do even better.
Accordingly, the Campfire team set to work developing an entirely new set of earpiece enclosures—enclosures designed to be extremely svelte and compact, yet also exceptionally strong and durable. To this end, the new earpieces are formed from drop forged and precision CNC-machined stainless steel, and then given gleaming, mirror-like, hand-polished outer surfaces. The resulting earpieces are ergonomically superior to Campfire's more angular earlier-generation designs, and are both handsome to look at and rugged enough to stay looking good come what may (Ken Ball says the new designs can survive the rigours of constant every day carry while showing few if any signs of wear).
To kick things off, Campfire has created two new earphones that feature its new earpiece designs: namely, the entry-level Comet earphone and the top-of-the-range Atlas. Wishing to evaluate and report on the new designs as soon as possible, we decided to start with a review of the Comet, since it was released a bit earlier than the Atlas. Also, we were eager to see just how much performance Campfire could eek out of an 'entry level' earphone.
In simple terms, the Comet is billed as a high fidelity in-ear monitor with a single, full-range balanced armature driver. Candidly, there are many enthusiasts who would tell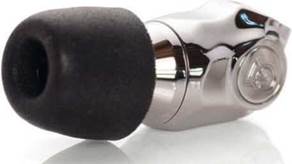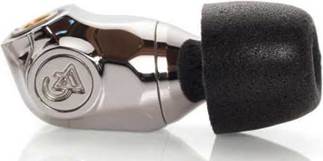 you that the terms "full-range" and "single balanced armature driver" don't belong in the same sentence. This is because, historically speaking, it has proven difficult for manufacturers to get single balanced armature drivers to cover the entire audio frequency spectrum with the desired combination of extension, tonal neutrality, dynamic authority, resolution, and finesse. Many have tried, but few have been wholly successful in their efforts.
To address known problems commonly encountered in single balanced armature designs, Campfire has taken two key design steps forward with the Comet. First, the Comet uses what the manufacturer describes as a "custom design vented full range balanced armature" driver (whereas typical balanced armature drivers are not vented). Campfire says the vented driver, "can deliver crisp snare drums as well as the thump of the kick (drum)," adding that, "the vent gives us that punch." Second, like many other Campfire earphone designs, the Comet earpiece uses internal Tuned Acoustic Expansion Chamber (T.A.E.C.) technology, which is said to extend and open up high frequency response. As Campfire puts it, "adding our T.A.E.C. takes off the ceiling and lets the highs breathe at the top end of the sound."
Another desirable touch is that the Comet ships with a detachable and user replaceable copper Litz-wire signal cable fitted with a handy, inline three-button remote control and mic module. Importantly, both the Comet's cable and earpieces are fitted with special Beryllium/Copper MMCX- type connectors, which are said to be considerably harder and more durable than the soft brass MMCX connectors often used in competing designs.
The Comet's included accessories are rather lavish by the standards of the sub-£ price class. The earphones come with a zipper-closure carry case with faux shearling lining, five pairs of Final Audio ear tips (sizes XS/S/M/L/XL), three pairs of Campfire Audio 'Marshmallow' ear tips (sizes S/M/L), three pairs of Silicone ear tips (sizes S/M/L), a Campfire Audio lapel pin, a cleaning tool, and the aforementioned copper Litz-wire signal cables. A neat detail item is that the carry case includes two compact fabric drawstring bags—one for each earpiece— to protect the Comets from possible scratches when in transit. While the Comet is the least expensive earphone in the Campfire range, nothing about its presentation suggests it is in any way cheap. On the contrary, it exhibits a level of attention to detail that is uncommon at this price point.
For my listening tests I drove the Comets with my Samsung Galaxy smartphone, my iPad Air tablet, and with two digital audio players: the Astell&Kern KANN and FiiO X7 MkII. Other comparably priced earphones I had on hand for comparison purposes included models from 1MORE, Final, RHA Audio, and Westone. All listening was done either through Tidal or via lossless and/or uncompressed music files captured at 16/44.1 or higher resolutions. Here's what my listening sessions revealed.
More so than perhaps any other single balanced-armature earphone I have heard, the Comet offers an unexpectedly authoritative and expansive sound—especially in the critical ►
The Comet is capable of very good transient speeds and offers generous amounts of resolution and textural finesse.
► lower midrange to mid-bass region. I say "unexpectedly" because in many cases those same frequency regions are precisely the areas where some single balanced-armature designs sound thin or lacking in appropriate weight and dynamic authority. Happily, the Comet proves the exception to the rule; it is ready, willing, and able to show the surprisingly deep, rich, woody character of the cello as heard on Agnes Obel's 'The Curse' from Aventine [PIAS America, 16/44.1]. Similarly, it deftly captures the extremely hard-driving pulse of the drum kit and electric bass from Hanne Boel's rollicking cover of 'After Midnight' from Outtakes [WEA. 16/44.1].
At the same time, the Comet is capable of very good transient speeds and offers generous amounts of resolution and textural finesse across most, if not all, of the audio spectrum. A great example comes in the form of Rene Garcia-Fons' 'Ghazali' from Oriental Bass [Enja, 16/44.1], where Garcia-Fons' solo work on a five-string acoustic bass reveals the soloist's blinding fingering speed and dexterity, not to mention the diverse array of attack, sustain, and decay sounds that Garcia-Fons is able to coax from his instrument. Vocals as heard through the Comet are a treat, too, as on Anne Bisson's cover of 'Us and Them' from Portraits and Perfumes [Camilio Records, 16/44.1], where Bisson uses very subtle twists of inflection and shifts in dynamics to underscore the darker underlying themes of the classic Pink Floyd song.
Similarly, the Comet does a good job reproducing delicate spatial cues and high frequency textural details in recordings, as in Miles Davis' cover of the Cyndi Lauper tune 'Time After Time' as captured on Live Around the World [Warner Off Roster, DSD 64]. This brilliant live recording has very wide dynamic range so that at times certain delicate percussion details and crowd noises are barely above whisper level, yet the Comet captures them faithfully, giving the entire song the unmistakable feel of a live concert performance. The Comet does a good job with high harmonics and transient sounds, too, as in the title track of Marilyn Mazur, Josefine Cronholm, and Krister Jonsson's Flamingo Sky [Stunt Records, 16/44.1, Tidal]. The title track is chockfull of Mazur's variegated percussion sounds and textures, Jonsson's syncopated and angular guitar lines, and Cronholm's striking vocals – all of which the Comet renders with a degree of finesse unexpected in light of its modest price.
A big part of the Comet's success has to do with the ergonomics of its stainless steel earpieces. The earpieces are big enough (and weighty enough) to be easy to grasp and to adjust in the ear, but small enough not to get in the way or to inadvertently dislodge their own ear tips. The result, then, is an earphone that is easy to adjust for an optimal in-ear seal, and that stays put once the listener has them properly positioned.
Is the Comet as much earphone as most listeners might ever need or want? Possibly it is. Those willing to spend two, three, four or more times the Comet's price will discover they can achieve incremental improvements in extension at both frequency extremes, even more expansive dynamics, and increases in overall resolution and transient speed. But, the key point is that the Comet offer very strong performance in all those areas, and does so at a price falling a tick. The bottom line is that few earphones deliver as much musical refinement per pound (or dollar, or euro) as this one does.
TECHNICAL SPECIFICATIONS
Type: Single balanced armature-drive universal-fit earphone
Driver Complement: One custom design vented full-range balanced armature-type driver per earpiece
Frequency response: 20Hz-20kHz Sensitivity: 97dB Impedance: 48 Ohms Weight: Not specified