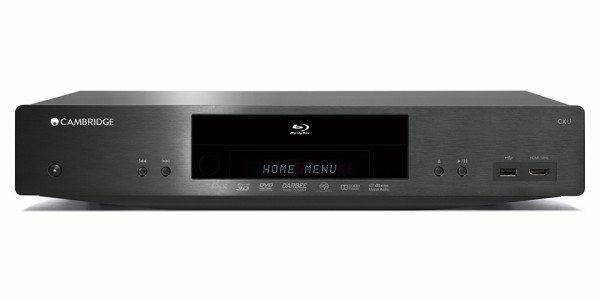 Cambridge Audio punts Blu-ray with the right degree of pomp and attention to sonic detail, says Steve May
With its union flag branding and prim brushed fascia there's something of the Last Night of the Proms about Cambridge Audio's top-ranking CXU Blu-ray player. The Great British Sound branding reflects the company's UK research and design operation, but is indicative of a lofty approach to audio that explains why you won't see much change out of a grand.
The deck is substantial, and connectivity almost preposterously generous. On the rear panel are two HDMI outputs, enabling you to feed a flatpanel and a PJ simultaneously (or nominating one HDMI for audio-only duties), plus an HDMI input. This switching facility will prove useful if you're running out of ingress on AV receiver or display. Typically you might route a set-top box tuner through here, or connect an OTT streamer on a stick, such as Amazon Fire.
There's network Ethernet and two rearplaced USB inputs, plus a composite video output (purely for diagnostic purposes). In addition to optical and digital audio outputs, plus stereo analogue audio out, there's optical and coaxial digital audio inputs, plus full 7.1 analogue audio outputs. IR and RS232 are provided for custom install system control.
On the front panel you'll find an additional USB plus another HDMI with Mobile High-definition Link (MHL) support for smartphones. The bundled IR wand is an old-school button fest, but hefty enough to damage toes if carelessly dropped.
One of the more unusual legends on the front panel is that of Darbee Visual Presence; indicating additional proprietary post-processing is available should you feel the need. Darbee is only applied to the primary HDMI 1 output. Both HDMI outs have ARC compatibility, though.
While Wi-Fi isn't integrated, the deck does ship with a Wi-Fi dongle which plugs into one of the USB slots.
The CXU pulls rank on Cambridge's well-specifi ed 752BD and is once again built on the MediaTek platform, widely regarded as the go-to solution for affordable (sic) highperformance Blu-ray by manufacturers. Also used by Oppo and Arcam, it supports a wide variety of disc formats, including Super Audio CD, DVD-Audio, AVCHD and HDCD (of which I have just one disc, a rootin' tootin' compilation of Western movie themes).
Beneath the lid are five separate Wolfson WM8740 DACs, the same used in much of the CX range, including the CXA stereo amps and CXN network media player (although not the brand's CX AVRs). Cambridge Audio's proprietary ATF audio technology is used to up-sample all audio to 24-bit/192kHz. The video output can scale to 2160p, or any selected resolution beneath that depending on the source. For highest musicality, there's a Pure Audio mode, which takes video processing out of harm's way.
In general use, the player skates like Tony Hawk. The UI is fast and responsive. Hit the Network menu and the deck immediately identifies DLNA devices, PCs and media servers. Don't expect to find much in the way of streaming entertainment on board, though. There is currently no network service support of note, outside of a YouTube app and Flickr. Video file compatibility is also a little shonky, with playback from my network NAS proving a crap shoot. Some MKVs which unspool happily on rival players simply didn't work, triggering a Resolution Error on the display. There is subtitle support, though, which should please anime fans.
Audio file support is more reliable. My ratbag collection of downloads and rips largely played without incident, from MP3 and FLACs to DSD64/2.8224. However it does not play DSD128/5.6448 MHz files, although it will party with 5.1 DSD64.
Image quality is sumptuous. Clean fine detail, velvety gradations, no intrusive noise or artefacts. Blu-rays look superb. Personally I wouldn't use the internal 2160p upscaler. If your display is from one of the main four, I'd opt to leave processing to the panel. Alternatively, if you're running with a Full HD display, then this will eke out pop that you probably didn't even know your discs had.
The Darbee video processing implementation is the same as that seen on other devices including the Darbee standalone processor. You get to select your Mode (Hi-Def, Gaming, Full Pop) as well as adjust the level. While I remain a tad conflicted about the benefits of Darbee, it clearly does impact the image, and often without obvious compromise. When Iron Man dons the Hulkbuster suit (Avengers: Age of Ultron, Blu-ray), Darbee demonstrably brings greater contrast and vibrancy to his armour. Full Pop defaults processing at 90 per cent, bringing out detail and ramping up the palette so that reds really zing. Think of it as a TV's Dynamic mode on best behaviour; it's particularly effective with animation. The Gaming mode drops processing down to 60 per cent; the over-emphasised highlights calming a little.
The default Hi-Def mode is set at 31 per cent. This is actually quite subtle, but still powerful enough to crispen armour detailing found on the Hulkbuster. When Iron Man drops the deranged Hulk through the tower, the sequence offers astonishing definition and vibrancy.
Some might question the sense of buying a high-end BD player with 4K Blu-ray tantalisingly close. But this is a high-end music player as much as a top-flight video machine, and while MediaTek has committed to offering 4K Blu-ray solutions with support for Dolby Vision HDR, there's no indication that 4K BD will be able to offer anything comparable at this price point when the format eventually comes to market.
And it's with audio that this CXU really shines. Support for DVD-Audio may be rare, but the player sounds sensational with multichannel DVD-A. I've managed to acquire quite a selection of high-res disc curiosities, which this deck played with panache. A Japanese DVD-A of quasi-classical orchestral tracks, ostensibly entitled Tokachino (which fittingly seems to relate to Japanese cheese) and composed by Jun-Ichi Kamiyama, proves a 5.1 96kHz/24-bit treat for easy-listening lounge lizards.
Generally, users should opt to lace up and listen to stereo from the CXU via its analogue output, but it's got to be said the HDMI delivery of multichannel PCM is superb. The DVD-A soundtrack release for Akira (Symphonic Suite 2002) is a good deal more avantgarde, and is delivered with a level of multichannel excitement that few other soundtracks can match. The energetic 4.1 96kHz/24-bit mix sounds nothing less than extraordinary.
High res audio downloads also sound sublime. Joe Stilgoe's Almost Like Being In Love (24-bit 192kHz, Linn Records), is gloriously light and frothy, with clinical clarity and image placement; the live jazz club atmosphere created by this recording is terrific.
The CXU is a welcome addition to the select band of elite disc spinners currently available. It competes strongly against the Oppo BDP-105D, which also has Darbee onboard, and the Arcam UDP411, which doesn't. It doesn't dethrone the Pioneer LX88 as my favourite high-end BD player, but that player is somewhat more expensive. While the CXU has some minor niggles, in terms of all-round sonic performance it's a corker. If you're partnering with other CX kit, it's a no-brainer.
MULTIREGION: No. Region B BD/R2 DVDMULTICHANNEL ANALOGUE: Yes. 7.1 multichannel, plus stereoDIGITAL AUDIO: Yes. Optical/coaxial outputs plus optical/coaxial inputsBUILT IN WI-FI: Yes. Via supplied Wi-Fi dongleDOLBY TRUEHD/DTS-HD DECODING: Yes/YesDIMENSIONS: 430(w) x 82(h) x 312(d)mmFEATURES: 3 x USB ports; Darbee Visual Presence picture processing modes; RS232 control; YouTube; Flickr; DLNA media playback with support for MPEG, MKV, MP3, WAV, AAC, AIFF, FLAC, DSD; ATF audio upsampling; Pure Audio mode; Wolfson WM8740 24-bit/192kHz DACs.