Mark Craven explores the audio-visual flair of Panasonic's imminent Blu-ray flagship. Read our PANASONIC DP-UB9000 Review.
With its DP-UB9000, Panasonic is reaching for the 4K Blu-ray stars. A premium disc-spinner with audiophile credentials, it promises to be the brand's best slab of AV hardware yet. The fly in the ointment for home cinema fans is that it's not due to hit UK stores until around October time…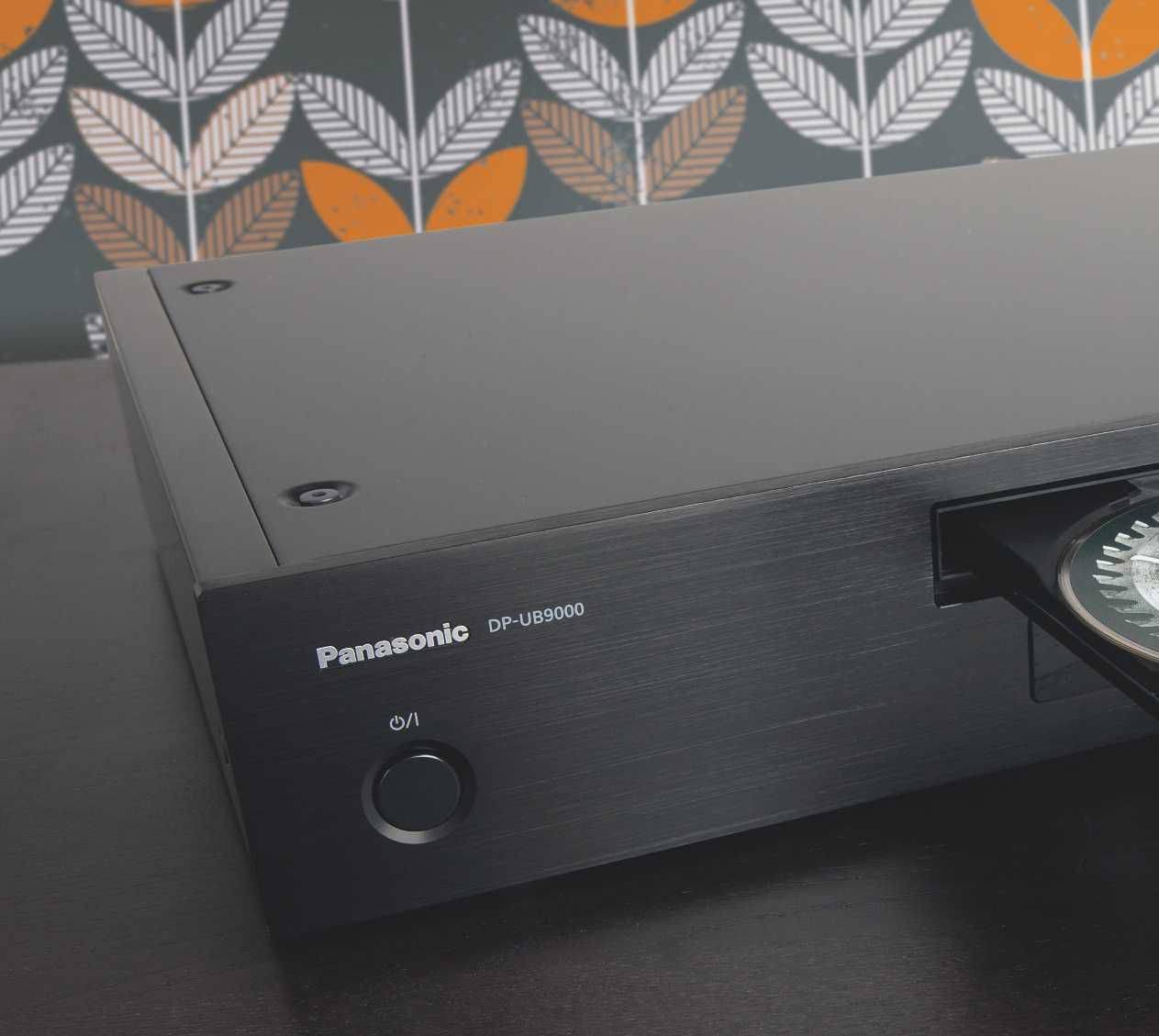 Considering the deck was announced in February, and rival brand Oppo has ceased manufacture of its own high-spec players, this delay is perhaps annoying.
But Panasonic has its reasons, not least certification purposes for third-party apps, and no doubt the fact that any HDR10+ compliant machine will make more of a splash when there are HDR10+ discs to play on it.
This hasn't stopped the Japanese corporation showcasing the UB9000 to the world's technology press, and kindly letting me live with one for a few weeks.
What follows isn't a review, as – despite being told our sample was essentially 'final' – the smart cupboard was obviously bare (no Netflix app, for starters), dynamic metadata formats weren't supported, and Panasonic engineers still have time to make firmware revisions. Consider it an appetite-whetter…
Heavy metal
Out of the box, it's clear that the DP-UB9000 will appeal to those who like their AV separates to look and feel good. This full-width player is gorgeously designed with a hairline fascia, and seriously heavy (it's much weightier than an Oppo UDP-203). It makes for a rock-solid presence on your kit shelf, with a styling that's more upmarket than Panasonic's 2016-era UB900. Gone is the drop-down cover that hides the disc tray, replaced by a centrally-mounted drive and front display that's reminiscent of – you guessed it – an Oppo UDP-203.
Both Dolby Vision and HDR10+ playback are due on this deck's final spec sheet. This is a sensible choice for a player and hopefully remain in an AV system for a good few years. No one wants to have to swap out a disc-spinner just because they've upgraded their display.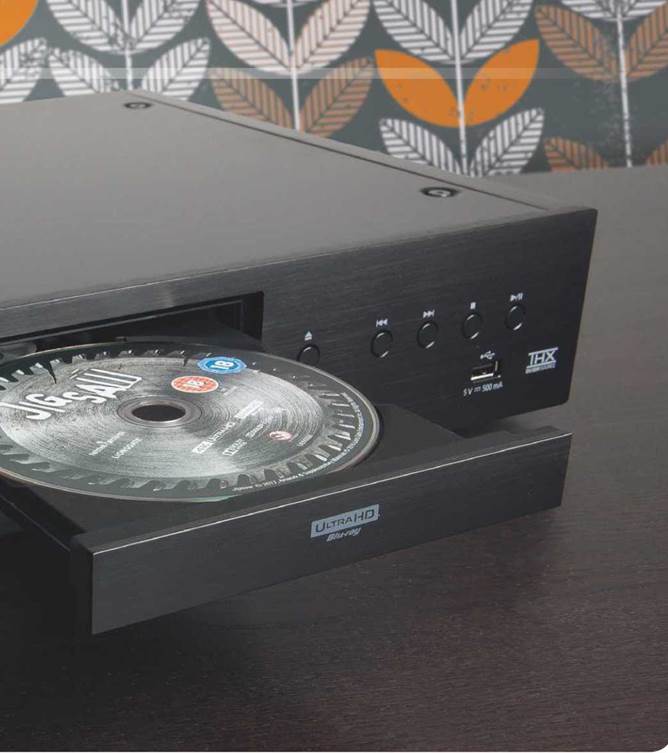 As an accompaniment to this dynamic metadata support, the UB9000 packs Panasonic's HDR Optimizer processing. This is designed to work with the static metadata HDR10 format (found on all 4K HDR Blu-rays), and moves tone-mapping from TV to player. The idea being that Panasonic's own HCX Processor silicon will make a better fist of mapping the brightness levels of an HDR source to the native capabilities of a partnered screen, reducing clipping/blowouts in bright image areas.
Dolby Vision/HDR10+ support and the HDR Optimizer are both scheduled for the step-down UB820 machine. So the real reason to be tempted by the UB9000 lies in its audio chops. In addition to a 7.1-channel analogue output stage, there's a balanced XLR stereo output for compatible hardware, a separate power supply for the deck's audio circuitry, high-spec AKM AK4493 768kHz/32-bit DAC, and the noise-reducing, vibration-damping physical construction (including double-layer base and top plates) – not to mention the hours of engineer tuning and 'high- performance' audio parts. Note, though, that while the player supports various digital hi-res formats, SACD and DVD-Audio playback are not on the agenda.
In terms of day-to-day usability, the UB9000 barely puts a foot wrong. Discs spin with a delicious quietness and I had no freeze-ups or crashes.
The handset is similar to that of the UB900, with its useful -10s/+60s skip buttons and backlight. Onscreen menus are Panasonic's familiar black/yellow affairs that are easy to get to grips with, if a bit dull. The smart hub (from what I could see of it) features a 'three-dimensional' tile-based layout that feels dated.
All aboard the Avalon
I have no gripes about this player's video performance. Playing a 4K Blu-ray yields an immensely satisfying picture with lush resolution, balanced contrast and rich, deep colour. The luminous interiors of the Avalon ship in Passengers (Ultra HD Blu-ray) shine with intensity, while the blackness of the surrounding galaxy is deep and true.
During its preview roadshow, Panasonic's R&D boffins were at pains to point out the machine's superior chroma >
1. The disc drive is mounted to a new high-rigidity drive base for added stability
2. The backlit handset is nicely laid out
PRODUCT:
High-end Ultra HD Blu-ray player
Postion: Panasonic's 2018 range-topper, above the DP-UB820
PEERS: Cambridge Audio CXUHD; Oppo UDP-205
subsampling compared to rivals (the player automatically converts the 10-bit 4:2:0 signal of a 4K BD to 12-bit 4:4:4 unless told not to) via test-pattern show-downs. This sort of pixel-level finery is less easy to discern with film content, but I don't doubt their achievement. There's a wonderful stability to its images.
The HDR Optimizer tool proves interesting. It's accessible via the onscreen menus (or a long press on the remote's HDR Setting key), and can be switched on or off when an HDR10 signal is detected. Panasonic suggests users should always have it on, and I can understand why, as its effect is content dependent, and the majority of users can't be expected to know (or care about) the nit-level intricacies of their favourite movies.
With an HDR source that doesn't push the luminance boat out, the impact of HDR Optimizer is negligible/ nonexistent. Flicking between On/Off with Dunkirk yielded no picture change. 'If the luminance of a source is judged as low according to the metadata, tone-mapping is not applied automatically,' says the brand. Presumably, that is the case here.
Discs mastered to higher nit levels do show the benefit of Panasonic's tone-mapping though. I spun Sony Pictures' The Dark Tower, and switching HDR Optimizer in and out yielded subtle but noticeable improvements to cloud detailing amidst the movie's Mid-World skies. Fantasy flick Pan, with its twin bright suns, is a preferred demo from Panasonic.
I experimented with both a Philips OLED and Panasonic LCD, neither really considerable as HDR light-cannons.
I would possibly expect HDR Optimizer to be of less use with a display with a higher native luminance, such as Samsung's Q9 series. With such a screen, though, you're recommended to turn to a tweak (HDR TV Type) within the UB9000's Advanced Picture menu. This offers 'OLED', 'Super High Luminance LCD', 'Middle or High Luminance' and 'LCD and Basic Luminance LCD or Projector' settings – equating to a tone-mapping target luminance of 1,000 nits, 1,500 nits, 1,000 nits and 500 nits respectively.
Additional user adjustments and features are comprehensive and expected. The player can be switched to output an 8-bit or 10-bit signal, and split audio and video over its twin HDMI ports. Ethernet, coaxial, optical and USB (one front, one back) complete the connections roster. Wi-Fi is integrated.
Sonically, the UB9000 impresses with its musical clarity. On this initial audition, used as a CD player via its analogue phono outputs into a Pioneer AVR, it sounded superb, with fine resolution and immersive imaging; Led Zeppelin's Kashmir (Physical Graffiti) becomes the driving, soaring masterpiece Zep-heads know and love, with good weight to its low registers. Switch to HDMI delivery (which brings Panasonic's low-jitter phased-lock loop architecture into play) and it sounds no less assured; clean, crisp and accurate.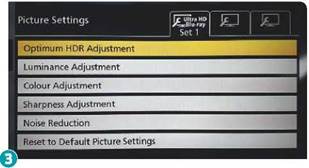 3. Panasonic offers two user slots for picture settings, plus a locked mode. Hit Optimum HDR Adjustment to access the HDR Optimizer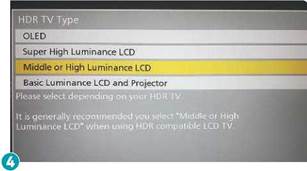 4. The UB9000 has four target luminance settings – choose the one that best describes your display
Labour of love
When the UB9000 finally arrives, Panasonic won't have the high-end player market all to itself. Pioneer, for one, has teased its UDP-LX500, which appears to be cut from a similar performance-first cloth, and perhaps other audiophile brands are considering a debut, now the 4K format has reached a level of maturity.
With this machine, though, Panasonic will surely turn some heads. The ignorance of legacy disc formats aside, it's well-specified, and offers a rich AV performance. Build quality and design are easily a step above anything the company has delivered in the past. This is clearly a labour of love. We look forward to getting reacquainted with it later in the year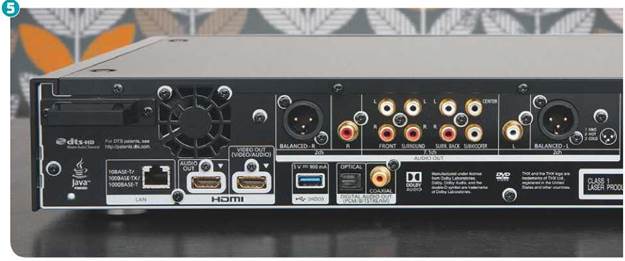 5. The unbalanced phono terminals are sandwiched by XLR outputs