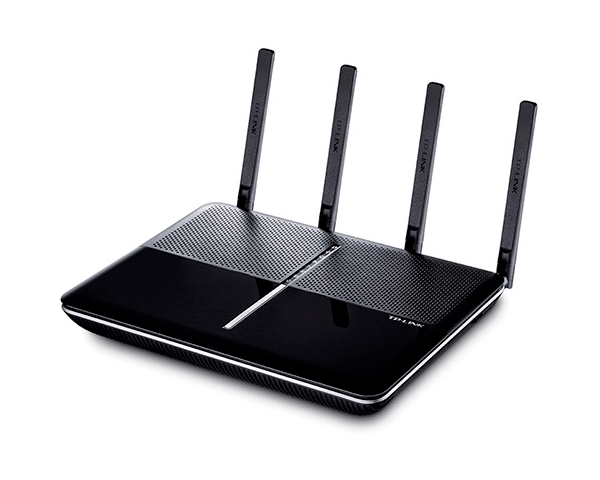 TP-Link delivers a heavy duty AC class broadband router
However you look at TP-Link's new flagship router, the Archer VR2600, it's a monster. Being 263mm wide by 198mm deep and 33mm high, hiding this one could be a challenge even if it can be wall mounted.
This hardware isn't all about aesthetics, thankfully. Instead it's the rather special blend of wi-fi that's the critical lure for those who want to revamp their router.
This design builds on TP-Link's earlier C2600 model with the addition of an internal modem, specified as suitable for UK use.
That makes this is a drop-in replacement for BT's Home Hub, supporting both conventional ADSL and VDSL2 standards (Infinity) with an built-in modem.
As this is also a gigabit switch with an Ethernet WAN port, it could also be used in conjunction with a cable modem, ticking that box also.
But the real special functionality is the 802.11ac implementation, where it offers a theoretical 800Mbps on the 2.4GHz frequency and a whopping 1733Mbps on the 5GHz range. Using special maths, those numbers add up to AC2600, through a popular rounding error.
If it could actually achieve that speed, it would run smack into a slight problem, that being that gigabit Ethernet doesn't have enough bandwidth to establish a link that fast without channel bonding, a feature the VR2600 doesn't offer.
This is resolved, partly, because TP-Link built this hardware to support Multi User/Device MIMO, allowing it to simultaneously divide that wireless bandwidth between multiple users, each of whom might be communicating with a different wired target device.
If they're accessing the internet at the best speed that VDSL2 can manage, then this performance is largely moot, because the router has ten times as much wireless bandwidth as the potential upstream connection.
The target audience therefore is those that want to stream lots of high-definition video to multiple users in resolutions between 1080p and 4K.
To shift that much data around, the router has a 1.4GHz dual-core ARM processor, and that also manages two USB 3.0 ports for minor NAS duties or for sharing printers.
But they also have another really interesting function if you add the yet-to-be-released USB 3G/4G modem. This has been designed as a fail-over device, so should your VDSL go down, it flips over to a 3G/4G connection, maintaining a service.
I do really hope that when it releases this it has some means to warn customers, because using a mobile connection like it's broadband could have significant cost consequences. And I presume you'd need a dedicated SIM and account for that job.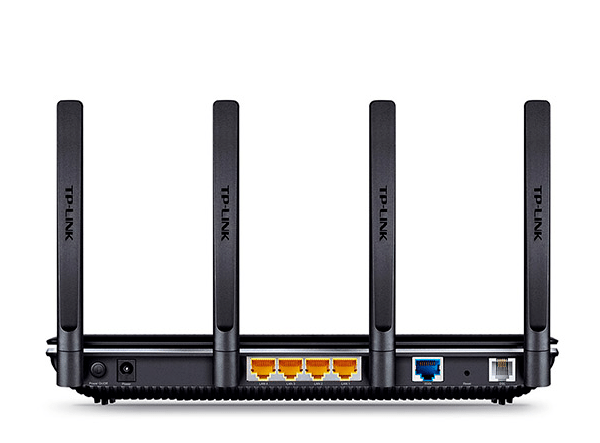 In terms of what you get out of the box, the VR2600 is still pretty impressive, and it's also generally rather easy to set up.
If you're doing a swap, then you simply plug the VR 2600 in where your previous router went, and then fire up the TP-Link Tether application on your smartphone (iOS and Android).
This allows you to make some basic configuration selections and set the admin password, among other things. There's a full web interface you can operate once it's all up and running, should you need to create a DMZ or Static Routing.
There are only a few reservations that I have about the configuration side of this product, one being that it doesn't use the same SID for the two frequency ranges by default.
In my tests, 2.4GHz connections were fine and had good range, but they didn't deliver the level of performance I was hoping for. However, the 5GHz range was an entirely different matter, and speeds of over 300Mbps when near the router were normal.
The USB ports were also fast when shared over wireless or wired connections, justifying using the USB 3.0 specification.
If this product has a real problem, it's the price. Part of me thinks that more than £150 for a router is just too much, especially considering how rapidly this technology churns.
That said, almost all the competing products are around this price, and the majority don't include a modem internally. However, it's worth noting that one aspect that this hardware is unlikely to improve is broadband speed. You could just keep your existing hardware to perform that function and use an AC3200 class router like TP-Link's own Archer C3200 to provide the wi-fi.
Compared with the AC1300 spec of the BT Home Hub 5, the VR2600 is a significant upgrade, but it's not the quickest wireless networking you can buy.
Mark Pickavance

Four-antenna AC2600 wi-fi router with internal VDSL2 modem..