Sitting squarely in the middle of Brother's latest multi-function printer (MFP) range, this feels like a step up from a basic home inkjet printer to something more office orientated. You get two 250-sheet paper trays as standard, so you can handle different sizes, qualities or colors at the same time, and there's an extra feed at the back.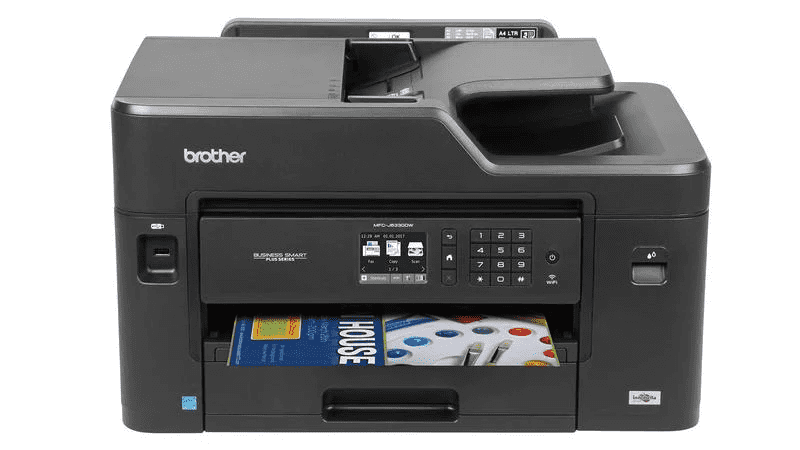 These are usually just for one sheet at a time, but Brother's takes 100.
All the inputs can handle paper sizes up to A3 (twice as big as A4). When you print A4, it goes sideways, with the long side feeding into the print mechanism, which not only helps to print quickly but also seems to make less noise. You just have to get used to slotting the paper in this way round. The MFC-J5730DW can automatically print both sides of the paper (duplex) if required. The scanner on top only handles A4, but comes with a 50-sheet automatic document feeder (ADF) for quick scanning or copying of long documents.
It's all controlled from a large color touchscreen accompanied by telephone style buttons, which you can use to send faxes, if you have a nearby telephone socket.
Ethernet, USB and Wi-Fi are all built in, with support for AirPrint from Apple devices and Mopria from Android.
There's also a socket for a USB stick, but no SD card slot, and you can only print photos, not documents, from this.
Our black text document printed at 16.5 pages per minute (ppm), which is very good for an inkjet printer, and even complex color graphics managed 10.8ppm. Scanning was also fast, at seven seconds for an A4 page at a crisp 300dpi, enabling us to complete 10 A4 photocopies in one minute, although color doubled that time.
So far, so impressive, but quality wasn't so consistent. Black text looked fairly sharp, and color documents were accurate, but the scanner didn't handle color so well, and this was reflected in color copying too. Dark areas got particularly muddy.
That's a shame, because otherwise this is a good deal. Not only are stores discounting the MFC-J5730DW to a very reasonable price, but Brother's new higher-capacity ink cartridges bring running costs down to a very competitive 4.5p per color page.
You may like also:
MFC-J5730DW Review: SPECIFICATIONS