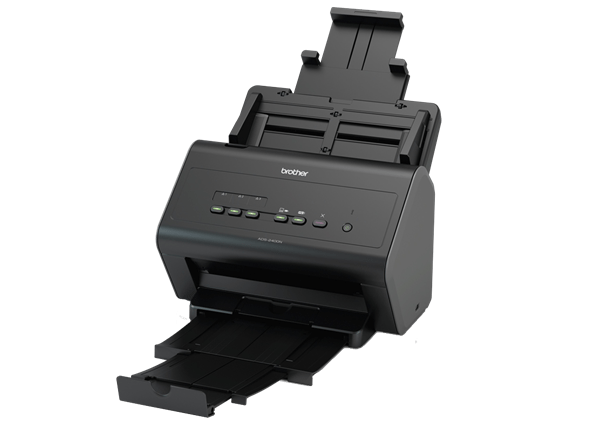 In need of a networked document scanner for the office? Look no further
Brother's range of document scanners make for some interesting reading. There are portable document scanners, large professional scanners, high speed scanners and middle-ground office document scanners.
Each has its own unique set of specifications, with the ADS-2400N falling into the mid entry level for home offices or smaller workgroups.
The Brother ADS-2400N is a network document scanner with a fast double-sided scan capability of up to 30 pages per minute, a gigabit Ethernet port, USB 2.0 connectivity, 256MB of internal memory and a 50-page automatic document feeder.
It's a relatively compact unit, measuring just 382 x 254 x 330mm and weighing around 4.5kg. It's ideal for placement on the end of a collection of desks, and it's also remarkably quiet in its operation.
Brother has gone to great pains to make sure this is simple to use and effective. Just plug in the power and Ethernet, and it'll automatically be recognised on your network. You can then load up the ADF with a handful of pages and scan them in the same way as you would any other network attached scanner, using the usual software too (even MS Paint works).
Scanning is fast for a single page, with it taking a couple of seconds from initialising the preview page to the ADS-2400N spitting the page out in the collapsible document tray at the bottom of the device.
Naturally you can connect the ADS-2400N to a PC via the USB port and install the Brother drivers to communicate through that machine. The software covers a wide range if uses, with optical character recognition, Abbyy PDF Transformer and Abbyy FineReader Sprint, TWAIN drivers, Brother Control Center and so on.
One of the main features of the ADS-2400N, though, is its ability to scan directly to a USB stick. The USB port in the right-hand side of the device will recognise any external flash storage device up to 64GB in size, and through the software you'll be able to scan to the USB in a variety of file formats.
In addition to that, it can handle plain, thin, thick and recycled paper easily, as well as business cards and plastic cards too, with weights from 27 to 413 GSM, and paper sizes in the ADF from A5 through to A4 and above.
The Brother ADS-2400N is certainly a handy device to have in the office. If you're in the process of digitising all your paper work, then the ADS-2400N will make short work of the pile of papers you have on your desk, and you can afford to introduce other types of document into the mix as well with the network and USB connectivity. David
Hayward
Fast and easy to use..