An Arch-based KDE distro that's chock full of apps. Shashank Sharma tests what appears to be a winning formula with Deskpro Edition
Rolling release distros are adored and feared in equal measure. A large section of the Linux user community, particularly newbies, believe that these distros are only intended for expert hands. The distros themselves have done little to disabuse people of this belief. Contrary to the popular rolling release model where you're required to install and setup every single application by yourself, Bluestar Linux, with its large selection of default apps, is ideal for advanced and new users alike.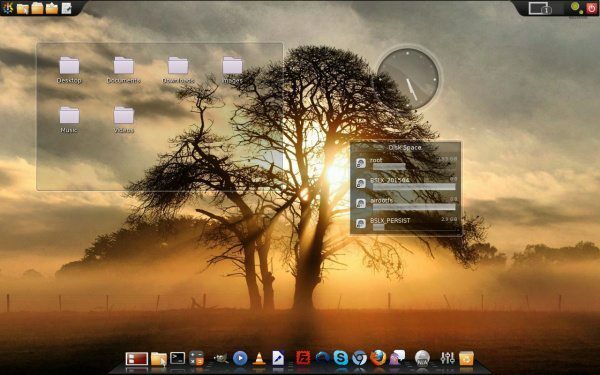 Based on Arch Linux, Bluestar is available as an installable live ISO image. Each of the different editions, which are nearly identical except for the default package selection, are available for 32- and 64-bit machines.
The live environment drops you to a KDE 4.13.3 desktop. Unlike most other KDE distros, Bluestar's Kickoff launcher is located bang in the middle of the taskbar, instead of the traditional left corner.
Bluestar features a host of codecs and plugins to help you enjoy a variety of multimedia formats. YouTube and other streaming sites work flawlessly with the included Firefox and Chromium browsers. Also included are a diverse collection of apps, such as LibreOffice, Gimp, GnuCash, and a variety of internet apps and games etc to please all kinds of users. All the apps are neatly categorized in the classic Kickoff launcher. For those unwilling to trawl through menus to locate their favorite apps, the distro also offers the powerful Krunner launcher.
Despite the large collection of apps – some of which are needed on a rolling release distro, such as Sweeper and Bitcleaner to clean cache and other temporary files – the distro offers a consistent and coherent desktop experience. Bluestar is also impressively responsive and even performed well on an older machine with only 2GB RAM.
The beauty of a rolling-release distro is that you don't have to worry about reinstalling the system every time a major update comes around. The distro lets you tap into the powerful Arch Linux repositories, and you can update your system and applications without much effort at all.
Bluestar's installer comes across as primitive, with its Ncurses-based interface. While the process isn't as complicated or involved as it is with Arch or Gentoo, you do have to run through the entire process manually, including partitioning. The lack of documentation does make the task difficult, especially for new users.
Although you can register at the forum boards, which host information on various aspects of the distro, including installation, updates and other tidbits.
The powerful Pacman package management tool is all you need to keep Bluestar updated, but the distro also ships with the robust PacmanXG front-end. As the tool is still in beta, we recommend you install one of the other popular front-ends for Pacman, if you'd rather work with a GUI. Once again, the lack of documentation can be a hindrance for new users, but thankfully the distro is based on Arch, which remains one of the most well documented distros.
While comparisons with PCLinuxOS are natural as both distros are rolling releases that favor KDE, the two distros are nothing alike thanks to the different lineage and underlying base system. When strictly compared, Bluestar is lacking, but only in its install and documentation. We recommend it with caution, because BlueStar Linux is a well-designed distro.
Bluestar Linux offers the speed and effectiveness of Arch Linux, minus the pain of setting it up yourself.