BenQ EW3270ZL Review – With its screen size of 32-inches, the BenQ EW3270ZL Eye-Care Monitor is one of the largest monitor you could plonk on your desk, but for an asking price it's far from being the most expensive.
BenQ has an excellent pedigree when it comes to monitors, so to get one this size at that price from such a trusted name is tempting.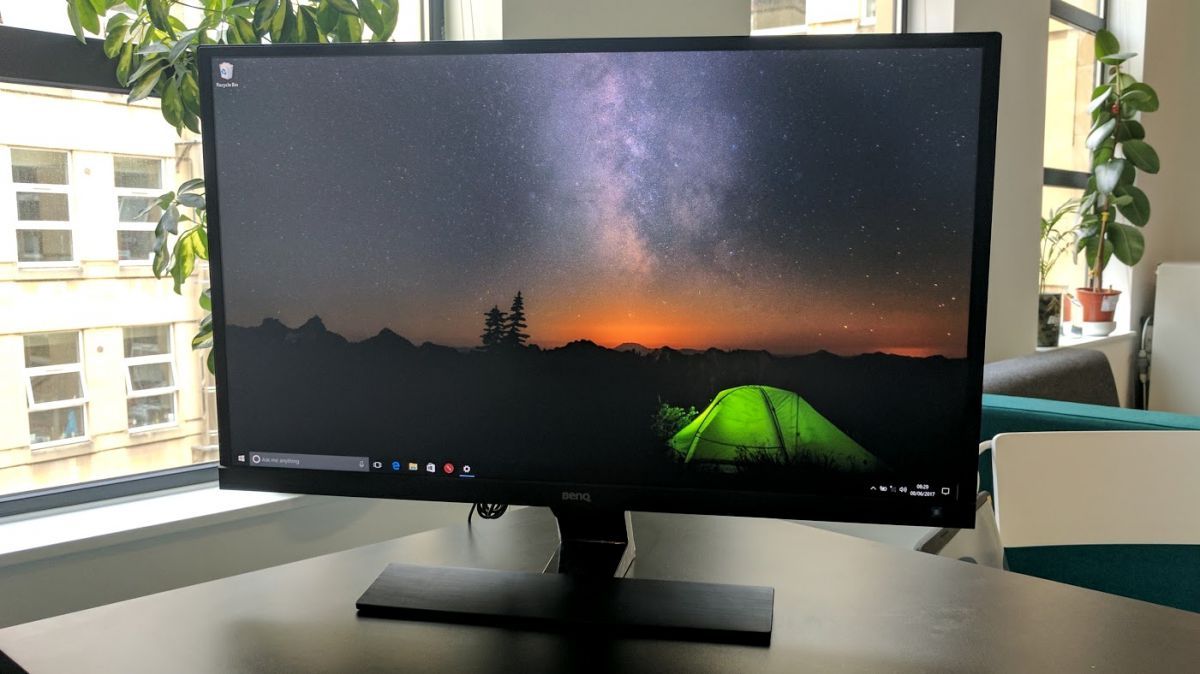 With the majority of monitors on desks these days measuring around 24-inches you'd think you need a heck of a lot of space on your desk to accommodate a 32-inch model.
However, the BenQ EW3270ZL's simple design ensures it doesn't take up as much space as you fear, while its large screen size and high resolution give you plenty of screen real estate. And although it's not a gaming monitor its sheer size ensures that games look fantastic.
The extra size does come with a higher price tag though, making it more expensive than the 27-inch Philips Brilliance 272P and the 28-inch Dell P2815Q. However, it's quite a bit less expensive than the ultrawide 21:9 aspect ratio monitors that are becoming popular, such as the Philips Brilliance BDM3490UC.
BenQ EW3270ZL Review: Design
There's nothing flashy about the BenQ EW3270ZL, instead it does things with a quiet competency. It's not as fancy as the gold-clad BenQ EW2440, but that doesn't mean it's dull or boring either. The bezels along the left, right and top sides are impressively thin, and even with the thicker bottom bezel, most of the size of the monitor is dedicated to the impressively large screen – which is what we really want.
The wider bottom bezel houses the control buttons for operating the onscreen display, as well as the power button, a light sensor and the Bright Intelligence button. The light sensor is used to detect the brightness of your surroundings and then adjusts the monitor's own brightness and contrast, making it both easier on your eyes, and more energy efficient as well. This can be switched on and off via the Bright Intelligence button, but with it switched on, we didn't notice any jarring changes when the lighting environment changed.
Underneath the bezel you'll find buttons for navigating the BenQ EW3270ZL's on-screen menu, which lets you tweak the display options and other features. This can often be a frustrating experience on monitors that hide those buttons on the underside of their bezels.
However, the BenQ EW3270ZL helpfully displays the functions of the buttons on-screen when you press them, making them much easier to use.
The stand is sturdy, but it doesn't allow you to rotate or change the height of the monitor (although you can change the angle), which is a shame. The sheer size of the screen, along with its impressive viewing angles, means you shouldn't feel the need to adjust the monitor – we didn't – but it would be nice to have the option.
To the rear of the monitor are built-in stereo speakers. The fact they are rear-facing means there's a chance sound becomes muffled if the BenQ EW3270ZL is placed too close to a wall. Still, it's a fool's errand to use a monitor's built-in speakers and expect decent sound.
Also on the back are two HDMI ports, a Mini DisplayPort, a full size DisplayPort, a D-Sub port, an audio line input, a headphone jack, a DC power input and a Kensington lock slot for securing the monitor. We'd have liked to have seen a DVI port included, alongside (or instead of) the D-Sub connection.
Over all, this is a nicely designed monitor that doesn't do anything too fancy – instead it lets the huge screen do the talking.
BenQ EW3270ZL Review: Performance
When it comes to monitors, display quality is paramount, so how does the BenQ EW3270ZL Eye-Care Monitor fare? It uses a VA (vertical alignment) panel, and monitors that use this (as opposed to IPS or TN panels) usually benefit from excellent contrast and black levels.
During our time with the BenQ EW3270ZL, that definitely appears to be the case, with dark scenes being particularly impressive, without any lightbleed that can sometimes make pitch black objects look cloudy, especially around the edges of a screen. It's also pleasing to see that black remains black when displayed on the BenQ EW3270ZL, not grey.
The 3,000:1 static contrast does a great job of displaying light and dark colors, and overall we were very impressed with the image quality of the BenQ EW3270ZL when it comes to color accuracy – with 10-bit colour supported. The 178-degree viewing also means you won't have any trouble viewing content from a number of angles.
The 60Hz refresh rate is pretty standard, but is likely to disappoint gamers. So too will the lack of G-Sync or Free-sync technologies for smoother gameplay – although if you're not a gamer at least you won't be paying for technology that you don't really need.
Having said that, we played a number of games using the BenQ EW3270ZL, including the frantic Battlefield 1, and found they still played brilliantly – with the sheer size of the monitor adding to the feeling of immersion.
The image quality is helped by the BenQ EW3270ZL having a WQHD (2,560×1,440) resolution.
This both sharpens and improves textures and graphics in games, but also gives you plenty of work space.
Large monitors, such as the BenQ EW3270ZL, benefit greatly from higher resolutions, ensuring text, windows and icons remain legible.
The BenQ EW3270ZL comes with a number of presets, as well as Low Blue Light Plus modes, which make the screen easier on the eye at night. Each one can be turned on using the on-screen menu and buttons on the bezel of the monitor, and can be tweaked for optimum image quality.
We found both the Low Blue Light Plus in default setting, and the sRGB setting to be particularly good for working and playing on, as does the flicker-free WLED backlight. All of these things help make the BenQ EW3270ZL a very comfortable monitor to use for long periods. It certainly delivers on the 'Eye-Care' part of its name.
BenQ EW3270ZL Review: Summary
If you want a large, high resolution monitor that's affordable and comfortable to use then we can enthusiastically recommend the BenQ EW3270ZL. The 32-inch screen offers plenty of space to work on, and it's easy on the eye without sacrificing either image quality or color accuracy.
BenQ EW3270ZL Review
An excellent all-rounder with a huge 32-inch screen and an affordable price tag.
PROS
Large screen
High resolution
Good price
Great image quality
Easy to use menu
CONS
Lack of features
Not easy to adjust stand
Speakers on back
No DVI
Add your review
Best BenQ EW3270ZL prices ?
MORE DEALS

BenQ EW3270ZL Review: Verdict
An excellent all-rounder with a huge 32-inch screen and an affordable price tag.
BenQ EW3270ZL Review: Specifications
Display type LCD (AMVA+ [SNB])
Size 32-inches
Aspect Ratio 16:9
Resolution 2,560×1,440 pixels
Pixel Pitch 0.276mm
Brightness 300 nits (typical)
Native contrast 3,000:1 (typical)
Viewing angle 178/178- degrees
Response time 12ms, 4ms (GtG)
Display colours 1.07 billion
Colour gamut 100% sRGB
Colour bit depth 10-bits
Backlight LED
Connectivity 1x HDMI; 1x DisplayPort; 1x
mini DisplayPort; 1x headphone jack; 1x
audio line in/out
Speakers 2x 3W
Dimensions526.82×739.58×218.24mm
Weight 8.5kg