Benchmark DAC3B
This may be a bare-bones take on the flagship DAC3 HGC, but its best results speak for themselves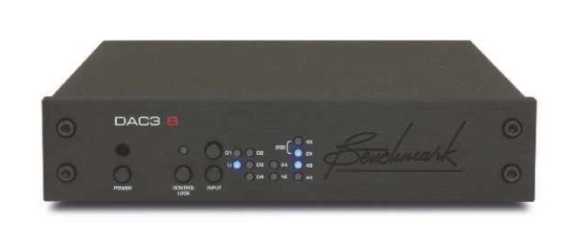 DETAILS
PRODUCT Benchmark DAC3B
ORIGIN USA
TYPE 24-bit/192kHz PCM & DSD64- capable DAC
WEIGHT 1.4kg
DIMENSIONS (WxHxD) 249 x 45 x 237mm
FEATURES
• Inputs: 1xUSB-B; 2x coaxial; 2x optical
• Outputs: stereo RCAs; stereo balanced XLRs
DISTRIBUTOR SCV Distribution
TELEPHONE 0330 122 2500
WEBSITE scvdistribution.co.uk
There's something very appealing about the idea of an expensive, sophisticated hi-fi component that's been 'de-frilled'; shorn of its operational niceties and luxuries to leave just the high-performance core at a more affordable price. Just such an object of desire is Benchmark's DAC3B.
It has the same circuit board and audio plumbing as the flagship DAC3 HGC model, which means that its sonic performance should be identical. It also retains the HGC's optional remote capabilities, programmable auto-on and 12V trigger function. However, the DAC3B doesn't have the most expansive format handling, however, but. for all practical purposes, it's more than adequate.
Digital sources are routed through a USB-B port or two coaxial and a couple of optical inputs, the latter limited to 96kHz. On the output side, the choice is balanced XLR or single-ended analogue outputs.
Benchmark was one of the first companies to use an ESS Sabre DAC chipset and has made sure the DAC3B stays on the front foot with ESS's latest eight-channel, 32-bit ES9028PRO. Its channels are grouped into sets of four to produce a stereo output, an arrangement that's claimed to minimise distortion. And 'pro' aptly describes the unit's facia. Admittedly there isn't much room, but the seven LEDs that stand in for any kind of alphanumeric display merely make pretty patterns from a distance. Up close, it's possible to discern that one denotes bypass mode (line level), two show bit depth (16-bit or 24-bit), while the remaining four are assigned to sampling rate and DSD.
Sound quality
The Benchmark DAC3B can seem a tad underwhelming at first: there are alternatives in this group that will grab you more in the first five minutes. Perhaps surprisingly for one running the same Sabre 9028 pro chipset as the exuberant Mytek. the Benchmark also seems comparatively quiet, but give it a while and its subtler charms begin to work their magic.
This is a very grown-up sounding DAC, with a fine grasp of proportion and scale and a particular knack for resolving ambient cues, which is essential when it comes to conjuring up a sense of venue. A1 Jarreau's Tenderness album, a well-recorded 'live studio' session, is a great litmus test: its 16/44.1 spec is jam-packed with fine detail – much of it generated by the restless and excitable audience – and the best hi-fi really immerses you in the event. It just goes to show how important it is to acclimatise to a component's tonal balance before rushing to judgement, because despite its slightly restrained top end. the Benchmark scours the noise floor for telling ambient fidgets, rustles and muted yelps of appreciation.
The longer I listen, the better I can appreciate how well the DAC3B gets under a recording's skin and how its way with shifting dynamics and natural portrayed of timbre brings plenty to the party. These are virtual that play as well with a hi-res rendition of an old Sonny Rollins recording as they do a slick and sparkling CD- quality Joe Sample set of funky licks
Benchmark DAC3B Review
Compact and capable, but struggles in this company
PROS
Neutral, transparent sound quality; small footprint
CONS
Can be lacking in va-va-voom
Add your review
MORE DEALS


MEASURE UP
Benchmark contends that some very high-quality products are not sonically transparent because they are designed to produce an audible effect or enhancement. For this reason, it follows, measurements are much less useful when evaluating nontransparent products. Distortion and frequency contouring are often added to create euphonic effects. A 'poor' set of THD measurements, for example, may indicate that the product is crafted to produce a warm overlay of even-order harmonics.
The company claims its products are designed for transparency, and while measurements form an important part of the design process, it appreciates that they don't always tell the full story. Benchmark's listening tests have helped detect and quantify defects that were initially revealed only by human ears.