• Requirements: 1GB RAM, 700MHz CPU, internet connection
Despite our best efforts in keeping our PCs virus and problem free, there occasionally comes a time when something can go drastically wrong.
If we had a pound for every time one of our PCs suddenly stopped booting or we messed up some of the files, folders and even the Master Boot Record, we'd be rivalling the Rockefeller family for wealth.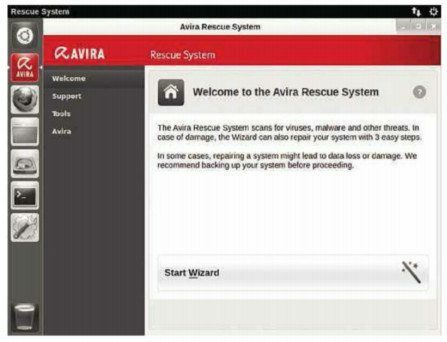 Here are six rescue discs that'll help you bring your PC back to life after it has seemingly died.
Formally known as Avira AntiVir Rescue, the now entitled Avira Rescue System enjoys a long history in recovery media. Indeed, 526,548,560 global installations, at the time of writing, is pretty impressive, but does it still have what it takes to help you out of digital bind?
The Avira Rescue System is a Linux, Ubuntu-based, bootable ISO image (also available as an EXE), that can scan, detect and remove all manner of malware infected, non-bootable systems.
From within the main customized Unity desktop you can open a browser, file manager, GParted, Terminal, view the system settings, enter the recycle bin, view the installed programs in the product and enter the Avira Rescue System.
The Avira Rescue system contains a number of external programs to help rescue the host system. There's a Windows registry editor, a virus scanner, an update manager to check for and install the latest virus definitions from the Avira servers and there's a TeamViewer assistant where you can open up a channel with the Avira support team, who can then take control of the system – providing you're connected to the internet, of course – and run through the checks for you.
On its own, the Avira Rescue System is simply an Ubuntu live desktop, so you can easily access the Windows partitions and manipulate any files, copy folders to the network and do all the usual rescue tasks prior to wiping your system and starting again. The virus scanner is an excellent added benefit, as is the TeamViewer connected support. However, these two options are where Avira fell.
The virus scanner worked through our test virtual machine, a machine where there are three viruses present. After two hours of scanning it reported back that it didn't find any viruses and that the system was clean. So far not so good. Sadly, for whatever reason, the virus scan utterly destroyed the Windows 7 virtual machine. We couldn't boot back into it and what's more we couldn't even access the partition after rebooting with the Avira Rescue System.
To double-check it wasn't us doing something wrong, we went through the process again, this time it only took five minutes, reported the same clean system and again did something to the file table to make inaccessible and totally useless.
We did try to use the TeamViewer assistance to help us out, but again Avira Rescue System failed and we couldn't even establish contact the Avira support site, even though we could happily visit everywhere else on the internet.
In theory, the Avira Rescue System is a great concept and it should work brilliantly. In practice, however, it didn't perform particularly well. Based on our brief experience we'd recommend you avoid the Avira Rescue System and instead look to any of the other rescue discs on test within this group.