AVG is one of the old guard of AV products aimed at the home and business user. While it enjoyed some popularity a few years ago, with its free AV product, the company has since seen a reduction in its user base -since Windows 8.1 and 10 bundled the MS AV, undoubtedly.
However, that doesn't mean the company has dropped the ball in terms of the products it offers. In this instance, the AVG Rescue CD Business Edition is regarded as one of the better rescue discs available. Although Business Edition is in the title, it doesn't mean that it's exclusively for enterprise environments, as the personal user can get a lot from it too.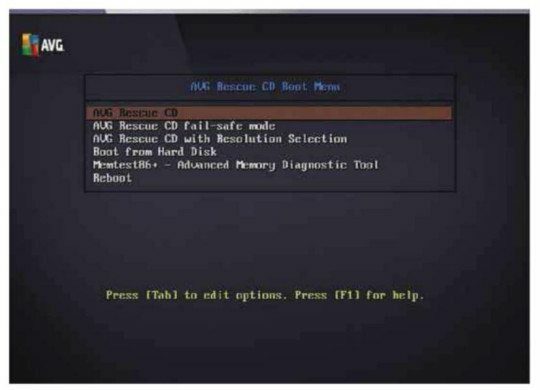 This is an extremely small Linux-based rescue image, weighing in at just 160MB it's a text-based system that enables you to scan the host system for viruses, run various scripts to help fix common issues, mount encrypted file systems, fix the Master Boot Record, recover deleted files, run a drive S.M.A.R.T. test, test the installed hard drives, edit the Windows registry, run a file manager (Midnight Commander, in this case), ping a remote system and even run a text-based browser.
To begin with the AVG Rescue CD will run a quick identifying scan of the host file system, then it'll scan for a network connection and offer the option to update the AV signatures. Beyond that, you're left with a text menu system with the various options.
While it lacks a GUI, there's something pleasingly simple about the AVG interface.
Perhaps it's the old school look and feel that makes it such a reassuring and user-friendly environment? Whatever the reason is, it is undeniably quick in its operation.
Without the weight of a GUI behind it, the AVG tasks are very quick at completing. The scan takes just ten minutes on our test system and it's accurate too, identifying the few viruses we intentionally installed and quickly removing them. Likewise, the other functions performed magnificently ,and we even liked the text-based browser, although it did feel more of a novelty as opposed to something really useful.
The only negative aspect could really be the lack of mouse integration and GUI, despite us loving the simplified interface. A text-based Ul isn't to everyone's tastes and the beginner may feel a little out of their depth by the lack of explanations for each of the tools available.
It's a small niggle, but one that we feel needs to be addressed to cover a broader range of users, as opposed to those of us who dealt with such DOS-like interfaces from years ago.
There's something pleasingly simple about the AVG interface.
Overall, the AVG Rescue CD Business Edition is an excellent tool to have in your arsenal. It's small, quick, easy and contains more than enough tools to help you rescue your poorly system.
There are loads of tools and plenty to help rescue your PC