Close, but no LCD star
Our first thought on unpacking the Asus VX279Q was "drat". Not because we didn't like the look of it. Quite the opposite: we liked it so much that we thought Asus must have sent us the wrong model. For just over £200, we didn't expect a screen that almost goes edge to edge (the bezels are only 8mm wide) in a slim case with a sleekly uncluttered back panel. But that's what you get. The ring-shaped stand offers no adjustment except a bit of tilt, but still, this is a piece of hardware you'd be very happy to have on your desk and come back to every day In fact, it's almost a shame to turn it on. Like the smaller VC239H, the VX279Q uses Asus' 'Eye Care' technology, which optionally reduces the amount of blue light emitted.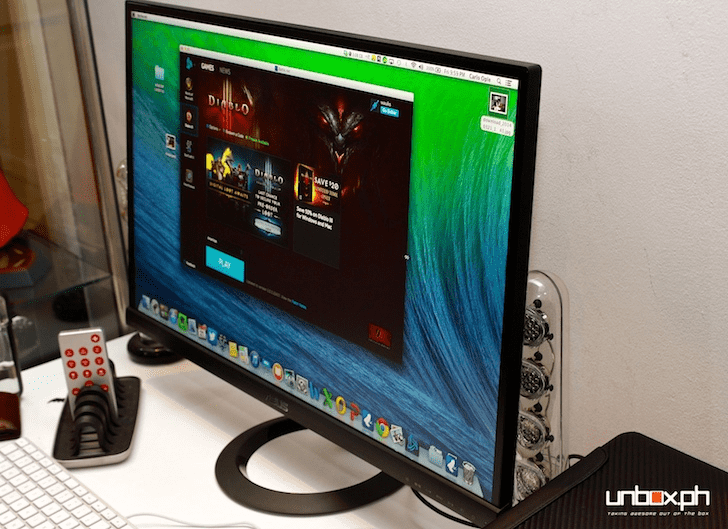 Research indicates that sitting in front of a bluish screen for long periods can affect your sleep patterns, so this is sensible, although it won't suit color-critical jobs like photo editing. And that goes for the VX279Q in general, because in our tests it only covered 88 per cent of the sRGB color range.
That's much better than the pricier and chunkier AOC I2775PQU, which only managed 78 per cent, but as with that model we found the VX279Q's backlight wasn't evenly bright across the screen. Despite good contrast and the wide viewing angles we'd expect from a modern IPS LCD panel, the overall image quality just wasn't great. Turning on Asus' VividPixel feature made it look worse. Full HD at 27 inches is starting to feel a bit coarse in today's ultraresolution world, and artificial sharpening just won't cut it anymore.
Touch-sensitive controls make fiddling with the settings harder than it should be, and there's no USB hub to bring your PC's ports conveniently to your desktop.
The HDMI input has MHL support for Android phones and tablets, though (iPhone and iPad users will need Apple's Lightning Digital AV Adapter), and there are DisplayPort and VGA ports too, as well as basic built-in speakers. To keep down the size of the case, the power supply has been hived off into a separate brick, but for something you'll leave permanently plugged in that's no problem.
There's no denying this is a reasonably priced monitor, but what matters is the screen, and it's not quite good enough to get our recommendation. Drat.
SPECIFICATIONS
27in IPS LCD • 1920×1080-pixel resolution • HDMI port • DisplayPort • VGA port • 1.5W stereo speakers • 442x623x210mm (HxWxD) • Three-year warranty
VERDICT:
This is a better buy than the AOC I2775PQU, but its stylish design doesn't outweigh several problems with image quality
★★★☆☆
Asus VX279Q Review
This is a better buy than the AOC I2775PQU, but its stylish design doesn't outweigh several problems with image quality
Add your review
MORE DEALS

ALTERNATIVE:
For a tenner more, this attractive 27in Full HD screen is similarly sparse in features but has a better picture