With a £ price reduction since we first reviewed it a while ago, the Asus ROG Strix B550-I Gaming is now even more attractive, especially as it's now £ cheaper than its X570 sibling too. This board give you an 8+2 power phase design and the same aesthetics as the Asus ROG Strix X570-I Gaming, but there's no snazzy RGB lighting and there's only one fan rather than two helping to cool the VRMs. Read our ASUS ROG STRIX B550-I GAMING Review.
AMD B550 MOTHERBOARD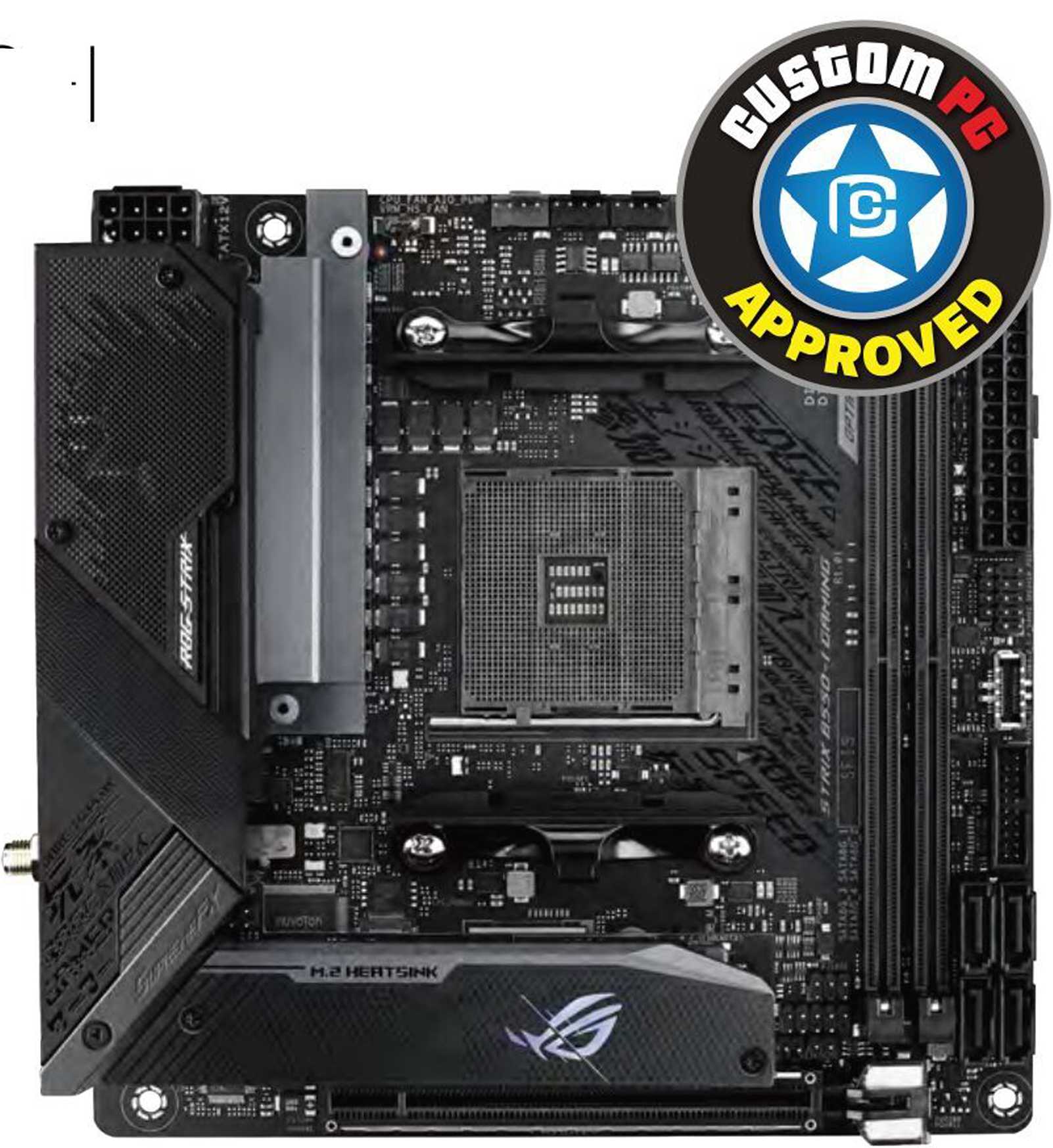 There's a pair of M.2 ports as well, but only the top one supports PCI-E 4, with a second PCI-E 3 connector located on the underside of the PCB. The M.2 temperature with our PCI-E 4 SSD was just 54°C under load, which was the second lowest on test, although the VRM temperature was measured at 57°C with our IR probe; while well away from any throttling issues, this was 10°C warmer than the result from the ROG Strix X570-I Gaming.
SPEC
Chipset AMD B550
CPU socket AMD Socket AM4
Memory support 2 slots: max 64CB DDR4 (up to 5100MHz)
Expansion slots One 16x PCI-E 4
Sound 8-channel SupremeFX S1220A
Networking 1 x Intel 2.5 Gigabit LAN, Intel 802.11ax Wi-Fi
Cooling Three 4-pin fan headers, VRM heatsink, VRM fan, M.2 heatsink
Ports 4 x SATA 6Gbps, 1 x M.2 PCI-E 4,1 x M.2 PCI-E 3,3 x USB 3.1 Gen 2 Type-A, 1 x USB 3.1 Gen 2 Type-C, 1 x USB 2,1 x USB 3 Type-C header, DisplayPort, HDMI, 2 x surround audio out
Dimensions (mm) 170 x 170
One feature that's sadly lacking on that board is a Type-C header on the PCB, which weren't included with many X570 motherboards. Thankfully, you get one here, but it only supports USB 3, and isn't a high-speed option, unlike the full-fat USB 3.2 Gen 2 Type-C port on the rear I/O panel. The USB Type-A port count is pitiful too, though, at just four, which will mean plenty of owners heading to Amazon to look for USB hubs.
On the plus side, this board uses the Realtek ALC S1220A codec, which offers decent performance and you also get 802.11ax Wi-Fi and 2.5 Gigabit Ethernet, with the latter trumping the standard Gigabit networking on the pricier Asus board too.
It also has a rare feature in the form of a thermal probe input, which allows you to set the input temperature for fan speed control to your thermal probe's reading in the EFI, or in Asus' software.
This is particularly useful if you use a coolant probe and control your radiator fans using the coolant temperature rather than the CPU temperature, which helps to cut noise levels. This feature has been removed form Asus' Z690 offering this month too. You get the usual four SATA 6Gbps ports as well, but sadly only a run-of-the-mill total of three fan headers.
Performance in games and content creation was on par with the rest of the field, but the audio performance was a cut above, with the noise level of -105dBA and dynamic range of 106dBA being second only to the ASRock X570 Phantom Gaming-ITX TB3 and Asus ROG Strix X57O-I Gaming.
Conclusion
With the B550 chipset being released a while after X570, the Asus ROG Strix B550-I Gaming has the edge in some areas over the pricier Asus ROG Strix X570-I Gaming. It has a USB Type-C header, which is common in cases these days, and an improved layout with its SATA ports all on the edges of the PCB. Its VRM fan was quieter too, but best of all is that it costs £ less. If you're on a tight budget, this is the mini AM4 board to buy, but it's worth saving for the Asus ROG Strix X570-I Gaming, as it has more USB ports, cooling-running components and attractive RGB lighting.
VERDICT
Editor choice
ASUS ROG STRIX B550-I GAMING Review
A decent B550 board for a good price, although it's now showing its age a little.
PROS
Great VRM and M.2 cooling
Reasonable price
Excellent EFI
CONS
Only four USB ports
Only three fan headers
Noon-board RGB lighting
Add your review
Best ASUS ROG STRIX B550-I GAMING prices ?
MORE DEALS