While those with deep pockets might be tempted by the Asus ROG Crosshair VIII Impact if their case could squeeze a longer mini-DTX motherboard into its innards, the Asus ROG Strix X570-I Gaming is your best bet for a premium motherboard that sticks within the 170 x 170mm confines of mini-ITX. Despite its age, you still won't see much change from £ if you buy this top-end mini board. Read our ASUS ROG STRIX X570-I Gaming Review.
AMD X570 MOTHERBOARD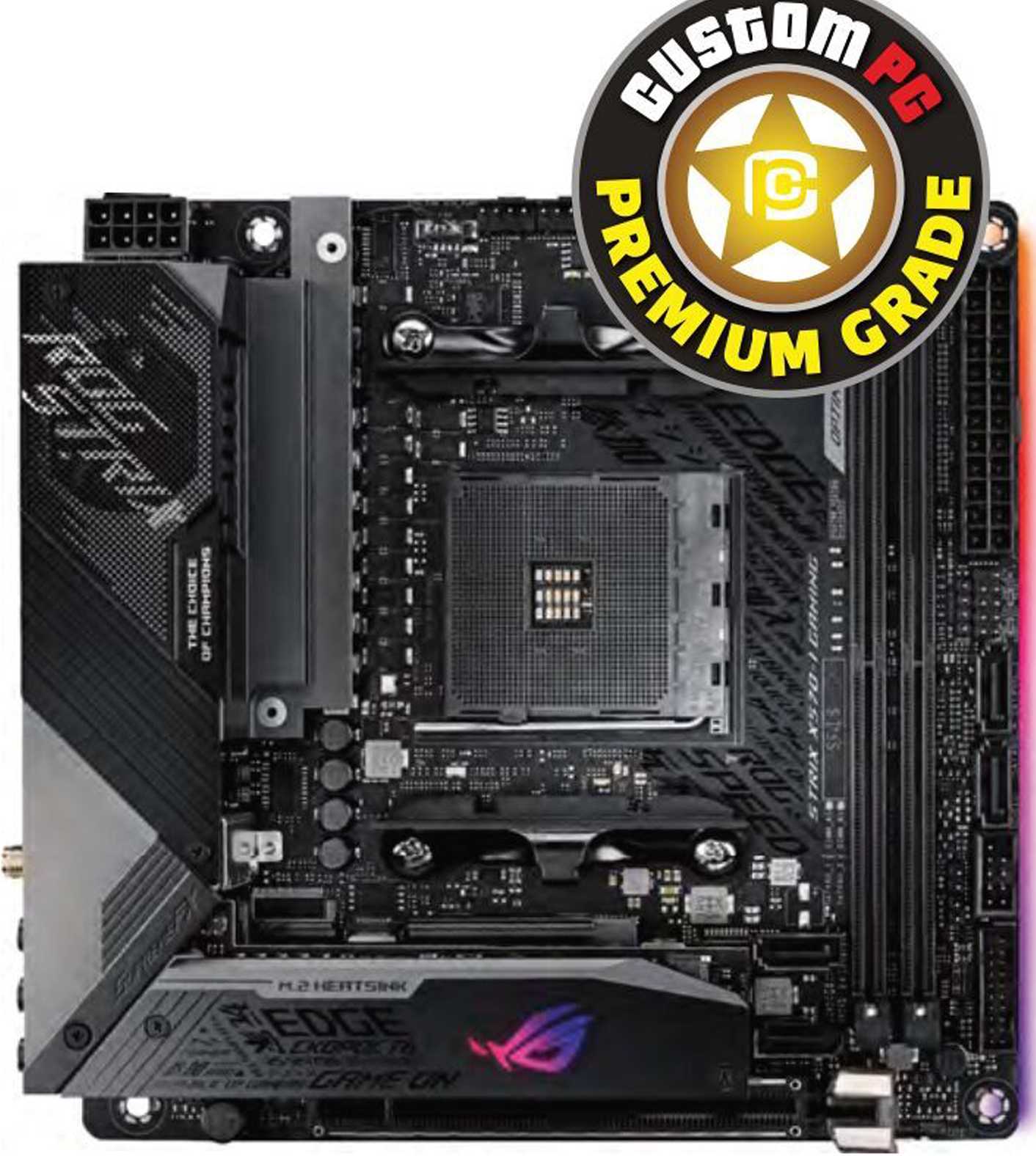 Its total often power phases are cooled by a huge array of heatsinks and fans, which also run down to the M.2 port and chipset, and there's a decent amount of clearance around the CPU socket area. However, the fans can ramp up their speeds in warm environments and become audible, and sadly, there's no way to control them. The Asus did offer the lowest VRM temperature on test of just 47°C, but its no wonder that EK offers a monoblock for the board that allows you to remove the fans completely.
Another issue is the lack of a USB Type-C header, which is common on X570 boards, although some cases do offer the ability to
SPEC
Chipset AMD X570
CPU socket AMD Socket AM4
Memory support 2 slots: max 64GB DDR4 (up to 4800MHz)
Expansion slots 0ne 16x PCI-E4
Sound 8-channel ROG SupremeFX S1220
Networking 1 x Intel Gigabit LAN, Intel 802.11ax Wi-Fi
Cooling Three 4-pin fan headers, VRM heatsink, M.2 heatsink, thermal probe header
Ports 4 x SATA 6Gbps, 2 x M.2 PCI-E 4,3 x USB 3.2 Gen 2 Type-A, 1 x USB 3.2 Gen 2 Type-C, 3 x USB 3, HDMI, DisplayPort, 3 x audio jacks use a USB 3 header to power a Type-C port. Still, it's a bitter pill to swallow at nearly £ especially as other cheaper boards have them. We can't deny its looks, though, and with an RGB-enabled M.2 heatsink, it's a very attractive board for sure. That M.2 heatsink covering the top PCI-E 4 M.2 port isn't just for show either, as it kept our SSD below a peak of 52°C.
Dimensions (mm) 170×170
There's a second M.2 PCI-E 4 port on the underside of the PCB as well, which is the main reason to opt for this board over the ASRock X570 Phantom Gaming-ITX TB3. The rear I/O panel is far busier than on the Asus B550 board as well, with seven Type-A ports, three of which support USB 3.2 Gen 2, as does the USB Type-C port here.
There's no 2.5 Gigabit Ethernet, though, so you'll have to make do with just one Gigabit network port, although you do at least get 802.11ax Wi-Fi and Realtek S1220A audio. The performance from the audio was excellent with a dynamic range of 107dBA and noise level of -106dBA, although this board didn't really set itself apart from the cheaper competition in our gaming or content creation benchmarks.
Like its ROG Strix B550-based sibling, the board sports a thermal probe input, allowing you to control your radiator fans using coolant temperature if you use a coolant probe, which is very handy. However, we'd like to see Asus improving the sensitivity when switching to other inputs for fan control, as they can be clunky.
Conclusion
With ample cooling, decent CPU socket clearance and most modern features, the Asus ROG Strix X570-I Gaming remains an excellent choice for an AMD Ryzen mini-ITX PC. Its main shortcomings are simply due to age, which means its competitors suffer the same issues, such as a lack of a Type-C header, below-average networking and a need for fans to cool the chipset and VRMs. Asus will no doubt be the company to beat with Socket AM5, but if you're sticking with Socket AM4, this is the premium option to buy unless you need a USB Type-C header.
VERDICT
Editor choice
ASUS ROG STRIX X570-I Gaming Review
Still the Socket AMD mini-ITX king, although it's showing its age now.
PROS
Attractive RGB lighting
Excellent design and cooling
Plenty of features
CONS
No way to control chipset fans
No USB
Type-C header
Expensive
Add your review
Best ASUS ROG STRIX X570-I Gaming prices ?
MORE DEALS