Z690 ATX MOTHERBOARD
While it might be late to the Z690 party, NZXT's N7 Z690 was an interesting item to land in our lab. It features a PCB cover in black or white, with our white sample just begging to be placed in a clean, white PC case, preferably with other white hardware.
It's also reasonably priced for a Z690 motherboard. This is in part thanks to it using DDR4 memory rather than DDR5, as well its lack of fancy features such as Thunderbolt 4 or 10 Gigabit Ethernet. However, as you'd expect at this price, nearly every other feature you could want is here.
You get 802.11ax Wi-Fi, 2.5 Gigabit Ethernet, Realtek ALC1220 audio and we're pleased to see that NZXT's board partner with the N7 Z690, ASRock, has added on-board overclocking and testing tools as well. There are power and reset buttons, and the I/O panel offers clear-CMOS and USB BIOS flash buttons, with the latter potentially being useful if you pick up the board later to use with Intel's forthcoming 13th-gen CPUs.
We had one major gripe about previous NZXT motherboards, which was that the M.2 covers, which didn't make thermal contact with the SSDs, could end up cooking your SSDs, or at the very least making them run far hotter than with a heatsink or even with the covers removed. The N7 Z670 has solved this problem, at least with the top PCI-E 4 M.2 connector.
This sits above the primary 16x PCI-E slot, and now includes a separate plate below the cover that's equipped with a thermal pad and acts like a heatsink. We saw a peak M.2 SSD temperature of 45°C using this system,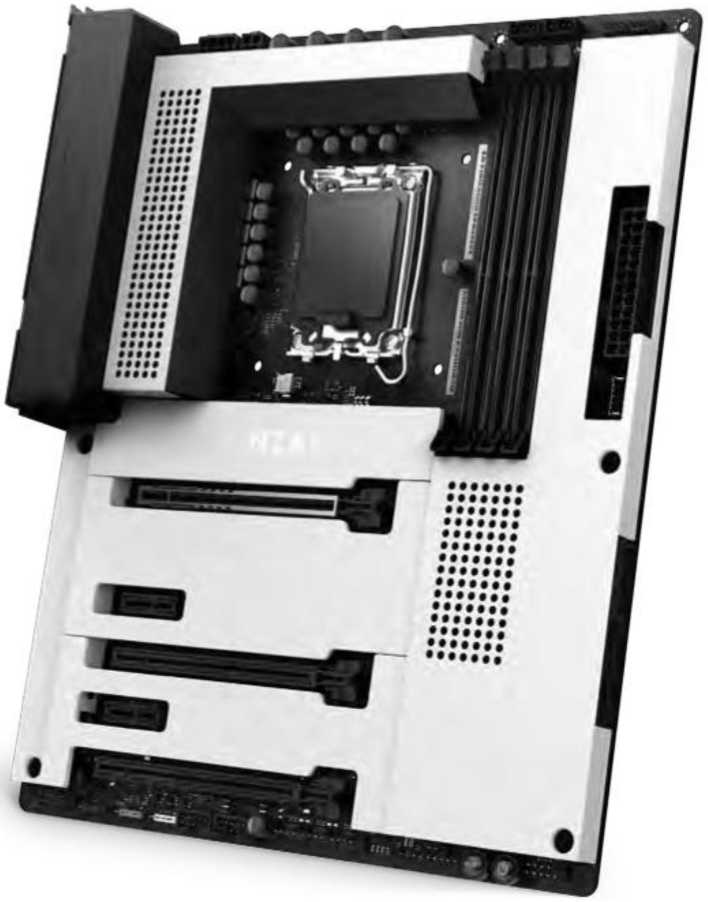 SPEC
Chipset Intel Z690
CPU socket Intel LGA1700
Memory support 4 slots: max 128GB DDR4 (up to 4800MHz)
Expansion slots One 16x PCI-E 5, one 16x PCI-E 4, one 16x PCI-E 3
Sound 8-channel Realtek ALC1220
Networking 1 x Realtek 2.5 Gigabit LAN
Cooling Seven 4-pin fan headers, VRM heatsinks, M.2 heatsink
Ports 4 x SATA 6Gbps, 3 x M.2 PCI-E 4, 2 x USB 3.2 Gen 2, 3 x USB 3, 2 x USB 2, 1 x USB 3.2 Gen 2×2 Type-C, 3 x surround audio out
Dimensions (mm) 305×244
which is a vast improvement than without the heatsink on previous versions of the board, so if you'll be hammering a PCI-E 4 SSD, be sure to install it in this slot.
There are three slots in total, all of which offer PCI-E 4 support and are hidden by magnetic covers. These can be tricky to remove, especially if there's a graphics card in the way, but thankfully, the top cover cleared our graphics card's backplate, so you should be able to remove the cover without needing to remove your graphics card too.
Meanwhile, the power delivery stands at 13 CPU power phases and is cooled by two slabs of black aluminium, although they're not linked using a heatpipe. There's plenty of space around the CPU socket too and, to keep the PCB cover as clean as possible, the four SATA 6Gbps ports and USB 3 header are both at right angles to the PCB, with just a small cut-out for the 24-pin ATX connector and USB Type-C header.
The rear panel also offers a reasonable amount of USB ports, with seven Type-A ports in total from a mix of USB 2, USB 3 and USB 3.2 Gen 2, plus a Type-C port that supports high-speed USB 3.2 Gen 2×2 too. There are also aerial connectors for the on-board Wi-Fi, as well as the full complement of audio jacks, plus an HDMI output should you want to use the board without a discrete GPU.
As with previous versions of the N7, there are both NZXT proprietary and standard 3-pin and 4-pin RGB headers, plus seven 4-pin fan headers, although there's no fan control graphical interface in the EFI. The idea is that you instead use NZXT's CAM software to control the fans and RGB lighting.
Unlike NZXT's coolers, the software is hardwired to control the fan and RGB headers without the need for separate USB cables. It works well, giving good control over the fan headers, while giving you real-time readouts of speeds and even the ability to switch between the CPU and GPU for temperature input. However, the lighting wasn't that flexible, with no way to manually change the colour except to white or to one of several preset lighting effects.
PERFORMANCE
Audio performance from the Realtek ALC1220 codec was decent, with a dynamic range of 110dBA, noise level of -110dBA and THD of 0.0021 – these are much better results than many of the less capable codecs doing the rounds on B660 motherboards. Overclocking was simple too, with the EFI proving to be basic compared with the likes of Asus and MSI, but offering simple and easy-to-navigate menus.

We hit the usual 5GHz on our Core i5-12600K's P-Cores and 4GHz across its E-Cores, using a vcore of 1.36 V. This saw the image editing score rise from 76,770 to 82,942, the video encoding score increase from 772,273 to 852,328 and the Cinebench multi-threaded score go from 17,621 to 19,449, with the latter two being the highest results we've seen from this CPU at stock speed and when overclocked. The downside is that overclocked power consumption was quite high at 375W for the whole system, which was much higher than the other Z690 boards we've tested recently.
CONCLUSION
Looking at alternative Z690 boards for £ and below, the NZXT N7 Z690 does have some stiff competition. For example, the Gigabyte Z690 Gaming X DDR4 costs around £, and it also has 2.5 Gigabit Ethernet, Realtek ALC1220 audio, PCI-E 4 M.2 ports with heatsinks, plus it overclocked just as well and has more USB ports on the I/O panel. It also has a good fan control section in its EFI that means you don't need to use software.
However, it lacks Wi-Fi and the extensive aesthetic shroud, plus it has fewer fan headers and audio ports, and it lacks all the overclocking and testing tools too. Whether all that is worth an extra £ is largely down to personal preference, but if you're building a white or black-themed PC, need Wi-Fi and the other extra gubbins we just mentioned, the NZXT N7 Z690 does the job well.
ANTONY LEATHER
VERDICT
NZXT N7 Z690 Review
Great-looking with plenty of features, although the need to use software for fan and lighting control isn't for everyone, and it's a bit pricey too.
PROS
Looks great
Decent feature set
Effective M.2 heatsink
CONS
Comparatively poor value
Fan GUI relies on software
Basic EFI
Add your review
Best NZXT N7 Z690 prices ?
MORE DEALS