Owning a high-end desktop system is rarely cheap, but one advantage of Intel's X299 high-end desktop platform over AMD's equivalent is that motherboards can be bought for noticeably lower prices.
It's been around for a bit longer, but they were also a little cheaper to start. Of course, the much cheaper price of AMD's CPUs means that, overall, Thread Ripper offers better value, but the price of X299 boards is dropping further now, as demonstrated by ASRock's new X299 Killer SLI, which at just inc VAT, is the cheapest X299 board we've seen.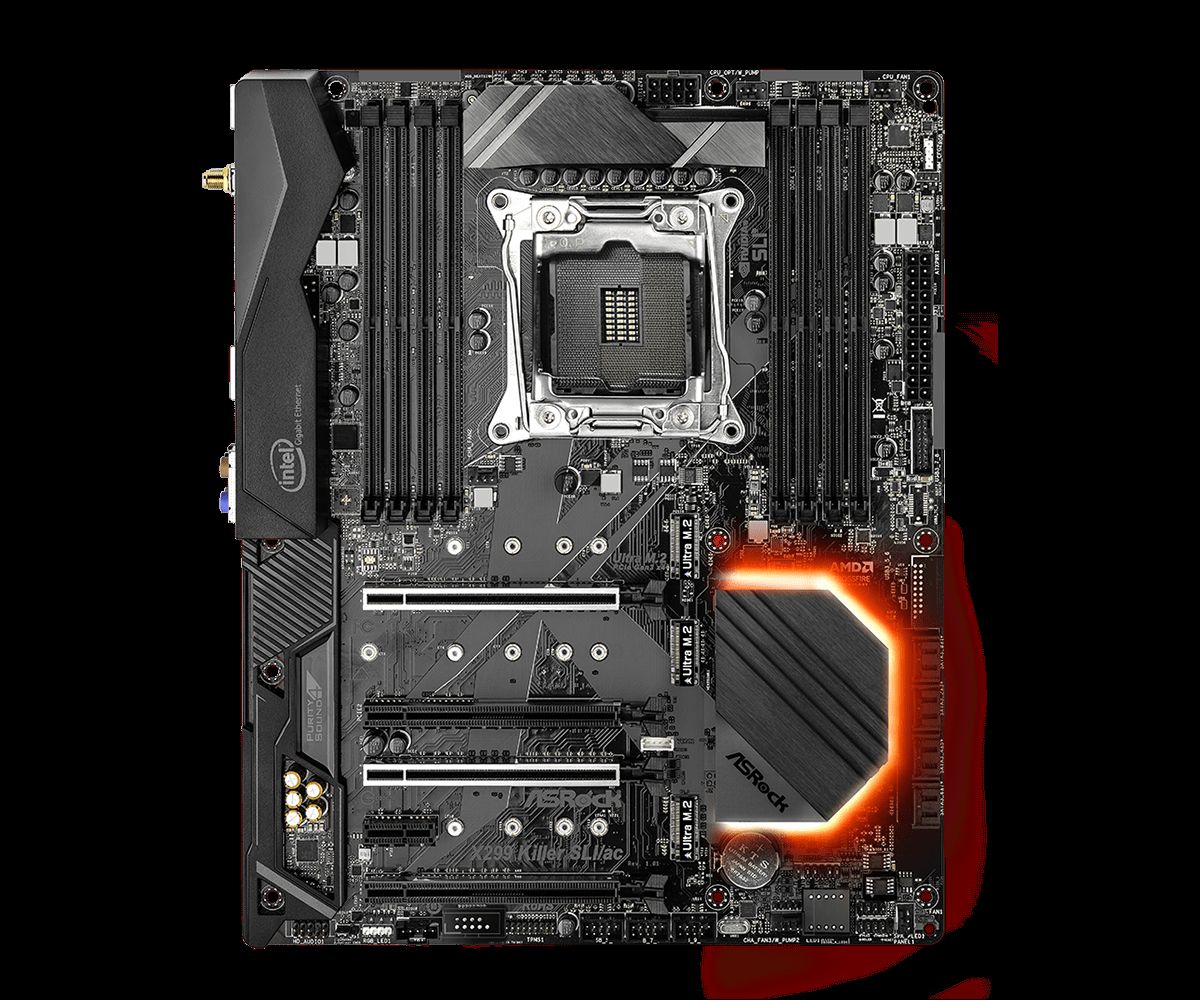 It's still a full-fat X299 board, though, with a trio of M.2 PCI-E ports, all of which support either SATA or PCI-E SSDs. That's one more than MSI's budget-conscious X299 SLI Plus, which costs a little more, although the latter includes a heat sink on one of the ports.
The ASRock throws another spanner into MSI's hopes of dominating the more affordable price range, though, as the X299 Killer SLI also includes 802.11ac Wi-Fi.
This feature is also missing from Gigabyte's X299 Aorus Gaming 3, which picked up an Approved award in our recent X299 motherboard Labs test. This feature may be more useful to many enthusiasts than the MSI board's on-board power and reset buttons too, which are sadly missing on the ASRock, as is an LED POST code display.
We can forgive the lack of a U.2 port, though, as well as a USB 3.1 header – both also missing on the ASRock board, but fairly redundant at the moment. In most other areas, the two boards are very similar. The ASRock includes four 16x PCI-E slots and a single 1x slot, while the MSI offers three of the former and two of the latter. The ASRock board looks better to our tastes too. It has an attractive PCB, a large illuminated PCH heatsink and there's a minimum of RGB lighting, but it does offer two RGB LED connectors.
Other manufacturers offer more power from their dedicated high-amp pump headers for custom liquid-cooling pumps, with just 1.5A (or 18W) of power available from the ASRock. That's enough for most Laing DDC pumps but some D5 models may run out of power. Otherwise, all boxes are ticked. The layout is excellent, you get an Intel-powered Ethernet port and there's even a clear-CMOS button on the rear I/O panel as well as USB 3.1 Type-A and Type-C ports. There's also an 11-phase digital power delivery system and eight SATA 6Gbps ports.
ASRock software is fairly basic, but the key overclocking options are included, and the fan control suite is able to tweak fan profile curves for all motherboard fans. However, the vcore adjustment mirrors whatever is set in the EFI, and we had to switch from offset to fixed or manual mode to get access to this feature in the software in Windows. You're able to tweak fan curve profiles in both the EFI and software, but the EFI also allows you to assign either the VRM temperature input or the CPU temperature to specific fans, whereas the software is all CPU-based. The EFI itself is still fairly dated compared with Asus and MSI's efforts too, but it's simple to apply the usual settings, such as vcore and the XMP profile, as well as flash the BIOS or create your own overclocking profiles.
Performance
The ASRock was a little slower than the competition in our Gimp image editing test, but decent multitasking and video encoding scores (which is what counts on an X299 system) saw it post a respectable system score and 238,461. Power consumption numbers were right on the money too, and the slightly higher vcore required to hit 4.6GHz didn't result in energy usage levels that would make you fear the next electricity bill either.
We then managed to get our Core i9-7900X up to 4.6GHz without issue, although we needed to apply a vcore of 1.21V, whereas the MSI board required only 1.18V. We were unable to get any higher, as usual, with thermals limiting the voltage we could apply. The overclock saw the system score rise to 267,866, which is faster than any result we saw in our recent X299 motherboard Labstesttoo. Meanwhile, our Samsung 960 Evo M.2 SSD offered up read and write speeds of 2,929MB/sec and 1,745MB/sec, which are similar
It has an attractive PCB and there's a minimum of RGB Lighting
SPECIFICATIONS
Chip set Intel X299
CPU socket Intel LGA2066
Memory support 8 slots: max 128GB DDR3 (up to 4266MHz)
Expansion slots Four 16x PCI-E 3, one 1x PCI-E 3
Sound 8-channel Realtek ALC1220
Networking Intel Gigabit LAN
Overclocking Base clock 90-2000MHz, CPU multiplier 7-80x; max voltages: CPU2V, RAM2V
Ports 8 x SA TA 6Gbps (X299), 3 x M.2, 1 x USB 3.1 Type-A, 1 x USB 3.1 Gen 2 Type-C, 4 x USB 3, 4 x USB 2, 1 x LAN, 5 x surround audio out, S/PDIF out.
Dimensions (mm) 305 x 244
A large illuminated PCH heatsink dominates the bottom of the board. The trio of M.2 PCI-E ports all support SATA or PCI-E SSDs
This budget board even includes an 802.11ac Wi-Fi adaptor to other boards we've tested. Finally, RightMark Audio Analyzer reported fairly solid performance from the Realtek ALC 1220 audio system, with noise and dynamic range levels of -107.1dBA and 107.6dBA – a little behind the rest of the field we've seen, but they're still great results and you're unlikely to notice any difference.
Conclusion
While the ASRock 299 Killer SLI is the cheapest X299 motherboard we've seen, lowering the cost of owning an Intel Core X series CPU-based system by another note or two, it does have other merits. It includes Wi-Fi, which many of its similarly priced siblings lack, it doesn't go overboard on RGB lighting and it includes a sensible set of features.
There are one or two notable exclusions, due to the lower price tag, such as power and reset buttons, and a USB 3.1 header, but they won't be deal breakers for many people. Otherwise, a solid effort in our benchmarks and hassle-free overclocking mean that, if you want to keep your Intel high-end desktop system to a minimal cost, we can highly recommend the X299 Killer SLI.
ANTONY LEATHER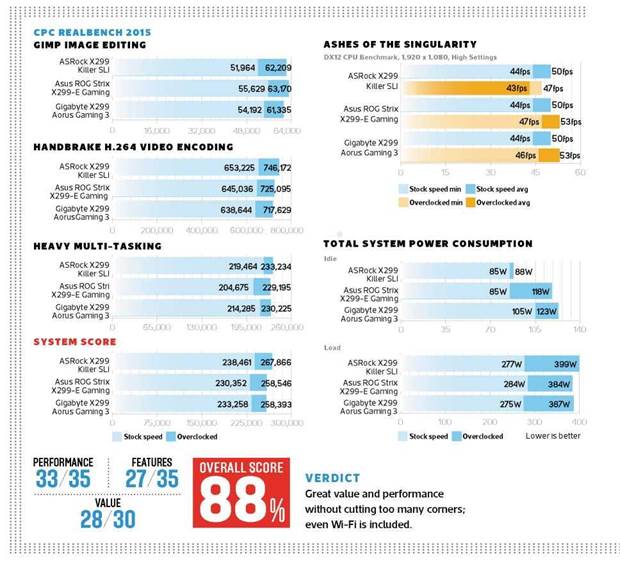 Best ASRock X299 Killer SLI prices ?

$

161.00
1 new from $161.00
in stock


$

318.00
1 new from $318.00
in stock

MORE DEALS