ASUS PRIME Z370-A Review – As one of the more affordable boards in the roundup, the Prime Z370-A surprisingly doesn't scrimp too much on its feature set. It's certainly eye-catching, with the black PCB offset by a white I/O cover and silver heat-sinks.
Like all of the boards reviewed here, this is an ATX board, and has the usual number of PCIe physical lanes. There are three PCIe x16 lanes, with another four PCIe xl lanes. As expected, the x1 lanes will be knocked out if you use double slot coolers, but that's par for the course these days.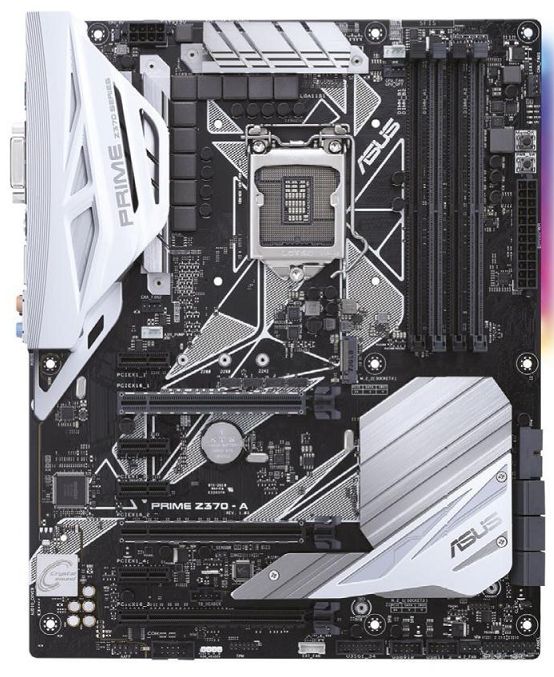 A feature that seems to be commonplace in 2017 is an I/O shield that doesn't need to be fitted before slotting the board into the case, and the Prime Z370-A has one of these. It's probably a good thing, as there's a lot of inputs, comprised of twin USB 3.1 Gen 2 (one type A, one type C), Display Port, DVI, HDMI, twin USB 2.0, Intel Ethernet, another two USB 3.1 Gen 1 and five 3.5mm minijacks. There's also a single S/PDIF if you're optically inclined.
Asus makes a big deal about its 5 way optimization feature, which basically overclocks the system via five different methods including stress testing and fan control. According to the Asus site, it should be possible to hit 5GHz on this board, but we weren't able to test this feature. Overclockers will also dig the onboard power switch and MemOk button, the latter of which tests your memory outside of Windows.
Speaking of overclocking, Asus also claims that DDR4-4000MHz is possible thanks to the proprietary 'Optimem' technology, even when all four memory slots are populated. There's also BCLK control thanks to the addition of a BCLK generator, a generous inclusion at this price, which should lead to higher overclocks.
If you want the ultimate in cooling, there's space for a 40 or
the Asus Prime Z370-A makes for an excellent entry level board
50mm fan over the VRM area, helping to keep the power phases nice and cool, though the fan isn't included.
There's room for two M.2 drives, though one only supports SATA speeds, so you'll be losing a lot of performance. They do come with heatsinks though, and Asus claims this reduces temps by 20C under load. There's even accommodation for a 3D printed heatsink for the M.2 drives, if you've got a 3D printer handy. Unfortunately only six SATA ports are included, which is a little low. We love the UEFI BIOS Asus has used on this board, though most BIOS's these days are exceptional.

Sadly there's no Thunderbolt 3 connectivity included, but there is a header to allow such a connection. You'll simply have to buy the add-on Thunderbolt 3 header to make it work. As for audio, the Prime sticks with the tried and true Realtek S1220A 8-Channel High Definition Audio Codec, which is Asus' improved version of the AC1220 codec that everybody else is using.
It might not be the flashiest Z370 board around, but it's excellently priced and has all the basic boxes ticked off. As such, the Asus Prime Z370-A makes for an excellent entry level board for the new 8th Generation Core CPUs.
ASUS PRIME Z370-A Review: KEY SPECS
6 x SATA 3 • 2 x M.2 • DDR4-4000MHz 0C • 5 way optimisation.