The full version of Adobe Photoshop is a complex and sophisticated image editor. Photoshop Elements, on the other hand, is a more basic, pared-back alternative, aimed at beginners and intermediate users, rather than professionals. Read our Adobe Photoshop Elements 2023 Review.

PHOTO-EDITING SOFTWARE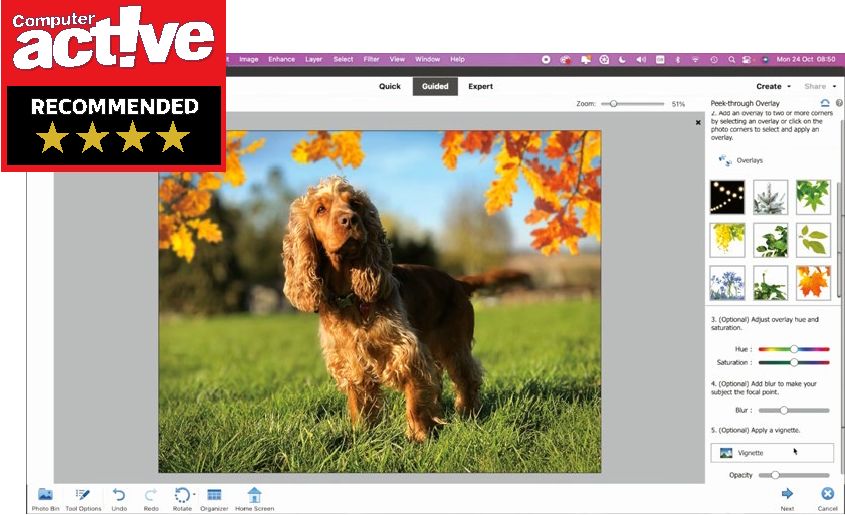 As with the 2022 edition, the workspace is divided into three sections: Quick, Guided and Expert. The Quick workspace features an Adjustments panel that lets you fix exposure and colour, and sharpen images in seconds simply by clicking preview thumbnails. You can then fine-tune any adjustments with sliders on the right-hand side (see screenshot below).
The Guided Edit workspace helps newcomers perform a range of practical and creative edits by taking you step by step through a range of techniques. Once you've created a composite image using a Guided Edit, you have the option of fine-tuning it in the Expert editing mode, which gives you access to extra features such as layers and masks.
Guided Edits have always been one of Photoshop Elements' strong points, and the latest version features a welcome new addition called Peek-Through Overlay. This lets you enhance a photo by adding elements, such as autumnal leaves (see screenshot above right), to the foreground of an image. You can then blur these to create a shallow depth of field that helps focus the eye on the main subject.
Existing Guided Edits – such as Perfect Landscape – have been upgraded, so you now have 36 skies you can add to a shot instead of the 12 that came with Elements 2022, making it even easier to replace a landscape's dull backdrop with a stunning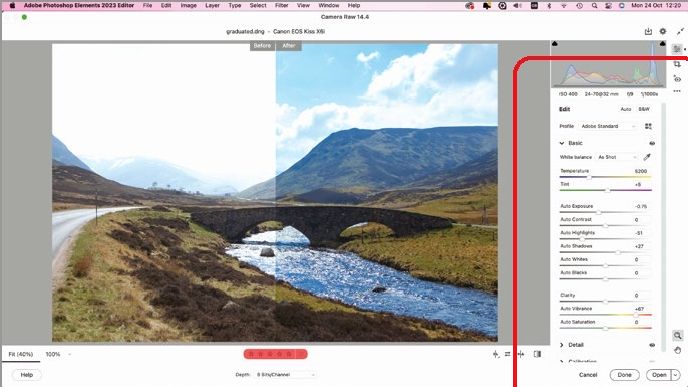 sunset. You can also use Perfect Landscape's brush-based tools to adjust where the new sky joins your landscape's horizon.
The new Moving Elements menu provides step-by-step instructions on how to select part of a photo (such as the steam from an old steam engine) and animate it. This lets you create a GIF or MP4 with steam billowing from the funnel of the train, for example.
When it comes to sharing your best shots, you can take advantage of an update to the Photo Collage menu. This can combine a series of shots in more creative ways thanks to a new series of contemporary templates, with a choice of square, vertical, horizontal and panoramic collage templates to suit a variety of social-media or print platforms.
SYSTEM REQUIREMENTS
64bit Windows 11 (version 21H2 or later) or Windows 10 (version 21H1 or later) • 8GB RAM • 5.8GB storage space • Screen resolution of 1280×800 pixels
VERDICT
Editor choice
Adobe Photoshop Elements 2023 Review
Easy to get to grips with while still offering impressive features - ideal for those wanting to avoid the steep learning curve of the full version
Add your review
Best Adobe Photoshop Elements 2023 prices ?

From simple tweaks to advanced artistic options and adjustments it's never been easier to create photos you'll love to share. Bring motion to your photos with Adobe Sensei AI* add peek-through overlays and showcase your photos with new collage and slideshow templates. Plus go beyond your...


£

85.97
5 new from £84.31
in stock


$

143.02

$149.99
2 new from $143.02
in stock

MORE DEALS

ALTERNATIVE
Serif Affinity Photo 2
Superb value for money, aimed at image-editing enthusiasts who don't want to pay for Adobe's full-price Photoshop version