A far reaching update that spruces up the core apps and extends creative cloud in some promising directions. Read our Adobe Creative Cloud 2017 Review
It's almost 18 months since Adobe's landmark Creative Cloud 2015 update. Now the company is greeting 2017 with a major new release, which again upgrades almost every app in the suite – and ushers in brand-new creative tools.
The first of these is Experience Design CC, known as XD for short. Previously available only as a technology preview, it's now officially in beta, and available to all subscribers through the Creative Cloud console.
It's trailed as a "UX designer", which in practice means it's a visual design tool for creating front-ends for mobile apps and websites. To that end, it works a little like Illustrator: you can create "artboards" in a variety of standard sizes and shapes -templates are included for iPhone, Apple Watch, Android Wear, Surface Pro screens and more – then draw or drag boxes, pictures and text elements into place. Familiar alignment and arrangement tools are on hand, as is an extensive library of pages and elements representing iOS, Android and Windows 10 design styles.
You can also copy and paste SVG objects directly from Photoshop.
What's striking about XD is how slick and straightforward it is. The interface is instantly responsive, and simple enough that you can learn the basics in a minute. That's because XD doesn't engage with the back-end code that makes your app or website do its stuff: unlike Muse or the still-supported Dreamweaver, it's a pure design tool.
This doesn't mean you're limited to creating static forms, however. XD lets you prototype your designs by linking artboards together – with optional transition animations – and preview them on an Android or iOS device, or an onscreen simulator. A built-in video recorder makes it easy to create interface demos, and you can upload designs to Creative Cloud for one-click sharing with other designers. While narrow in scope, XD turns a fiddly job into a breeze: for a certain type of designer it will be a godsend.
PROJECT FELIX
The other big new development is Project Felix, a compositing tool for positioning and arranging 3D objects against 2D backgrounds. It's so fresh that, although it's officially part of the 2017 suite, it isn't available just yet: the beta is expected a month or two down the line, along with confirmation of the program's official name. The basic idea of Project Felix might not sound particularly ambitious – you can do the
It's great to see Adobe extending its creative tools to support a diverse range of workflows, but it lacks corresponding licences
same basic job in Photoshop – but Adobe promises some smart features, including the ability to analyse your 2D scene and automatically generate appropriate lighting for your 3D elements. You can also select and move 3D elements using familiar magic wand-type tools, and to support it, Adobe is adding thousands of 3D models, materials and lights to Adobe Stock. Ultimately, the idea is to enable Photoshop experts to create professional-grade 3D scenes without having to retrain. It's a great idea if it works: I look forward to trying it out.
Elsewhere, Premiere Pro CC gets some forward-looking upgrades. After receiving basic support for 360-degree footage last June, Adobe's video editor has now been updated to seamlessly recognise, edit and output various VR formats.
It also lets you simulate a headset wearer's field of vision, so you can get an immediate visual view of the experience you're creating.
In addition, a new collaborative working model has been added in the form of "Team Projects", which can be worked on by multiple people at once, across Premiere Pro, After Effects and Prelude. This is still officially in beta -but, like XD, is available to try now. It's a little aggravating that a Creative Cloud for Teams or Enterprise subscription is required – but for professional production teams it gives the Adobe workflow an advantage over Final Cut Pro.
PRINT APPS
Adobe's classic print-production apps -Photoshop, Illustrator and InDesign – all get upgrades too, but here we're looking at minor updates rather than anything revolutionary. Much of the focus is on helping creatives hit the ground running: in both Photoshop and Illustrator, the New Document requester has been revamped into a graphical document-type selector, and divided up into intents such as Photo, Print, Web and so forth.
The same requester also now offers Adobe Stock subscribers a selection of template documents to work from. There are dozens on offer, from posters to business cards, photomontages, labels, textures and line-art elements.
We suspect some of these designs may quickly become overfamiliar, but it's a great springboard for a quick mock-up, and a useful resource for improvers to study and learn how various visual effects are achieved.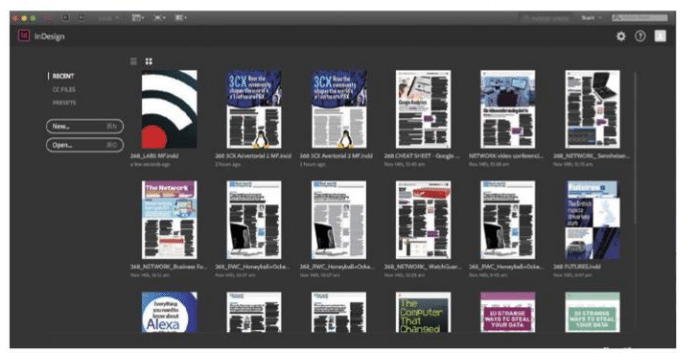 Beginners, meanwhile, will appreciate Photoshop's new in-app search function, which works just like searching the Windows Start menu, or like Spotlight in macOS. Hit Ctrl+F (or Cmd+F on a Mac) and start typing, and you'll see matching tools, menu items, tutorials and stock images all spring up immediately; click on the one you want, or tap Return to activate the top hit. While the OS X Application Help menu does something similar, this is a more comprehensive, cross-platform interface – and, as Photoshop continues to expand and evolve, even old hands may find it useful for tracking down little-used features.
Illustrator doesn't get the same search function, but it does receive a modest visual upgrade, with more detailed and distinctive tool icons. It also has a few new tricks for text handling: you can flow text into any shape, generate placeholder text and see live font previews by hovering over a typeface in the menu. You can also filter your font library by style – for example, you can try out only sans serif faces, or only monospaced ones.
One other interesting upgrade is a "Make pixel perfect" command, which aligns horizontal and vertical lines to the underlying pixel grid, to ensure they don't become fuzzy when exported in a bitmap format. It's a niche feature, but useful for those who use Illustrator to create assets for websites or games.
Finally comes InDesign, and frankly It does feel as if Adobe's veteran DTP package has been left at the back of the queue, receiving only a handful of new features. Options to span footnotes across columns, scale arrowheads and access OpenType properties on a frame-by-frame basis are welcome, but they're not going to revolutionise the way you work.
ESSENTIAL UPGRADE?
Creative Cloud 2017 Is an extensive update, going well beyond the apps and updates I've already mentioned. The new Fuse cc app, currently in preview, lets you easily design and pose 3D characters for use in Photoshop and other apps; Animate cc gains camera pan and zoom capabilities, and now lets you drop your creations directly into Muse cc. After Effects cc 2017 introduces the Maxon Cinema 4D Tenderer for a simplified 3D workflow, while Dreamweaver cc benefits from improved code hinting, and live in-browser previewing so you don't have to keep hitting Refresh. The only major titles that escape an update this time around are Lightroom and SpeedGrade.
While this is all good stuff, the broader the suite becomes, the more Adobe's inflexible subscription model – which pushes you to license the entire spectrum of apps, whether you need them or not -seems to stick in the throat. Yes, it's great to see Adobe extending its creative tools to support an increasingly diverse range of workflows; and yes, there are cheaper licensing options for teachers and fulltime students. However, I wish it would offer a correspondingly diverse range of licensing options.
But where else are you going to go?
For many jobs, Creative Cloud is the only game in town; even in competitive fields such as video editing, it's an evermore compelling option. Once again, Adobe entrenches its position as an indispensable resource for any creative professional – or anyone who aspires to be one.
Darien Graham-Smith