• Requirements: HDMI, DisplayPort graphics card, AMD GPU for FreeSync use
Acer's new XZ line of gaming monitors are designed to offer the best curved screens possible, while still keeping the company's Predator line features and reasonably low price.
The XZ350CU is the oldest of the XZ line, being released around the beginning of the year, with the other models released just a few weeks ago.
This particular model is a 35″ VA LED panel with a resolution of 2560 x 1080, a refresh rate of 144Hz and a response time of 4ms.
It has a 2000R screen curvature. 21:9 aspect ratio, a contrast ratio of 100,000,000:1 and typical brightness of 300cd/m2.
It also features FreeSync technology and a four-port USB 3.0 hub, as well as a pair of reasonably good 7W speakers.
Connectivity is pretty good: a single HDMI, a pair of Display Ports and even a mini DisplayPort too.
Thankfully, there's a DisplayPort cable included in the box, as well as HDMI – something a lot of monitor companies tend to omit from the packaging.
The screen quality was good in our tests.
It was reasonably sharp, and the colours were deep and vivid enough for gaming and everyday use.
And as with most of the screens on test, it's only when you have this monitor side by side
with another you can begin to appreciate the differences.
On the whole, it offers a decent image output, and the FreeSync element helps too.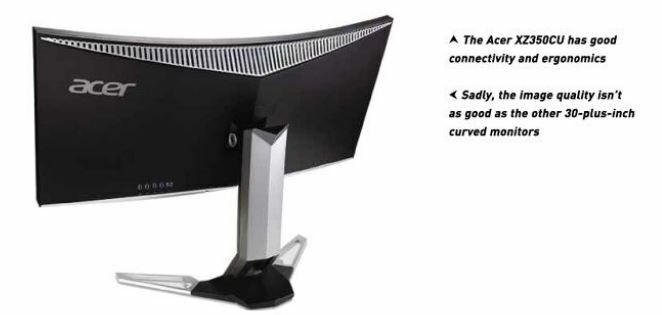 The monitor design doesn't feel quite up to scratch, though, when compared to the likes of the BenQ, Philips, LG or Samsung models.
There's considerable creaking and stiffness when moving the monitor through its tilt and 100mm height adjustment, and the glossy bezel does feel like it's about to fall apart in your hand should you move the screen.
However, focusing on the positives, the USB hub and connectivity, along with the FreeSync, blue light reduction and its ergonomics are an excellent addition to the monitor and set it above those that lack these extras.
As you would expect, as a 35″ monitor, it isn't cheap.
But Acer has managed to include all these features for the relatively reasonable price.
Naturally, that's still a fair amount of money for a monitor, especially one that isn't as good in terms of build and image quality as others this week.
While good on connectivity, then, the Acer XZ350CU doesn't really match up to the other 35″ screens in the group.
If you're going to be spending this kind of money, then it's worth you saving a little more and opting for something like the LG.
Best Acer XZ350CU prices ?

$

1,199.76
1 new from $1,199.76
out of stock

MORE DEALS