Asus ZenBook UX310UA Review – THE SLIM, TASTEFUL design of Asus's ZenBook range calls to mind Apple's now-defunct MacBook Air, but with a wider range of configurations, and much more palatable pricing. In this case, the resemblance isn't purely aesthetic.
Like the MacBook Air, the ZenBook UX310UA is designed for a specific role. It's a lightweight travelling companion rather than a desktop replacement. That much is evident from the internals. Unlike many Windows-based ultraportables, the UX310UA comes with a dual-core Core i3-6100U processor rather than something from the Core m series, but the i3 still limits its multitasking capabilities. We wouldn't call this a slow system, but with an overall score of 34 in our desktop benchmarks, plus 20 in the multitasking test, it's not exactly overpowered either.
Editor choice
Asus ZenBook UX310UA Review
PROS
Thin and light design
Good performance
SSD/hard disk combination
Very low starting price
CONS
Mediocre battery life
No Intel Iris Graphics
Less attractive and heavier than rivals
Add your review
|
Read reviews and comments
Best Asus ZenBook UX310UA prices ?

$

201.47
1 new from $201.47
in stock

MORE DEALS

See also THE COMPLETE GUIDE TO…OLED laptops
Asus ZenBook UX310UA Review: GAME'S UP
Gaming capability is limited, too. In our Dirt Showdown test, running at 720p with High settings, the ZenBook averaged a just-about playable 29fps.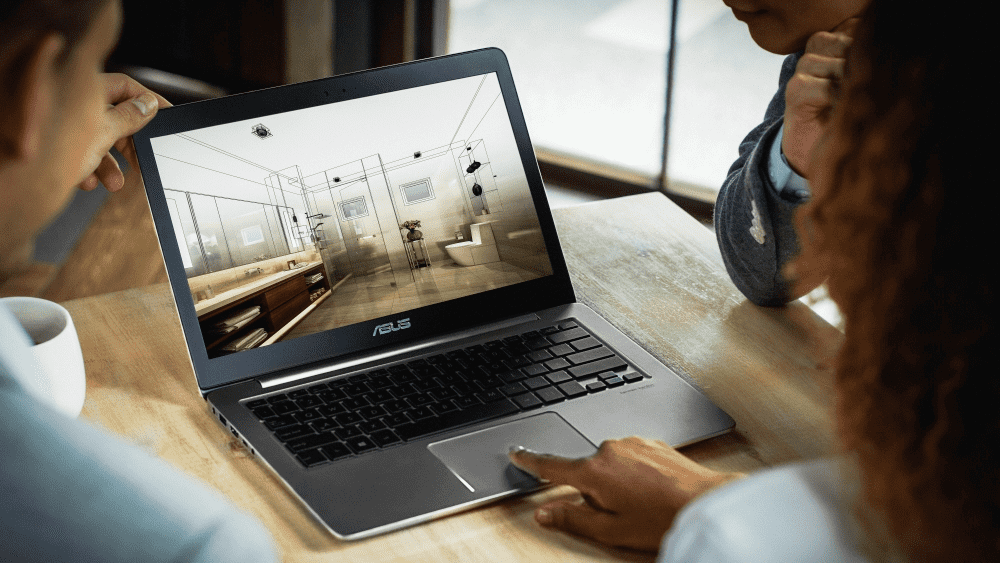 Note, too, that this ZenBook model comes with just 4GB of RAM, and a stingy 128GB SSD. That's fine for emails and spreadsheets, and a lot more than you'll get from any Chromebook, but if you regularly deal with weighty workloads, it could prove constraining.
Yet the ZenBook has some significant strengths.
Let's start with the one that shines out as soon as you open the lid: the screen is fantastic, with a maximum luminance of 341cd/m2.
While it's not quite the brightest laptop display around, a superb contrast ratio of 1,282:1 makes it an excellent all-round visual performer. It's also worth mentioning that the 13.3in panel has a native resolution of 1,920×1,080, for a sharp pixel density of 165ppi.
From a typical operating distance, text looks beautifully crisp, and the matt screen keeps distracting reflections to a minimum. This isn't a touchscreen, mind you: with its conventional hinged laptop design, the ZenBook entirely rejects the hybrid vision.
That's fine by us, because the conventional input methods work very nicely. The backlit keyboard is comfortably sized, with a good responsive feel – if a little more spongy than we'd really like – and the touchpad is luxuriously large, so you never feel constrained by its edges.
Connectivity is pretty good, too. As you'd hope, there's 802.11ac wireless and Bluetooth 4.1. You also get a decent set of USB ports, comprising USB3, twin USB2 connectors and a USB Type-C socket, for newer phones and peripherals.
It would have been nice to use the faster USB3 platform exclusively, but then this probably isn't a system that will be regularly hooked up to multiple high-bandwidth devices.
Asus ZenBook UX310UA Review: BALANCING ACT
As for sound, the system's speakers are pleasingly balanced – predictably, there's not much in the way of bass, and the maximum volume won't fill a room, but watching videos at your desk is perfectly agreeable.
A final feather in the ZenBook's cap is battery life. In our tests, the UX310UA delivered 8h 6m of video playback on a single charge. Yes, there are devices out there that will last longer, but those all rely on ultra-low-power Core m processors.
If you're looking for a more capable Windows system that will make it through an entire working day, the ZenBook UX310UA is your answer.
Clearly, even with all this going for it, the ZenBook's mid-table performance and old-school design mean it's not for everyone. Yet with its excellent screen, impressive battery life and portable dimensions – it's just 18.4mm thick, and weighs a mere 1.4kg – we can't deny the ZenBook's charms.
If we have a caveat, it's this: the UX310UA currently uses sixth generation Skylake processors, but a Kaby Lake update is due in the next few weeks. Any performance benefit is likely to be modest, but if you're not in a rush to buy, it makes sense to hold out.
Darien Graham-Smith
Verdict
It's no powerhouse, but this highly portable laptop has a great screen and a practical battery life