A mixed bag
Lenovo's Miix 510 is a very competitively priced rival to Microsoft's Surface Pro, with a similar 12.2in format. The model we tested, with an Intel i5 processor and 256GB SSD. The nearest Surface Pro configuration, and unlike Lenovo, Microsoft doesn't include a keyboard. If you'd rather spend even less, the lowest Miix model, with an i3, 4GB of memory and 128GB of storage..
A reasonably priced laptop with a fast SSD, but it has a rickety keyboard, so-so screen and poor battery life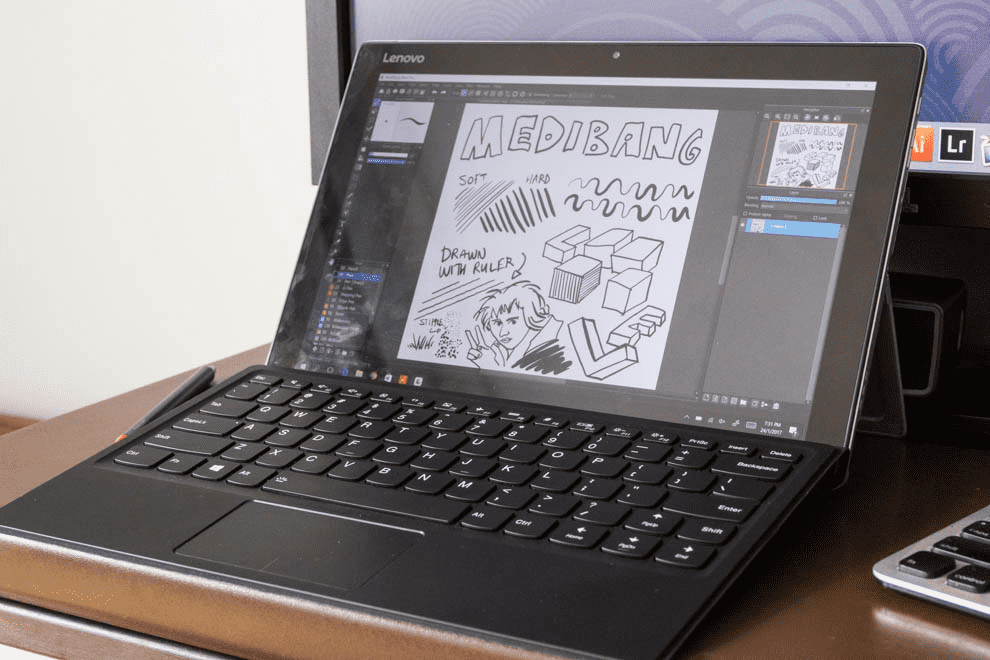 The Miix 510 feels very classy for a mid-priced Windows 10 tablet. Its aluminium unibody design is similar to Microsoft's, but Lenovo adds its own 'watchband' hinge to the kickstand, an intricate piece of engineering that lets you prop the screen at the exact angle you want. We'd have preferred a rubber strip on the bottom to stop it sliding around on slippy surfaces, but aside from that it worked well.
Though -15 per cent heavier than the Surface Pro – it's not the lightest tablet. And the keyboard brings that to 1.25kg, which is the same as some larger laptops. Stereo speakers are built in – they're not great, but improve slightly if you turn on Dolby Audio in Windows 10's Sound settings. You also get both a USB 3.0 and a USB Type-C port in addition to Lenovo's charging port, so you can charge and use accessories at the same time. Basic but usable front and rear cameras are built in.
We've yet to see a clip-on keyboard that's entirely satisfactory. This one has good-sized, well-spaced keys that move enough to let you know you've pressed them, which is all very positive for a compact laptop. But it flexes as you type, making it a pretty unpleasant experience. The trackpad, which you'll use a lot in Windows 10 programs unless you enjoy prodding at a laptop's touchscreen, is small. It often ignored swipes we'd made and responded to ones we hadn't. Lenovo's Active Pen for the touchscreen, an optional extra, costs about £30 but is hard to find in stock anywhere.
The Samsung SSD is extremely fast, at up to 1,325 MB/s reading speed and 1,068MB/s writing speed in our tests, which helps keep things moving along. That's just as well, because the i5-6200U processor is right at the bottom of the previous (not the current) i5 range. Our tests confirmed that it's just about adequate for serious Windows 10 use, and about one-third the speed of a current i5. Even the Surface Pro 4's i5-6300 was noticeably faster, while the latest Surface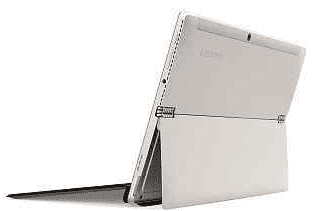 Pro gets the improved 7300U, which also generates less heat. The Miix 510 got warm when we tried ambitious tests like 3D games (just barely possible), but the temperature of the processor itself stayed well within its limits.
Still, the Miix 510 is fast enough to feel quite usable. The catch is that the battery only lasted five hours 40 minutes in our video-playback test. Compare that to the i5 Surface Pro, which ran twice as long. The screen, too, betrays where savings have been made. Microsoft's 2736×1824 pixels are so fine as to be barely visible, while its 97.5 per cent coverage of the sRGB color range will satisfy photo and video editors. Lenovo offers only 1920×1200, and managed just under 90 per cent sRGB in our tests. Color accuracy is unimpressive, too. In all honesty, though, recent tablets have set an eye-wateringly high bar. We'd consider this a pretty decent screen in a conventional laptop at a similar price.
VERDICT:
The screen, keyboard and battery can't match the Surface Pro, but this is a well-made laptop-tablet at a decent price
Best Lenovo Miix 510 prices ?
MORE DEALS

See also THE COMPLETE GUIDE TO…OLED laptops
ALTERNATIVE:
Asus Transformer 3 Pro
This has the same i5 processor and a sharper screen, but half the memory and shorter battery life
SPECIFICATIONS
Intel i5-6200U dual-core processor • 8GB memory 256GB SSD • 12.2in 1920×1080-pixel screen USB Type-C port • USB 3.0 port • 802.11ac Wi-Fi • Bluetooth 4.0 • Windows 10 Home • 15.9x300x205mm (HxWxD) • 1.25kg (with keyboard) • One-year warranty