The new Spin 7 isn't cheap, but you could spend a lot more on a laptop.
Apple's 12in MacBook, for example, is pricier with a lower specification and a smaller screen, and lacks the feature that gives the Spin 7 its name: a touchscreen that you can fold all the way round and use as a tablet.
In this mode, the Spin 7 is broader than Microsoft's Surface Pro 4, for example, and while you can completely detach the optional Type Cover from the Surface, you're stuck with the Spin 7's keyboard, making it 50 per cent heavier than the Surface Pro 4 alone.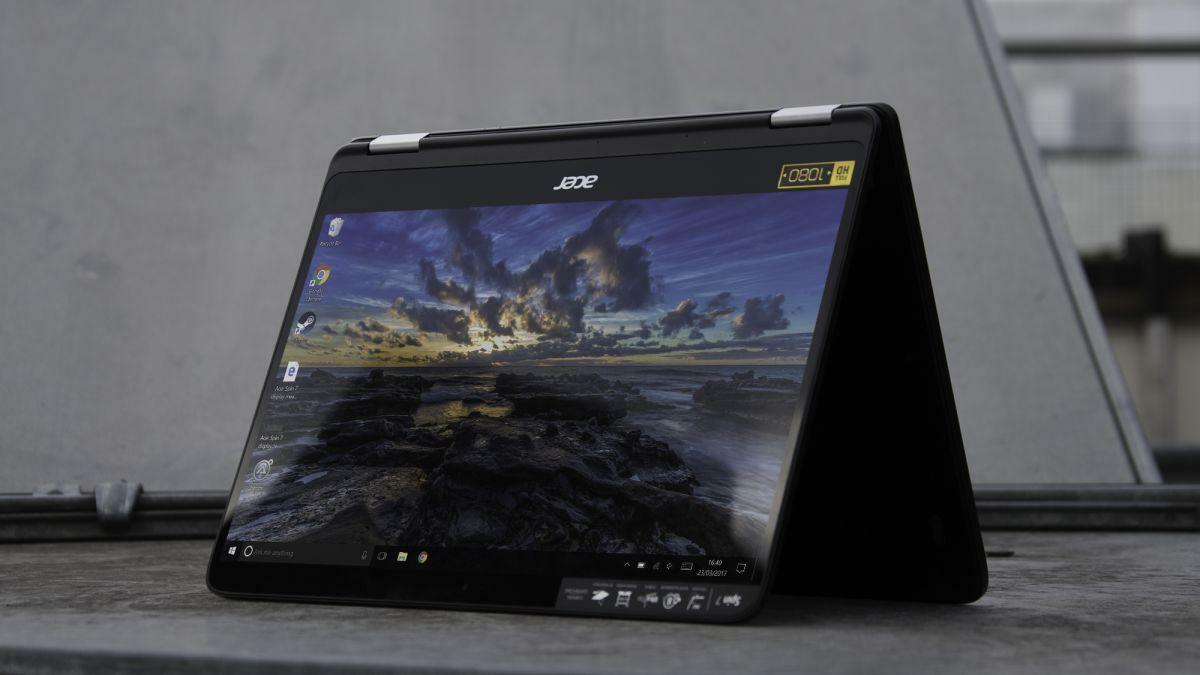 Still, at 1.2kg it's hardly a monster, and it does feel extremely slim for a Windows 10 laptop.
There's almost no empty space around the screen, but there's still room for a full-size keyboard, and we found it comfortable to type on. You also get a huge and very responsive multi-touch trackpad.
You'd have to really want both a tablet and a laptop to put up with its compromises
There's no fancy quadrupled resolution here, but the Full HD screen covers a creditable 95 per cent of the sRGB color range.
The reassuringly tough Gorilla Glass front is glossy enough to send you scurrying for shade under strong light.
The battery gave up three minutes short of seven hours in our video-playback test – not disastrous, but not great by today's standards.
This is the sacrifice Acer has made for the slender case.
So what justifies the price?
It's certainly not the i7-7Y75 processor is what used to be called an m7, the 'm' standing for 'mobile' and really meaning 'doesn't use much power because it doesn't do much'. Intel's Kaby Lake update renames it as a Y-series i7, 'Y' presumably indicating 'Yes, more people will buy this if we call it an i7'.
By desktop standards it's more like an i3, and despite its touted energy efficiency it heated up the Spin 7's chassis quite noticeably in use, occasionally getting worryingly hot.
The Spin 7's final problem is, literally, central to the whole thing: the 360-degree hinge just isn't stiff enough.
SPECIFICATIONS
1.3GHz Intel Core i7-7Y75 dual-core processor • 8GB memory • 256GB SSD • 14in 1920×1080-pixel screen • Webcam • 802.11ac Wi-Fi • 2x USB Type-C ports • Windows 10 Home • 11x325x230mm (HxWxD) • 1.2kg
Whether angling the screen as a laptop or standing it up in 'tent' configuration, it didn't give us confidence that it wasn't going to slip down.
That clinched our feeling that this isn't a machine for anyone who's on the fence.
You'd have to really want both a tablet and a laptop to put up with its compromises.
As a laptop, Acer's even skinnier Swift 7 makes more sense.
VERDICT
Best Acer Spin 7 prices ?
MORE DEALS

See also THE COMPLETE GUIDE TO…OLED laptops
ALTERNATIVE
If a tablet appeals to you, this comes with a faster i5 processor and enough change to add the Type Cover keyboard