Asus ZenBook Flip UX360UA – Just a glance at ASUS's refined ZenBook Flip UX360UA is enough to betray the notion that the 2-in-1 category has matured. Made up of two 14mm polished aluminium halves, the Flip is fused together by a pair of honed, fully reversible hinges that allow the screen to fold completely back on itself.
Striking the perfect kinetic balance between consistent movement and a secure hold, this hybrid's screen- to-keyboard weighting lets you tilt the screen without having to hold the base. This makes it feel first and foremost like an uncompromising day-today laptop — something that can't be said for many 2-in-1s on the market.
PROS:
Looks great and it's well built, sleek and light for a convertible, excellent keyboard and good trackpad, fast performance, runs cool, large battery, good speakers
CONS:
the fan is too aggressive in daily use, the screen is dim and dull (on this pre-release version)
The Intel Core i5-6200U CPU, 256GB SanDisk SSD and 57Wh battery allow the Flip to maintain a sprightly 1.27kg physique, which also makes it surprisingly usable as a high powered tablet.
Although it's lightweight, the Flip hasn't skimped on the build quality: the polished aluminium chassis looks sophisticated, feels elegant and provides a sturdy and resilient frame.
There's an obvious amount of engineering finesse in the silky trackpad and the nicely weighted keyboard, which work well together and make this unit function admirably as a highly-desirable laptop.
We're not overly fond of the power button's relocation to the left edge of the unit, but compromises are necessary in 2-in-1 devices.
The higher-end ZenBook Flip model with a quad HD screen wasn't available in Australia at the time of writing, but the 1080p 13-inch touchscreen on our test unit still had an exceptionally crisp image and we wonder if the higher-end model's display quality would be worth the resulting compromise in overall processing power.
Backing up that nice 1080p screen is a partnership with Harmon Kardon that has resulted in an exceptional quality stereo speaker setup, which can blast best-in-class audio; however, their downward-firing design works poorly on plush surfaces or when you've got the keyboard flipped around and facing down.
Fitted with a SATA 6Gbps-connected SSD, the Flip gets pretty standard 521MB per second sequential read and 343MB sequential write speeds.
For general home usage and work benchmarks in PCMark 8, the Flip netted scores of 3,003 and 4,210, respectively, in line with other devices in this class.
When it comes to multimedia work however, the ASUS's Intel Core i5-6200U SOC (including integrated Intel HD Graphics 520) outperforms the Venom and Acer's seventh-gen Core M chips, with multithreaded CPU CineBench scores of 268 and 37.9fps in OpenGL rendering. Those two competing units feature Intel Core i5-7Y54 and i7-7Y75 packages, which managed to only net respective scores of 174/25fps and 204/30fps. Considering you get more than 6 hours across both of PCMark's demanding battery life benchmarks, we're very impressed with the overall performance.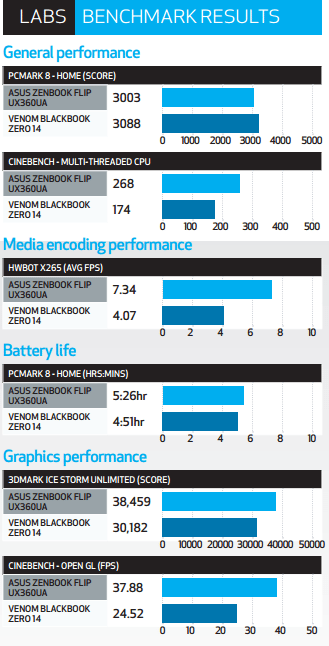 A surprisingly ample suite of connectivity options that includes two USB 3.0 connections, an HDMI input, USB Type-C port, SD Card reader and a 3.5mm headset jack further sweetens the deal. When you can get it (less than equivalent offerings), we're at a loss to think of any reason why this wouldn't be your first choice if you're looking for an affordable 2-in-1.
Joel Burgess
Verdict
Combines respectable performance, great battery life and a first-class build quality at a very fair price.