Suck it up gamers, this screen isn't for you. Read our Acer BM320 Review.
The ACER prodesigner BM320 ain't exactly cutting edge. There's a reason for that though—it was originally released at the end of 2017. So, there's no HDR and it's limited to a 60Hz refresh rate. But that isn't necessarily all bad. For starters, the price is only going in one direction.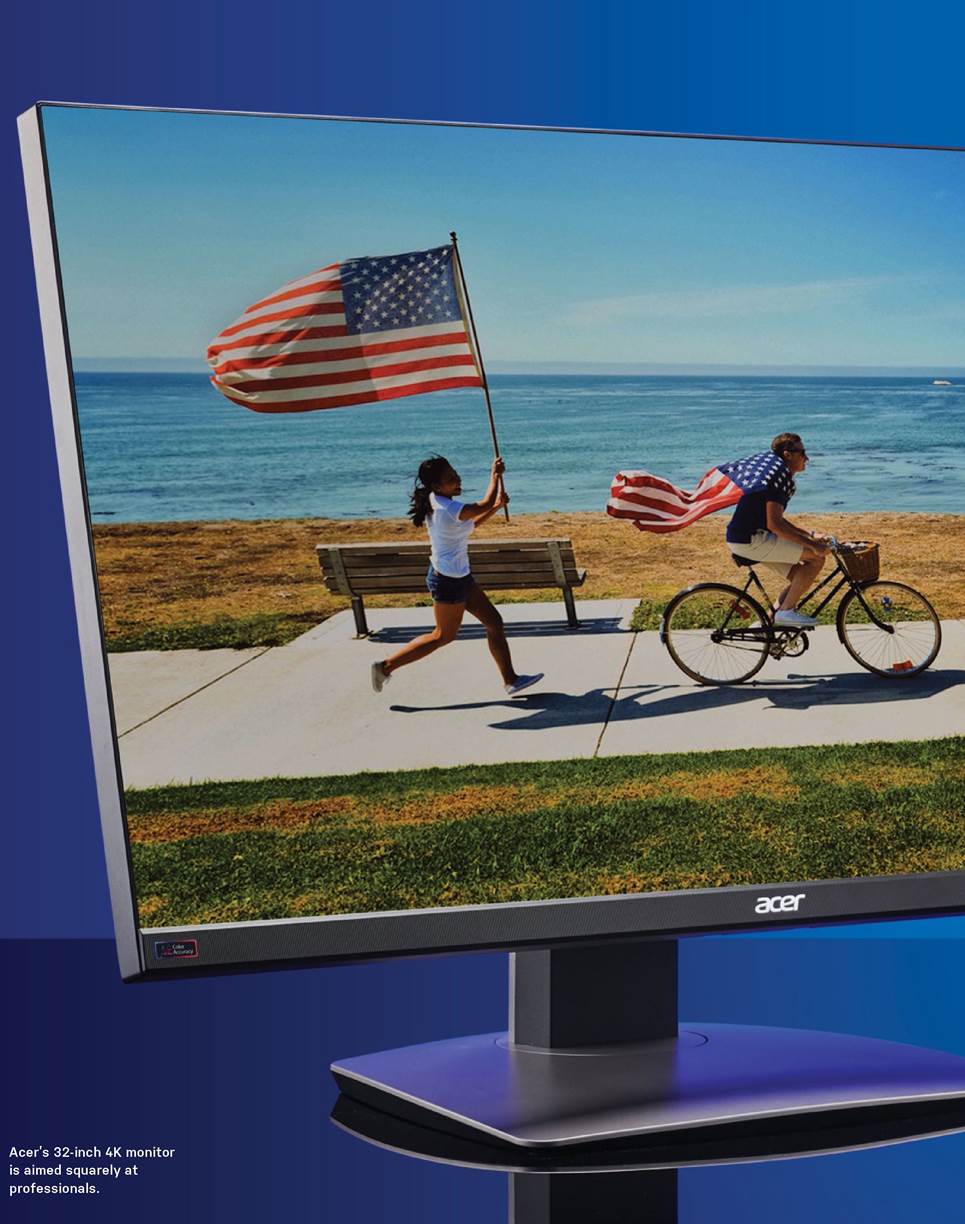 More on that later; first, let's size this generously proportioned monitor up. The key metrics are the 32 inches of screen diagonal and full UHD or 4K resolution, the latter translating into a fulsome 3840×2160 pixels. Moreover, as the "mere" 60Hz refresh implies, it's not aimed at gamers, which is actually a relief, such is the preponderance of both gaming screens and gaming-focused technology in the monitor market of late.
Instead, the Acer ProDesigner BM320 has pros in general and content creators in particular as its target demographic. With that in mind, you get features such as 10-bit color per channel (though Acer doesn't make it clear if the panel natively supports that) and multiple color space presets, including AdobeRGB, sRGB, and Rec.709. Acer says the BM320 covers 100 percent of the AdobeRGB space.
So, the Acer ProDesigner BM320 is an old schooler in an age of HDR and high- refresh upstarts. There's no adaptive sync, no local dimming, just a large, high- quality, high-res panel. Incidentally, that panel is of the IPS rather than TN or VA persuasion, the better for color accuracy.
Initial impressions are impressive. The BM320's colors are seriously punchy and, subjectively, the contrast looks strong. In fact, such is the vibrancy and saturation, the overall impression is more VA than IPS. However, closer inspection reveals the screen's true IPS-derived character.
That includes very wide viewing angles and impressive detail in color scales and test images. Those color space presets also ensure that the BM320 is ready for most—but not quite all—workflows. The obvious exception involves HDR content. In terms of content consumption, we couldn't care less about the lack of HDR support. For that remit, this screen looks every bit as good as those with entry-level HDR support. In other words, screens without local dimming, which is most HDR-compliant PC monitors today.
However, the lack of HDR support could be a deal-breaker for content creation. Other upsides include a smooth anti-glare coating, slim bezels on three sides, and plenty of connectivity, including DisplayPort, HDMI, and even DVI.
That 4K resolution on a 32-inch panel makes for a pleasingly tight pixel pitch and crisp fonts, not to mention lots of desktop real estate. At 32 inches, many users will be comfortable running the BM320 at 100 percent scaling, maximizing on-screen elbow room. Rounding the plus points out are excellent build quality and a robust- feeling stand that offers a comprehensive range of adjustment, including the ability to rotate into portrait mode.
As for niggles, the aforementioned HDR-related limitations aside, the most obvious flaw is noticeable input lag. Were this a gaming panel, it would be a very serious problem. For content creation, it's more of an annoyance. Suffice to say, if you're looking for an upscale all- arounder with a bit of gaming included, this Acer isn't the best option.
All of which leaves the sordid matter of money. Right now, the Acer ProDesigner BM320 is just over $800. However, we noticed its price had fallen to as little as £ over in the UK, which works out at around $500. We suspect the US price is heading in the same direction, given the maturity of this model. And at that kind of money, it's one hell of a package, even with the limitations. -jeremy laird
+ VALUE PROPOSITION Gorgeous 4K IPS panel; multiple color spaces supported.
– FALSE ECONOMY No HDR support; some noticeable input lag; not exactly cheap.
SPECIFICATIONS – Acer ProDesigner BM320 Review
| | |
| --- | --- |
| Panel Size | 32-inch |
| Panel Type | IPS |
| Resolution |  3840×2160 |
| Pixel Pitch |  138 ppi |
| Brightness |  350cd/m2 |
| Contrast |  100m:1 (dynamic] |
| Response |  5ms |
| VESA Mount |  100 x 100mm |
| Warranty | Two years |