One barrier to making cheaper laptops is Windows 10, which is excellent but demanding.
Chromebooks leave it out and instead run Google's Chrome OS, a glorified web browser.
Instead of installing software, you do everything over the internet using 'web apps'.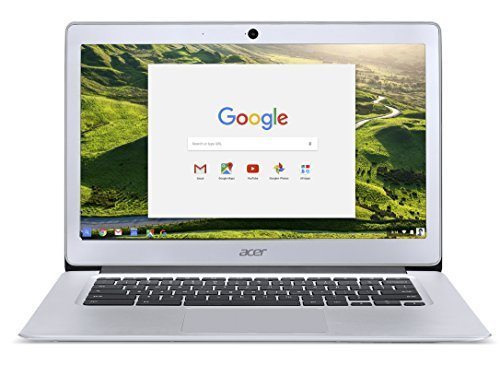 Some can be permanently installed on the small amount of built-in storage, giving you some degree of usability away from a Wi-Fi connection, and you can keep a limited quantity of files.
But a Chromebook works best online.
Other than that, Chromebooks are much like other laptops, except that they tend to be quite cheaply made.
Google's Chromebook Pixel is one exception, but it's of interest to almost nobody – except perhaps Google employees showing off how well paid they are.
Acer's new Chromebook 14, on the other hand, is much more interesting, because it's beautifully built and costs just a fifth of that.
The wedge-shaped silver metal case has the look of a MacBook Air, and has Acer's distinctive brushed finish on the lid.
And like the MacBook, it feels solid and doesn't flex easily in your hand, despite being very thin. It's a bit heavier than you'd expect, but that adds to the sense of sturdiness.
The 14in screen, bigger than the Air, makes the Chromebook 14 feel like a full-size laptop, although the 1366×768-pixel resolution is on the low side, so small text isn't as readable as on most phones or tablets.
Brightness, contrast and color accuracy didn't overly impress us either, with only 54 percent of the sRGB range covered.
That might not put you off in a laptop intended for basic tasks, but it could leave you squinting if you try to use it outdoors, and it's not a good choice for editing photos.
Acer's own Chromebook R11 has a smaller but better display – and it's also a touchscreen.
One benefit of its size, though, is that the keyboard isn't cramped. The 'tile' keys are well spaced and responsive, and we found typing comfortable.
The gesture sensing touchpad worked well too, although Chrome OS doesn't rely on its use as much as Windows 10.
You're also less likely to connect peripherals, but with two fast USB 3.0 ports, an HDMI monitor output and a 3.5in headphone jack (a better bet than the so-so internal speakers), the essentials are covered.
You'd need a USB adapter for a wired Ethernet network, but Wifi is built in.
We'd have liked an SD card slot for importing photos and sharing files.
The model we tested had a dual-core Intel Celeron N3060 processor and a meagre 2GB of memory.
That's just about the minimum required for Chrome OS to run smoothly , and everything worked in our tests as long as we didn't open a lot of web pages or apps at once.
This processor can occasionally struggle to keep up when playing 1080p Full HD video, but a lower 720p setting would match the screen anyway. The battery lasted us 10 hours and 22 minutes of video playback, beating HP's similarly sized Chromebook.
The Chromebook 14 is also available with 4GB memory and 32GB storage, or with a Full HD screen.
This is a much more portable machine than Acer's own Chromebook 15 C910, for example, without the cramped feeling you get with 11-12in models.
We can forgive limited performance in a Chromebook, and while the screen quality is disappointing, the build quality makes up for it.
SPECIFICATIONS of Acer Chromebook 14
1.6GHz Intel Celeron N3060 processor • 2GB memory • 16GB flash storage • 14in 1366×768-pixel screen • Webcam • 2x USB 3.0 ports • 802.11ac Wi-Fi • Bluetooth 4.2 • HDMI • 13.4x340x236mm (HxWxD) • 1.7kg
VERDICT of Acer Chromebook 14 Review
Best Acer Chromebook 14 prices ?
MORE DEALS

See also THE COMPLETE GUIDE TO…OLED laptops
ALTERNATIVE of Acer Chromebook 14
Acer Chromebook R11
This smaller 11.6in laptop-tablet hybrid has a better screen and similar performance