Chromebooks can be something of a culture shock for those who have used Windows for a long time, as the Chrome OS is essentially just a browser.
If that's your thinking, then consider how much of your working day you spend in a browser using web-based applications and sites.
And hopefully, it will start to make much more sense. And after a few hours with the new Acer Chromebook R11, you might just be convinced to ditch Windows and walk Google's alternative path.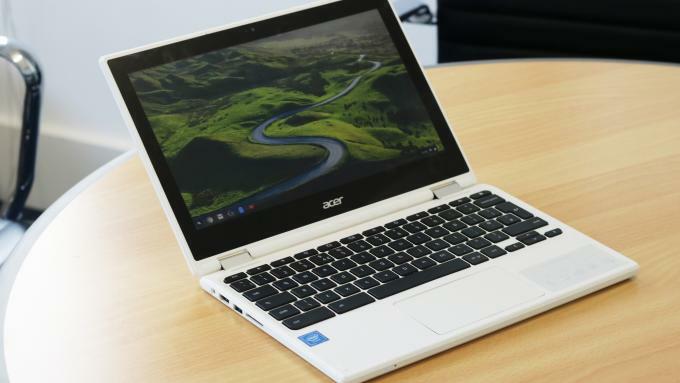 On paper at least, the R11 is a rather well-specified netbook.
Built around the Intel Celeron N3060 dual core CPU that runs at 1.6GHz boosting to 2.48GHz, it features 4GB of RAM and 32GB of eMMC storage.
If you need more space to store things locally, it has an SD card slot, though the remit of this device it to operate in conjunction with the cloud and its file services.
The screen is a razor sharp IPS display with a natural resolution of 1366 x 768 – more than enough pixels for the 11.6″ panel to present comfortably.
There's a reasonable sized keyboard, generously scaled touchpad and the usual selection of USB (two, and one is USB 3.0!) ports along with HDMI.
For this sort of money, that's mostly what I'd have expected.
What I didn't really anticipate is that this system would have a touchscreen and a reversible hinge that allows it to enter tablet and tent modes, should you want to do that.
That's a slightly odd choice in that the Chrome browser isn't exactly designed for direct finger control, even
if it does work after a fashion Or it would be if there wasn't a change coming to Chrome OS in the next major release that could make this both a replacement for previous Chromebooks and also Android tablets.
Key R11 Features
• Chrome OS.
• Intel Celeron N3060 dual-core 1.60GHz.
• 11.6″ 16:9 IPS HD touchscreen (1366 x 768).
• 360° Acer dual-torque hinge.
• 4 GB RAM, LPDDR3 and 32GB eMMC storage.
• Up to 12 hours battery life.
• Patterned aluminium cover.
An excellent Chromebook that really sells Google's Chrome OS vision
Yes, the Google Play store is coming to Chrome OS, and the R11 is one of the first machines that will be blessed with the capability, once Google has ironed out the majority of bugs.
My problem as a reviewer is that I haven't experienced this machine running Android Angry Birds or that platform's version of Office 365.
Regrettably, even on the beta or dev channels, it isn't released at the time of writing, though it might be along soon, I believe.
What it will be like is therefore an unknown quantity, even if this machine was built specifically with the intention of achieving this.
On that basis, I can't in all conscience tell you to buy this because of what it might do in the future, only what it does do today.
The good news for Acer is that what it does now is pretty nice, without the Android app carrot being so tantalisingly dangled for us.
There are two aspects to this design that really make it work so much better than many Windows-based netbooks that you'll see around the same price.
The first of these is how frugal the power consumption is under Chrome OS, where the manufacturer's quoted battery life of 12 hours isn't just pie in the sky.
Using the typical suite of Google services and web surfing, the three-cell lithium-ion 3490mAh battery will get you through a full working day and have power left for some couch surfing later.
The second excellent choice that Acer made was to put 802.11ac wi-fi in the R11.
Using Intel's Dual Band Wireless-AC 7265 puts the R11 on par with the wi-fi connectivity of many Ultrabooks and allows those with the latest router technology to get very snappy performance even when surfing rich locations or watching streamed HD video.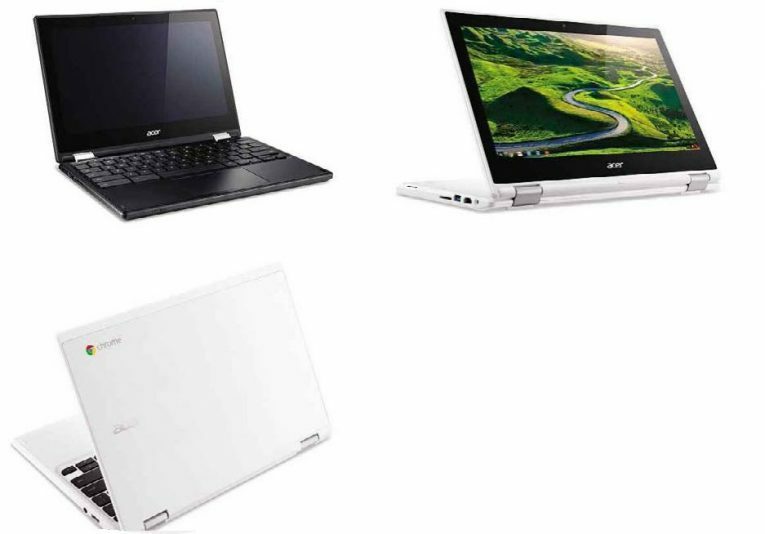 So how could it be even better?
Well, the inclusion of glass on the screen for the touch functionality has increased the weight to 1.25kg, making it heavier than less ambitious designs.
But the feature that's really beginning to grind with me is the needle thin proprietary power connectors that Acer (and others) love so much.
Logically, this should be a USB Type-C connector, rather than this easily breakable and difficult to replace nonsense.
Even with the power connector silliness, this is an excellent Chromebook that really sells the practicality of Google's Chrome OS vision.
Some people won't like the color or the size of the screen or that you don't get Cherry MX switches on the keyboard.
But for someone who wants a mobile platform that works well with the Google ecosystem, this is a hard act to beat.
mm Mark Pickavance
Terrific Chromebook with the potential to become a tablet, maybe.
See also THE COMPLETE GUIDE TO…OLED laptops