We've always been fans of Epson's 'small-in-one' printers, which provide very compact models for home users, and now Canon is getting in on the act with the latest addition to its Pixma range of photo printers. Like other models in the Pixma range, the compact TS8050 puts its focus on high-quality photo printing, with a print mechanism that uses six different ink cartridges. The standard cyan, magenta, yellow and black inks are complemented by a grey ink that helps to enhance contrast and subtle tonal graduations within photographs, while the sixth cartridge provides a special pigmented black ink that is used for printing text.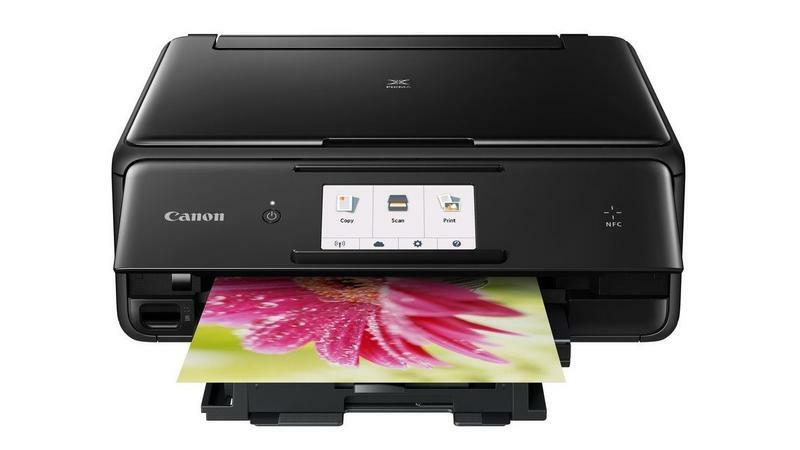 The compact Pixma TS8050 puts its focus on high-quality photo printing, with a print mechanism that uses six different ink cartridges
Price
That quality comes at a price though, and the TS8050 when bought directly from Canon, although you can find cheaper if you shop around online. That comes with only 'setup ink' though, and a bundle with full cartridges, even from Amazon. See running costs below for more information.
Design
Canon says that the new TS8050 is 30 percent smaller than previous models in the range, and at 372x324x139mm deep it's certainly small enough to sit on a desk or a shelf in a home office. However, Canon manages to pack in plenty of useful features that help to justify the printer's relatively high cost. As well as the 9600x2400dpi printing, the TS8050 includes a 2400x4800dpi scanner and copier.
The main paper tray holds 100 sheets of A4 paper, but its focus on photo printing means there's a second tray that holds 20 sheets of photo paper, and a third tray for printing on CDs and other types of disc. As well as standard USB and Wi-Fi connections, the TS8050 also supports AirPrint for Apple's ¡OS devices, while Canon's Cloud Link feature let you print photos from social media such as Instagram.
Performance
The complexity of the six-ink printing process means that the TS8050 isn't the fastest printer around. Canon quotes speeds of 15 pages per minute (ppm) for text documents, 10ppm for color graphics, and 21 seconds for a 150x100mm postcard print. We actually got closer to 12ppm for text and 7ppm for graphics, while our postcard prints took 30s. Even so, those speeds should still be perfectly adequate for most home users and, of course, the five inks used for photo printing ensured that our test prints were extremely good, with crisp, bold colors and subtle, attractive flesh-tones in portrait photography.
Oddly, though, text output using the standard quality setting was a little heavier than we'd expected, and lacked the near-laser-quality smoothness that you can now get from some inkjet printers. It'll be fine for most routine documents, but if you really need top-quality text then you might want to switch to the slightly slower Fine setting.
Running costs
We'd expected the six-ink mechanism to really push up the running costs for the TS8050, but we received a pleasant surprise here. If you shop around on Amazon you can find the pigmented black ink (300 pages), which works out at 3.7p per page for text printing. That's quite steep, but if you opt for the high-yield XL cartridge – 500 pages – that comes down to a much more reasonable 2.5p per page.
A set of five standard color cartridges comes to around, although Canon quotes a different number of pages for each individual color cartridge, which makes the cost calculations rather complicated. After a bit of head-scratching and calculating with Excel, we estimate that color printing with the standard cartridges works out at about 10.6p per page, which is on the higher end of average printing costs. But if you spend around for a set of five XL cartridges then that price comes down to just 6p per page, which is very good for color printing of this quality.
Verdict
The initial cost of the TS8050 is high, but its impressive photo printing will justify that price for people who are serious about photography. We'd avoid the standard size ink cartridges, as they're not great value, but if you buy the high-yield XL cartridges then this can provide top-quality photo-printing with very competitive running costs.
Cliff Joseph
Specifications
A4 color inkjet printer with 9600x2400dpi resolution; 2400x4800dpi scanner/copien 100-sheet A4; 20-sheet photo paper CD/DVD/Blu-ray; USB; Wi-Fi; Apple AirPrint 139x372x324mm; 6.5kg