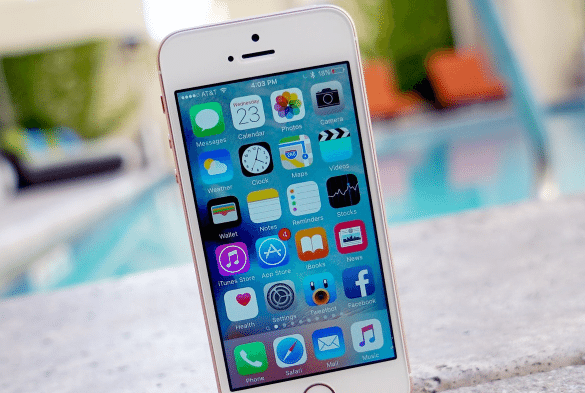 The best-value iPhone yet
Finally, a cheaper iPhone. We've been waiting for this since Apple announced its first phone in 2007, but there's an obvious reason why it hasn't happened before. By only selling top-of-the-range phones, Apple has brought in fewer customers but more money. Today, it accounts for about 20 per cent of all smartphones sold, and about 90 per cent of the profit made in this market. It would be easy to conclude that iPhones are overpriced, but it's a strong argument against going downmarket.
Still, Apple won't remain the world's top tech company without widening its appeal. So here's the iPhone SE, which is the cheapest iPhone ever. It looks like 2013's iPhone 5s, which Apple had previously kept on sale as a budget option, but the SE costs even less and comes in more colours, including 'rose gold'. Inside, it's more like the current 6s, just smaller.
The latest A9 chip gives the SE enormous processing power for smooth web browsing. It can even edit (as well as shoot) 4K video, something many PCs struggle to do. Its main camera has the same features as the iPhone 6s, including the Live Picture option that makes your still images move like those photos in Harry Potter. The front camera is an older, lower-resolution model, but it does have the new 'Retina flash', which uses the screen to light your face for selfies (should you want to take any).
The display, which packs in 1136×640 pixels for a sharp image, has Apple's usual high brightness and contrast, and covers the full sRGB colour range. Although it doesn't look as clear from wide angles compared with the iPhone 6s, it's still far better than most. Despite the smaller format, the iPhone SE's battery lasts just as long, playing videos for 16 hours in our tests. If you use the internet constantly it'll run down faster, but it'll still get you through most days.
Touch ID fingerprint recognition, which supports Apple Pay, is built into the Home button. In short, put the iPhone SE up against Apple's bigger, pricier models (see them compared at www.snipca.com/20177) and it's hard to see what you're giving up. There's just one major omission: the iPhone 6s' 3D Touch, which lets you press harder on the screen for pop-up options. We've found this surprisingly handy, but nobody would call it essential.
Hold on, though. How cheap is this phone really? Unlike some rivals, it's not advertised as waterproof or rugged. Break the screen on an earlier iPhone or any other smartphone, and you can get it replaced in your local shopping centre for around £50. But for security reasons Apple's fingerprint sensor will stop working if the screen is repaired by anyone except Apple, which charges £107.
That's too much for something that costs £359 in the first place. And for that you only get 16GB of storage, which can't be expanded because there's no microSD card slot. This is simply not enough to make full use of the iPhone's features. You'll soon run out of space for photos and videos. You'll even be limited in the number of apps you can install, considering that some can take up half a gigabyte or more.
So we can only recommend the iPhone SE wholeheartedly in its £439 version, which comes with a generous 64GB. This is excellent value for a smartphone with no compromises, and many people will even prefer it to the iPhone 6s. We just wish Apple would stop teasing buyers with a limited budget and offer a proper phone for £350.
VERDICTIt isn't quite the bargain it initially appears, but it's hard to fault this high-end phone at a mid-range price.
SPECIFICATIONS4in 1136×640-pixel screen • 12-megapixel rear camera • 1.2-megapixel front camera • 16GB flash storage • 802.11ac Wi-Fi • Bluetooth 4.2 • 3G/4G • iOS 9 • 124x59x7.6mm (HxWxD) • 113g • One-year warranty.