Zyxel Multy X Review – We test a new mesh router that outperforms every model we've ever tested
Mesh routers are a relatively new way of solving the perennial problem of weak Wi-Fi. Such systems consist of two or more units – each one a router in its own right – using a strong, dedicated connection to create a series of seamless hotspots around your house. The aim is to provide blanket coverage for the entire property, rather than the traditional router system which amplifies the signal from the entry point of your internet connection, producing diminishing returns as you move further away from the main router and the original signal grows weaker as walls, ceilings and floors act as obstacles.
A spate of mesh routers was released last year, and we reviewed the Netgear Orbi, the BT Whole Home and the Google Wifi.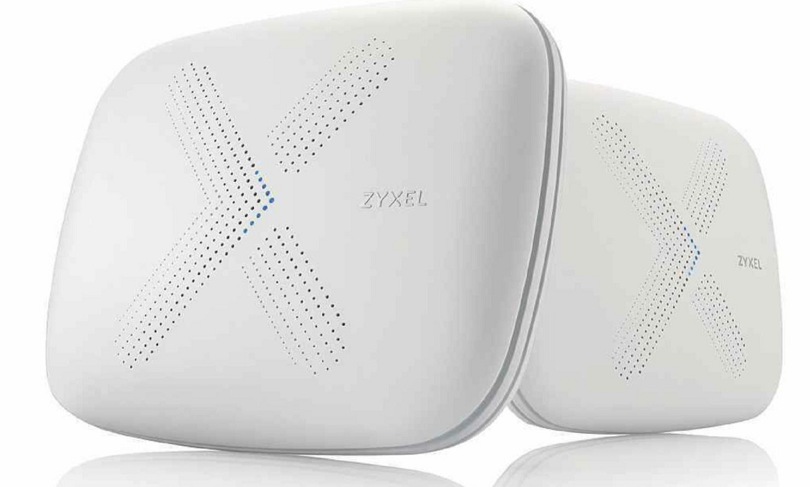 A generous four ports on each unit mean you can attach up to seven wired devices without needing any extra hardware
Zyxel Multy X Review: Design and performance
A few months on, Zyxel has joined the fray with its Multy X. Compared with BT's stylish discs and Google Wifi's dinky cylinders, Zyxel's bulging Multy X modules look a bit cheap. With a sizable footprint of 236 x 178mm, they take up more shelf space than their rivals. However, these nodes are large for a reason: each one crams in a dedicated 4×4 antenna array to boost the connection between the two units, providing a huge theoretical bandwidth of 1,733Mbps. Alongside are separate 2×2 arrays to connect with your individual Wi-Fi devices.
In practical terms, this means that communication between the nodes is faster and stronger, with more reach, than most other mesh systems. In our test house, we were able to connect the primary unit to the modem in the living room, place the other one in a far distant utility room at the rear of the house, and still – according to the signal meter that's built into the Multy X smartphone app – enjoy a "perfect" connection between the two.
This translated into some seriously impressive wireless coverage. No matter where we roamed in and around the house, we enjoyed the kind of blazing speeds that had previously only been attainable when sitting right next to our existing router. Even on the slower 2.4GHz band, the connection topped 5MB/s almost everywhere in the building.
This alone is enough to earn the Multy X a warm recommendation, but there's more good news. Most mesh units only provide two Gigabit Ethernet ports, which isn't enough for a system that aims to replace your router. The Multy X shows how it should be done, offering a generous four ports on each unit, so you can attach up to seven wired devices without needing any extra hardware. It's a shame, however, that the units' USB 2 ports don't currently do anything – it would be an asset if you could connect an external hard drive, for example – but Zyxel says the connector is "reserved for future usage", and we suggest you don't hold your breath.
Zyxel Multy X Review: Simple tools and useful extras
Unlike some of its rivals, splitting the 2.4GHz and 5GHz wireless bands into separate networks is as easy as flipping a switch in the Multy X app.
By default, the 5GHz network is distinguished by having a '.speed' suffix for its SSID, but you can change it to whatever you like. The parental controls are very simple to use and let you schedule internet access for single devices or groups.
Another bonus is that the Multy X system works with Alexa. If you have an Amazon Echo device, you can verbally instruct it to disable the guest network, test your internet speed or temporarily suspend internet access. Sadly, you can't reboot the router with a voice command but if your internet is glitching, Alexa probably won't be working anyway.
Zyxel Multy X Review: Considerations
The Multy X gets a lot right, but it also has a few foibles. You're stuck with a custom IP range (196.168.212.x) which is frustrating if you prefer to set up your IP addresses how you like them. And, like Google Wifi, you can inspect your connected devices but you can't blacklist any that shouldn't be there. You can cut off their internet access but they can still talk to other devices on your network.
Be warned that while the smartphone app is capable, it's also irritatingly slow: as you tap around its various pages, you're frequently left staring at a spinning wheel for five seconds or more while the app scans the nodes for whatever information it needs. You can't even work around the issue by using the web interface, because there isn't one – if you visit the gateway in your web browser, you will be greeted with a terse "not found" error.
A final caveat is that the Multy X doesn't operate as a true mesh network – it uses a 'star' configuration in which all nodes talk directly to the router. An update is promised this month that will add support for daisy-chained configurations, but if you were thinking of investing in additional units then be warned that, as things stand, they may not extend the system's range by as much as you might hope.
Zyxel Multy X Review: PRODUCT INFO
Qualcomm IPQ4019 quad-core processor

512MB of RAM

802.11b/g/n Wi-Fi on 2.4GHz band; 802.Ha/n/ac on 5GHz band

4 x Gigabit Ethernet ports per unit

Guest Wi-Fi

Parental control

Compatible with Amazon Alexa

Mobile app supports iOS 9 or better and Android 5.0 or better

256 x 178 x 51.5mm

890g
Zyxel Multy X Review: SPECIFICATIONS
PROS
– Great value for money
– Brilliant performance
CONS
– Slightly quirky controls – Unattractive units
BETTER LOOKING
Netgear Orbi
MORE UNITS
BT Whole Home Wifi
Zyxel Multy X Review: Verdict
As long as you don't live in an absolutely massive home requiring several chained units to extend your Wi-Fi to far-flung corners, the Zyxel Multy X is a great system. Its two units are reasonably priced, delivering excellent speeds and impressive coverage.
It's not the most aesthetically pleasing kit, but it's affordable, effective and the extra Ethernet ports are a welcome addition.